*grumble*
So up until recently, I've had maybe 2 or 3 problem requests in the past 3 years.  Now I'm on my third in not even 2 months.  I am highly not amused.
First was the Wicked book with the missing step back page.  [The sender, while they replied to my message and said "sorry to be such a bother", never refunded my credit.]
Second was a comic collection.  I received it and while inspecting, pages fell out.  The sender refunded my credit after I submitted a "never responded to message" notice after one week.
Now...
Now we have not only an issue with the binding, but a HORRIBLE job at removing the front flyleaf for whatever reason.  I give you..
FRONT (yeah, I'm bad at close ups with the little camera):
BACK (a few pages from the end):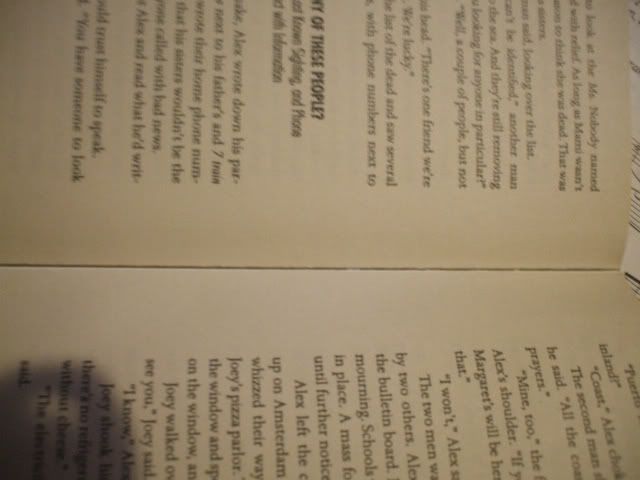 Now, it's obvious what I have to do, right?  I'm just grumpy as a hibernating bear at the moment and that's going to come clear across my complaint.  Not only that, I'm starting to get concerned about the fact I'm suddenly having to mark RWAP on books I am receiving.  Dual sided from the standpoint that it appears I'm hitting a lot of people ignorant/unconcerned about the rules and that if this continues, I may be seen as having a sudden abnormal and possibly unfounded flux of RWAP. 

Grr.

You know what else?  These 3 books are books I have requested outside of my normal genres.  [Random factoid.  Perhaps I should take it as a hint to remain within my preferred genres?]

Sender sent with PBS DC, so they know that there's a good chance I have received it. 

Grrr.   I think I may need to go kill some horde to burn off some steam.  Or play some Civ 5.

 

EDIT:

Update: Due to the uncertainty, I decided in bed last night just to wash my hands of the entire transaction and marked it as received. 

Then I checked the mail this afternoon... and you will need to scroll down for that.



Last Edited on: 1/6/11 5:43 PM ET - Total times edited: 3