Subject: Win Geektastic edited by Holly Black and Cecil Castellucci

Date Posted:

9/14/2009 7:49 AM ET

Member Since:

3/13/2007

Posts:

3,773

Back To Top
This week on my blog I'm giving away 5 copies of Geektastic edited by  Holly Black and Cecil Castellucci. To enter, leave a comment stating how you are a geek along with your PBS ID or other contatc info.  Winners will be picked on Monday September 21. Good luck!
http://books-movies-chinesefood.blogspot.com/2009/09/book-review-and-giveaway-geektastic-ed.html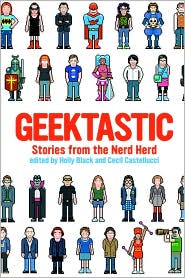 Acclaimed authors Holly Black (Ironside)and Cecil Castellucci (Boy Proof) have united in geekdom to edit short stories from some of the best selling and most promising geeks in young adult literature: M.T. Anderson, Libba Bray, Cassandra Clare, John Green, Tracy Lynn, Cynthia and Greg Leitich Smith, David Levithan, Kelly Link, Barry Lyga, Wendy Mass, Garth Nix, Scott Westerfield, Lisa Yee, and Sara Zarr.

With illustrated interstitials from comic book artists Hope Larson and Bryan Lee O'Malley, Geektastic covers all things geeky, from Klingons and Jedi Knights to fan fiction, theater geeks, and cosplayers. Whether you're a former, current, or future geek, or if you just want to get in touch with your inner geek, Geektastic will help you get your geek on!