Brickett Elementary School - Lynn, MA
We hit our Book Credits goal!
100%
We've raised 1000 of 1000 credits needed. (313 members have donated)
1000 Credits ↓
Brickett Elementary School in Lynn, Massachusetts

Brickett Elementary School is a low-income (Title One) elementary school with a diverse population in the post-industrial city of Lynn, Mass. Approximately 75% of the student population is Latino and nearly all are on a free-lunch program. The Parent-Teacher Organization (PTO) recently conducted a parent survey and top on the list of improvements was the library. It is staffed by parent-volunteers and a teacher who splits her time as an ESL instructor.
The library needs books to assist in English language development, to provide books for children in households that often don't have any, and to help students with their homework. This is a school that doesn't have a lot of money, but certainly has a hard-working principal, dedicated teachers, and parents, all interested in improving the lives of its students.
Thank you to the members of PaperBackSwap for considering our school for your credit donations! Our students will be so excited to receive these books.
Debra Ruggiero, Principal

Followup Images: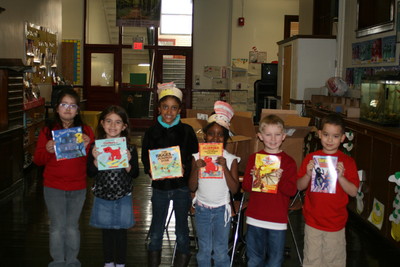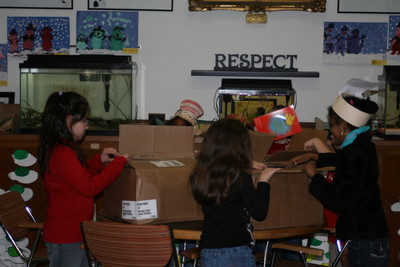 Update from the Brickett Elementary School - Lynn, MA:
3/11/1010
I apologize for the delay in sending this note and pictures. I can't tell you how appreciative we are that we were the recipients of these wonderful books. I have attached two pictures showing some of our first graders who got to open the boxes when they arrived at our school. Every child got to take one book home of their choosing during our literacy week and I think we will be able to not only send another book home with our students but will also get to add to our individual libraries in the classrooms. Thank you again so much for your generosity and the generosity of your members. You have made many children very happy!!
Deb Ruggiero, Principal Brickett Elementary School
Amazing!! Brickett got 100%! Thank you to all the PaperBackSwap donors
and PaperBackSwap!! I can't believe Brickett got 1000 credits in less
than 24 hours. I saw the principal this morning and she was so excited:
she said she's going to ask all the teachers to go through the books
when they come in to see what they need for their classrooms, separate
out others for the library and ask children to chose a book. What a
thrill.
Mary McGinn, PBS member