Spring Valley Elementary
We hit our Book Credits goal!
100.4%
We've raised 1004 of 1000 credits needed. (246 members have donated)
1000 Credits ↓
Spring Valley Elementary School in Dallas, Texas would love new books!
Spring Valley is a Title 1 elementary school with students in Pre-K to 6th grades. The school is physically located in North Dallas, TX, but is a part of Richardson ISD. The school has approximately 400 students and 98% receive free or reduced lunches.
Our 501(c)(3) non-profit, My Very Own Book, runs a reading incentive program in this Title 1 elementary school. Students read outside of school hours, record their minutes, and turn them in to their teacher. Every six weeks period they are rewarded for minutes read with a Bronze, Silver, or Gold certificate and a new book of their choice. We provide the school with more than double the number of new books they need to set up the "free bookstore" so the students have a great selection from which to choose.
This program motivates students to read, increases literacy skills, and puts new books into the homes of families who often can't afford to purchase their own new books. Students are developing a deep connection to literature and are on the road to becoming lifelong readers. 61% of families in low-income neighborhoods have no children's books in their homes.
Thank you to all Paperback Swap members for donating credits to help us provide new books to students who have earned them by reading! To learn more about My Very Own Book, go to www.myveryownbook.org.
Kelley Van Auken, Executive Director
Followup Images: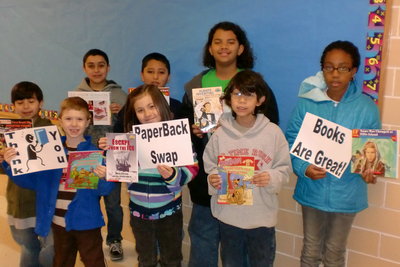 Update from the Spring Valley Elementary:
January 2011
We made the news! Great article about the book donations in Frisco-online.com
http://www.frisco-online.com/index.php/news/kids/reading-room/1799.html
Thank you to the 246 Paperback Swap members who donated 1,004 credits for new books for Spring Valley Creek elementary!
We are completely awed by the outpouring of support! As you read in our description, our organization runs a reading incentive program at Spring Valley. This is our first year in this school. As we are about to hold the second awards assembly/free book selection of the year, it is evident the students are already embracing this program.
We have high participation rates, with those involved reading many minutes outside of school hours. We are already seeing students get excited about literature. They have begun asking for a favorite series, authors, or genres. They are on the path to becoming lifelong readers. Your generosity will allow us to provide an excellent selection of 1,000 new books to these students who have earned them for reading outside of school hours.
You are a critical factor in making new book ownership a reality for all. After the first opportunity for students to select a new book at Spring Valley, the school's Instructional Facilitator and MVOB site coordinator stated: "I am amazed at how excited the whole building is about MVOB! Students ask when they need to bring the new books back and their faces light up when they realize they can keep them forever." Thank you again!
Kelley Van Auken, My Very Own Book