PS 233 Langston Hughes Elementary
We hit our Book Credits goal!
100.2%
We've raised 1252 of 1250 credits needed. (289 members have donated)
1250 Credits ↓
PS 233 Langston Hughes Elementary in Brooklyn, NY
can't wait for books of their own!
I have taught at Public School 233, The Langston Hughes School, for twenty three years. I have seen how school funding is constantly being cut. These cuts are damaging to the welfare of our students. Our school population is comprised of General Education, Special Education and English Language Learners. Several of these students come from Foster Homes or from low income, single parent households.
No matter the home situation or class placement all of these students have a love of books and reading. Our school is a Title One school. This means that most of the students receive free lunch. This is based upon family size and income. There are approximately 700 students in our school. We service students in grades Pre-Kindergarten through grade five.
To help improve our standardized test scores, our school offers tutorial services to all students in grades two through five. Also, children in grades one through five receive AIS services. This is a pull-out program that offers extra help to low performing students.
Most teachers offer monthly book club order. The response is very poor. Parents do not have the means to purchase new books. I am asking for the help of PaperbackSwap. We would like to provide each student with age appropriate books that they can take home and treasure. Having PaperbackSwap as a source of backing would be amazing. Our children are working very diligently to achieve their goals. They deserve to be given a reward for their hard work and effort.
Thank You,
Kandi Cohen
Kindergarten Grade Leader PS233, The Langston Hughes School
Followup Images: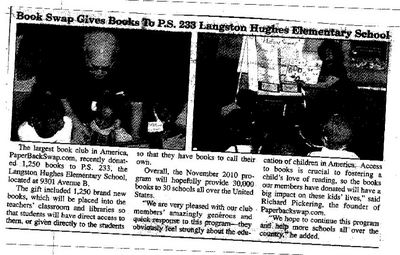 Update from the PS 233 Langston Hughes Elementary:
December 2, 2010
I want to say "thank you" to all the wonderful people, at PaperbackSwap,.com that donated their credits. Your love of books and reading is going to help the children in my school enjoy some great books this holiday season.
Every day the children and I would turn on the computer and watch the number of credits rise. They would get so excited. When I told them yesterday that our goal was met they started cheering. Now they have something positive to look forward to....books they can take home and keep.
Again, I want to thank everyone that helped my school reach its goal. I wish each and every one of you a safe and healthy holiday season.
Kandi Cohen PS 233
Kindergarten Grade Leader