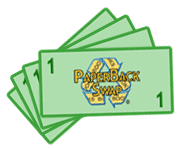 PBS Money

is used to pay for Printable Postage, as well as the service fee that PBS charges for the optional PBS Printable Postage,

PBS Delivery Confirmation

and

Custom DC

features. You do not need to have PBS Money in your account unless you want to use Printable Postage,

PBS-DC

or Custom DC.
You can also use PBS Money to purchase anything in the
Kiosk

or PBS Market if you like.
You can buy PBS Money in the Kiosk.
Why use PBS Money?
PBS Money allows you to:
Print the postage (including PBS Delivery Confirmation) onto your

wrapper

to send a book
Print DC barcodes on your wrappers when you send books
Get

QuickCredit

and

CreditAssurance

by using PBS Delivery Confirmation
Print address labels with Delivery Confirmation to send anything using Custom DC
PBS Money can be used to buy anything in the Kiosk or Market.

As stated in the Terms of Use, Kiosk purchases are non-refundable.
---
Related Links:
All About PBS Money
What is PBS Delivery Confirmation?
How to Use PBS Delivery Confirmation
What is Custom DC?
How to use Custom DC
What methods of payment does PaperBackSwap accept?