Dear Members,

Well, we're over 825,000 books now! We've added many new members recently, thanks to the Kim Komando radio show, the New York Times mention, and the nice blurb on Lifehacker.com, among other media notices. A hearty welcome to all of the new bookswappers among us! Thanks for joining and we know you will love the club. We are so glad to have you here.

NEWS:

PBS accounts must now have full last names. You can still use first initial only for your account if you choose, but the Terms of Use require a full last name. If you have been using a nickname or last initial instead of your last name, please take a moment and add your full last name to your account information, in your Account Settings (log in, click My Account on the right, and choose Account Settings from the dropdown menu). Any accounts without full last names will be suspended as we discover them, until the last name is provided. Your last initial only will show on posts in the Discussion Forums—that will not change! This is not optional. Please make this adjustment as soon as possible, if it is necessary.

PBS Store News:

'Tis the season....The season of giving and sharing is fast approaching! Whether you will be celebrating Christmas, Chanukah, Kwanzaa, Eid al-Adha, or winter solstice, we applaud your generous spirit and want to help you celebrate. In the spirit of giving, PBS will be giving a service to our members: gift wrapping and shipment of selected PBS Kiosk items directly to the loved-one's home! There will be no additional charge for giftwrap! It's our gift to you.

We think BookMates are perfect presents for every reader, young or old, male or female. All BookMate orders between November 15 and December 15 can be gift-wrapped by the PBS elves and bear a gift card endorsed with your message, for free! Your words will guide us in the selection of the appropriate giftwrap and card.

Use your imagination to gift-up a PBS item--why not a PBS Mug for that co-worker or helpful neighbor? You can fill it with an envelope of flavored coffee or cocoa, candy canes, and a gift certificate for books (credits) at PBS. Or enclose a PBS mousepad with that CD of computer games you are tucking into a stocking. A PBS tote bag filled with goodies for your mother! A PBS keyring for the keys to that new Maserati....well, maybe that's a bit much. But you get the idea. :-)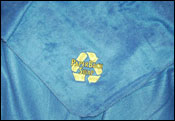 New item--Fleece Blankets They're here! So soft and comfy, in beautiful royal blue with the PBS logo on them. They make great "lap robes" while you sip cocoa and read your latest PBS book. It's not too early to start dropping hints to spouses that you'd like to receive one for Christmas. (Maybe slipped into that PBS tote bag....)

Clearance Sale. They're out of season now—so stock up for summer (yes, it will come again—we promise)! PBS T-shirts were a most-requested item before we opened the store, and we laid in a big supply. The shirts have the PBS logo on the front and an ISBN and barcode on the back, and they have been popular, but we have a lot left! So we are discounting the price to our cost to clear these out of the warehouse to make room for new items. So give us a hand here. Everyone wears T-shirts sometimes, and the XLs make great nightshirts. Order them for your friends, your children and grandchildren, your softball team, and everyone in the office!

The One-page PBS label is here! You spoke, we heard. Many members wanted a one-page option so that they could print out the address on adhesive labels, and we have provided this. You will see the option in your Wrapper Settings page the next time you go to print the address to send a book.



The Book Journal is here! This feature has been very popular already, and after introducing it we worked hard to smooth out any "wrinkles" in the programming. Now, when a Book Journaler gets a request for a book, the location of the book (which "space" the book has been entered into in the Book Journal) shows on the request itself! So you can easily go and find the book immediately. You can import your lists from other files into the Book Journal, and can assign books individually to "spaces" (for example, "bedroom bookshelf" or "box in guest room") by title, OR by clicking the link to your TBR Pile, Books I've Read or Bookshelf list, and then clicking the button there to journal the book. You can try it out for a week for free, and it costs only 8 dollars a year to subscribe (in the Kiosk). Take a tour, try it for free for a week, and see what you think—and do let us know (by sending in Feedback) if there is a feature you would like added or changed. We are always looking to improve the site!

New PBS Mini-Survey: By now, many of you have received books and encountered the new PBS Mini-Survey, which is an optional portion of the process of marking a book received. This survey allows you to tell us more about the transaction: was the PBS Wrapper used to wrap the book (this means, did the book's external wrapping consist of the PBS Wrapper alone; if the address portion was cut out and taped onto alternate packaging, or the information printed onto a label, the answer is "No"), what was the postmark on the book, was the address hand-written on the package, how much postage was affixed. There is also a text box to share any further comments you might have. This is an optional part of the procedure; we thank those who are taking the extra minute or two to answer these questions, as this information will help to improve the site. Members have asked for a way to indicate if a book was mailed late, or arrived with insufficient postage; here's your chance!

Message Center Upgrade: You can now search your PMs by name or keyword in your Message Center—there are two tabs at the top of the page, and a search field below, for this. You can search messages sent TO you, or FROM you, using the dropdown menu below the search field. This will make it easier for you to find the specific PM you are looking for, when your "inbox" is full!

TIPS&TRICKS

Tape, tape, tape…but not to the book itself! If you reuse bubble envelopes or other packaging to send your PBS books, good for you! PBS is all about giving used things new life. But be sure to tape the worn places on the packaging (always with shipping, not Scotch, tape) so that your books get where they are going safe and sound. And again, don't tape to the book itself—this often results in damage to the book cover when the package is opened.

Don't include "extras" with your books. USPS Media Mail rules are quite strict about what can be included in a package in order to qualify it for Media Mail postal rate. The second page of the PBS wrapper counts as an invoice, so that is okay, of course; so is a note saying "Happy Birthday" or "Enjoy your book". But non-media items, letters or cards, and all promotional material are not permitted. USPS opens Media Mail packages randomly for inspection. Don't risk having a book returned to you (or destroyed!) because of this. You can read the Help Center item "Can I include anything with my book?" under the heading "Sending a Book" for guidance, and more details.

DEAR R&R

Dear R&R—I have a book that has only a 13-digit number in the front where the ISBN should be. The Help Center says I have to use the 10-digit number to post the book, but my book doesn't have one! What gives? --Frazzled in Frisco

Dear Frazz,

The 10-digit ISBN will give way to the 13-digit ISBN (now known as the EAN) on January 1st, 2007. The book industry has made this choice in order to bring the U.S. ISBN system into line with the EAN system used in other world markets, and also to alleviate "numbering shortages". Some publishers have already started to publish their books with the 13-digit EANs. They should be publishing with BOTH numbers to ease the transition, but some aren't doing this, we hear. On January 1st, 2007, the EAN will become the ISBN, and the use of 10-digit ISBNs will be phased out in all aspects of the book industry. PBS will make this change too, at that time. Until then, you can convert your 13-digit EAN to a 10-digit ISBN using the information at this site, IF your book was assigned a 10-digit ISBN by the publisher: http://www.bisg.org/isbn-13/conversions.html (scroll down to see the portion under the heading "Retrieving the 10-digit ISBN...." ). If this doesn't work (or is too complicated and you don't want to mess with it), just post your book as if it does not have an ISBN (using the link beneath the graphic on the Post Books page). Or you can hang in there until January, when your book's 13-digit ISBN should be in the database. If you worry that your book won't be noticed if it is posted without an ISBN, you can always "advertise" it in the Book Bazaar. Doing so usually results in a quick request.

Transitions are tough, but the 13-digit ISBN promises to be a good thing once everyone has changed over. In this case, 13 should be considered a lucky number (but not until January 2007)!

Dear R&R—I joined PBS, and then moved, and now I can't change my address in the Account Settings. Why is that? How can I request a book to be sent to my current address? -- Bewildered in Boise

Dear Bee,

You probably haven't received 3 books from PBS yet. Only after you receive 3 books from PBS will you have the option to change your address in your Account Settings. If you move, and need to change your address, but haven't received 3 books yet, send us a note in Feedback with your current address and we will help. After you have received three books, you will need to "validate" your address, which is very easy to do—just visit your Account Settings and click the Update button at the bottom of the information in the top section. Your address will be converted to a USPS-validated address automatically. If there is a problem with validating your address, you can read the Help Center item "I can't change my address in my account settings!" under the heading "Account Options". There is a link in there to a site which can guide you in validating your address. USPS is very picky about how addresses appear—the change can be as simple as "LN" instead of "LANE"--and a "valid" USPS address is necessary in order to use Delivery Confirmation for that destination.

Dear R&R—I got a package postage-due. It was marked "First-Class Mail"! The sender had put only enough postage for Media Mail rate on the package. Arghh! --Reading too much in Alabama

Dear Bama,

Yes, Media Mail is the cheapest way to send your package if it weighs 6 ounces or more. The PBS Wrapper (and label) is marked MEDIA MAIL. But some of our members don't have a printer, or their printer is malfunctioning, and they hand-write the addresses to send their books. Please give the sender feedback about this, so that she doesn't send these "postage-due bombs" to other requestors. You can always refuse a postage-due item (and note the return address before you hand the package back to the mail carrier, so that you can send a PM to the sender letting her know what happened), or if the amount is significant enough, ask the sender to send you postage (or "friend" you a credit) to compensate you. And be sure to indicate that the package arrived postage-due, on the mini-survey when marking the book received. If the sender makes a habit of this, we will contact her. I am sure it was just a mistake, and one that she will be eager to correct for future mailings.

Dear R&R—I got an email telling me that I mailed a book late! I swear I didn't! Will this affect my swapping record at PBS? --Panicked in Pomona

Dear Mona,

The email you got was generated automatically when a requestor entered the postmark from a package received from you. Don't panic! There are several reasons why you could have gotten this email even if you didn't mail late:
The requestor indicated the wrong date when marking the book received on the optional "mini-survey"
You sent the book late BUT you had gotten the requestor's consent to do this
You put the book in your outgoing mailbox and it took a few days to get its postmark from USPS
You sent the book on time, but it came back to you for some reason (insufficient postage, the hand-written address was wrong, etc). and you resent the book, which naturally arrived with the postmark of the resending date.

One report of a late-mailed book will not affect your account status. It is only if a pattern shows that we will take action, and ask you to change your habits.

PBS is dedicated to timely shipping, but the system is designed to be flexible. We understand that a delayed shipment can happen on occasion. As long as you keep the requestor informed (so she doesn't re-order the book if it is declared Lost by PBS), an occasional late mailing is acceptable. It is ideal to get the requestor's consent BEFORE a book is mailed late, but we also understand (and so do most requestors) that this is not always possible.
Please see the Help Center item "Can a book be sent later?" under the heading "Sending a Book" for a thorough discussion of this topic.

If you receive one of these emails, and you didn't mail the book late, don't worry about it. We won't!

COMING SOON:

PBS Chapters. We have been asked so many times to organize local PBS "get-togethers". We have had to decline, as we simply do not have the time to do this. But we CAN facilitate this for members who wish to organize their own PBS meet-ups! If you would like to be our local contact for a PBS Chapter, and have a meeting that you would like to publicize, you can send us the information in the feedback area, and we will include it in the Newsletter. Newsletters go out in the first two weeks of each month, so get us the info as soon as you can! You don't have to have all the details. The Newsletter can provide a preliminary "heads-up" and interested members can contact you by Personal Message to get the time and place. Chapter Contacts must have a public profile, so that they have a nickname and can be found in the PBS Member Directory. Chapters can be regional (Midwest, Southern, East Coast, etc), city-based (Chicago, Boston, etc), or by state: you decide! Wouldn't it be great to meet some of your PBS Friends face-to-face? We hope to hear from some of our motivated, super-efficient members on this—we know you are out there!

Turkey Day. When we sit down to our dinner on November 22, we will be offering our thanks for all our wonderful PaperBackSwap members. You have made us the biggest and best bookswapping site in America, and we appreciate each and every one of you! We hope every member of our PBS bookswapping family has a wonderful holiday!