Dear Members,

We have had a wonderful month at PBS. So much has happened! The new interface is coming along, and we have many new features in the works. We passed the million-book (both posted and sent) mark, and we have welcomed many new members from all over the country. Those who heard about us from the following magazines, newspapers, radio and TV, welcome!
We want to thank all of you who responded to the PBS Survey and submitted your very helpful comments and suggestions. We got more than 2000 survey responses in a very short time, and we read all of them! The new site design is being guided by what our members want. We are asking for comments on the new interface (several sample pages are available), to help us as we continue to make changes. Please see the item in News for the link. We have gotten a lot of great feedback (and have done further tweaking) already! Thanks to our members, "PBS 2.0" will be the best it can be!
NEWS:

Spring Forward... the new PBS interface will be a real forward step for the club! PBS started small, and as we grew and added features, the interface became somewhat cluttered. It is a huge task to reprogram the entire site, but Robert has plunged in. We are soliciting comments! Go to http://www.paperbackswap.com/design_layout/ to see a list of sample pages of the new interface available for viewing and comment; you can submit your comments in the text box at the bottom of each sample page. Please remember that these are illustrations only, and that not all of the buttons and links will work. The pages shown give an idea of the new design. Thanks to those who have commented already! For those who haven't, we hope to hear from you too!

Spring Cleaning... time to clear the cobwebs out of your Wish List! Please go over the items there and remove any you no longer want. This speeds up the swapping process, and ensures that Wish Listed books get to those members who still want them as quickly as possible. You can access your Wish List by clicking "Book Lists" on the right side of your account page, and choosing "Wish/Reminder List" from the menu that drops down. You can read about how the Wish List works from the "Need Help?" tab at the top right of your account page, by clicking the tab and choosing "Questions about the Wish List?" from the list that drops down there. Specific Help items concerning the Wish List are in the list that drops down from the Need Help? tab on the upper right of your Wish List page itself—you can read the information without even leaving the page!

PBS Chapter News: We have more Local Chapter Leaders to announce. Thanks, Taleah G. (swingsistert)--Southwest Michigan and Kate S. (BookwormMom)--Delaware (Kent and Sussex Counties), for stepping forward to "organize" your areas. You can find out more about PBS Local Chapters--how to start one, how to join one, which ones are already in existence--in the red "sticky" topic at the top of the PBS Local Chapters Discussion Forum. You can get to this forum by clicking "Discussion Forums" in the left menu of any page on the site and scrolling down to click "PBS Local Chapters" in the list.

Photo Ops: We got some great pics from some of our members who met up in Las Vegas! This wasn't an official "Local Chapter" meeting, but we think they deserve their own Chapter...how about "The Wild Women of PBS?"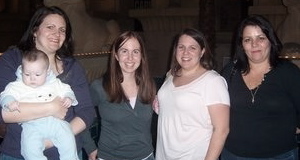 From left to right: Debbie B. (Deb), holding Brenda (endoux)'s baby Ethan, Brenda (endoux), Amy H (smplwish) and Mary S. (NJMary63).

Thanks to Deb, who sent the photo in! We would love more PBS pictures - you can send them to rswarthout@paperbackswap.com and attach the photos in jpeg format. Please remember to get consent from any people included in photos to have the photos published before you send them in.

PBS Store News... Because of popular demand, we are adding new "stock" colors and patterns for BookMates:

BookMate I is now available in three additional patterns: ShadowSuede – Forest, Green Python, and ShadowSuede – Purple (*exclusive to BookMate I—not available in BookMate II).

BookMate II is now available in three additional patterns and three additional solid colors: ShadowSuede – Forest, Green Python, and Crystal Glacier (*exclusive to BookMate II--not available in BookMate I). New solid colors: Spruce, Wine, and Charcoal (all available also in BookMate I).

We need to announce the discontinuation of the Cosmos pattern in both BookMates—the manufacturer will not be making any more. We have a few Cosmos BookMate I's still available—get 'em while you can!
Shown below, left to right: ShadowSuede—Forest, Green Python, ShadowSuede—Purple, Crystal Glacier.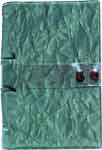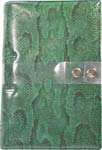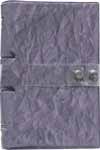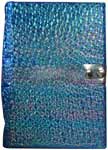 The PBS Store can be accessed in the Kiosk, by clicking "PBS Kiosk" in the left menu of any page on the site.

TIPS&TRICKS:



Check your Pulse... The Pulse of PBS, accessible from the lower left menu of any page on the site, gives some fun (and awesome) numbers to ponder, including "Books Posted in last 60 minutes" and "Books Mailed Today". You won't believe how many books are changing hands at PBS every day until you see this new feature.

The Survey says... we received many requests in Survey responses for features that are already available at PBS! We wanted to let our members know that:

Audiobooks and hardcover books are permitted for swapping at PBS. The Help item "What can be swapped here?" (available in the Help Center under "About PBS" and "Posting Books" and from the Need Help? Tab on the right side of the book posting page) has more details. There are also items specifically about hardcovers and audiobooks: you can search the Help Center for "hardcover" or "audio" to see all the relevant items.


Westerns is a "highlighted" genre on the Genre Search portion of the Search page. To search the PBS library for Westerns, click Search in the left menu, then scroll down to the blue box "Browse by Genre". There is a short list of Popular Genres, and "Westerns" is in that list. So yippee-ki-yay! Get your Westerns, and get reading!


You can easily see where you are "in line" for your Wish List book, from your Wish List itself: put your cursor over the grey ! to the left of any item on the list, and your place in line will pop up.


Members can easily give credits to one another, using the Friends page. Please see the Help item "How do I give credits to other members?" which is in the Quick Help box on the right side of the Help Center page. You can get to the Help Center by clicking the gold button in the left menu of any page on the site. Note: this feature becomes available for each member only after he or she has received 3 books from PBS.

DEAR R&R

Dear R&R— I got a book which was all marked up inside. The Book Conditions item in the Help Center says "no writing inside a book". I contacted the sender, who said that she got the book this way from another member. Can YOU give my credit back? –Annoyed in Ashtabula

Dear Ann,

We are so sorry to hear you received a book in poor condition! Unfortunately, we cannot give your credit back. The sender who sent you the book has your credit, and she needs to do this. If she got this book from another member, it was her responsibility to deal with the problem then—not pass it on to you! As the Help item "I received a book in poor condition!" says, ""If a member receives a book in poor condition, he or she must NOT compound the error by reposting it. The "buck" (or should we say "book") has to stop SOMEWHERE!" Each person is responsible for the books he or she sends out. Members should not make someone else's violation into their own violation by passing along an unacceptable book.

Take this up with the sender who sent you the book. She should give your credit back, and contact the sender who sent HER the book to ask for the credit back. I do hope that both of you marked the book "received with a problem," and chose "Damaged by Sender" from the options. This is the only way that PBS can keep track of poor swapping behavior. You can find more information in the Help item "I received a book in poor condition!" which is in the Help Center (search there for "damaged") and also in the Need Help? Tab at the upper right of your account page—choose "Questions about receiving a book?" from the list that drops down there.


Dear R&R—I can't ever find any answers in the Help Center. Who organized that thing? It's confusing! --Muddled in Montana

Dear Monty—LOL. We tried to organize the Help Center logically by category, with "troubleshooting" items in a subheading for each. For example, clicking "Posting Books" shows you items about posting books, and clicking "Having trouble posting a book?" in the list that drops down after you click the "Posting Books" heading shows you troubleshooting items about posting books. We put in a Help Center search at the top (we have refined this lately, so it works better)—simple terms work best there, such as "lost" or "book condition". We put in a Quick Help box on the right of the Help Center page for one-click answers to the most-commonly asked or most urgent questions. But we have to admit that it is a lot of information to wade through! And it may be inconvenient at times to have to click away from a page you are having trouble with, to go to the Help Center and find your answer, and then have to find your way back.

So we have added a Need Help? tab at the top right of nearly every page on the site. Each Need Help? tab contains items that are relevant to that page—so if you are on the Wish List page, the Need Help? tab has a list of Help items about the Wish List feature, for example. Almost ALL Help items are available from the Need Help? tab on your account page—these are organized into (1) basic questions (like "How do I post a book?"), (2) category questions (like "Questions about posting a book?"—troubleshooting items are included), and (3) urgent items (like "I can't mark my book mailed!"). There is also an item which contains links to information managing your PBS account, called "Managing Your PBS Account"; and "The Wish List" has its own item too.

We hope that you will find this useful, Monty. Next time you have a question about something, click Need Help? on the upper right of the page you are on, and choose from the list that drops down. Most information will be viewable in a popup window, without even leaving that page.


Dear R&R—I am so frustrated! I posted a Wish Listed book that has 47 people Wishing for that ISBN in the Club Wish List. The first THREE have declined the book! The request is pending with the fourth Wisher now. I posted this book a week ago! When will I be able to send out this book? --Outraged in Ohio

Dear Hi,

This is classic Wish List abuse, which we have done so much to discourage. I sympathize with your frustration—all you want to do is share the book with someone who wants it! Some members don't understand the different purposes of the Wish and Reminder Lists. The Wish List is for items that members KNOW they want, and that will be requested when they are offered; the Reminder List is for items that members are only considering requesting in the future. We tell people this over and over, and the information is very clear in the Help Center.

If you don't want an item anymore, remove it from your Wish List (very easy to do, on the Wish List page). If you are not sure you want an item, use the "convert" feature on your Wish List to move it to your Reminder List. If you are going to be away from your account, put your bookshelf on hold and set the Wish List items you have credits for to auto-request.


If you don't have credits but you want to stay in line for a book, put your bookshelf on hold (this puts your Wish List on hold too). You can post books to your "Held" bookshelf after you have applied the hold, and those newly posted books will appear available (see "How to put your account on hold" in the Help Center under "Account Options", or from the Need Help? Tab on your account page, under "Managing your PBS Account"). You can send out the newly posted books, get credits, and then take your Wish List off hold again. It's a little extra work, but it's good swapping behavior to use the Wish List feature appropriately.

The worst Wish List abusers (those that decline or ignore multiple Wish List offers in a row) risk having their entire Wish Lists cleared, so it is important for them to heed this rule! There's nothing you can do about this book, Hi, except wait for someone who actually wants it to accept your offer. You can take a little comfort from the fact that by doing this, you are helping to clear the Wish Lists of Wish List abusers—all by yourself!

COMING SOON:

Book Recommendations... This was one of the most-requested features on the PBS Survey! We have already made a form of Book Recommendations available to you. When you request a book, you now will be shown (on the last page, after submitting the request) other books requested by members who also requested that book from PBS. You can order the books right from that page if you like. We are working on more extensive Book Recommendations, to help our members discover new authors and titles from each other!

And so much more...