Dear Members,
Happy New Year!
Time to hit the books! Your TBR piles have mounted up while you ran around getting everything done for the holidays, and now you have to get to those books that have been waiting to be read. We have visions of our members, curled up under PBS blankets, reading books by the glow of their LightWedges...humming "Though the weather outside is frightful...staying inside with a book is so delightful. I have another 110 pages to go...Let it snow, let it snow, let it snow!"
Oops did we just put that song in your head? Quick, hop over to SwapaCD and order a some new music to erase that annoying sound.
What will 2008 bring to PaperBackSwap? More books, more members, we have no doubt of that. We have tons of new features in the works as always. We are also working on the other sites (SwapaCD and SwapaDVD) of course, so you can expect new stuff over there too. Yep, things are hopping all over Swapland.
We hope that 2008 is filled with great reads and great fun for all of our members, and we hope that it brings you all that you yearn for...or more of the same if everything is hunky-dory!
Best,
Richard and Robert
and The PaperBackSwap Team
---
NEWS:
It's a dirty business, but someone's got to do it... The Author Cleanup, that is! Our database, which is compiled elsewhere, has author names spelled every which way, it seems: "I. M. Silly" could appear as "I.M. Silly", "Ichabod M. Silly" or "Ichabod Marcus Silly", for example. This makes it tough on alphabetization of the system, and also can interfere with Book Recommendations and the Search. The system will work best if each author name appears exactly the same way wherever it appears. That's where the Author Cleanup comes in. If you click the Approve Book Authors link at the bottom of any page on the site, you will see a screen with all of the books in the database that include a specific author in their author lists (if an author authored some books alone, and some books with other people, all of the books will be shown, but the screen will be ONLY for correcting that author's name). Each submission will be archived and we will add the corrections to the database periodically, in batches. You can read more about this in the Help Center.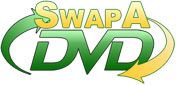 The SwapaDVD Team wants YOU... If you have a hankering for helping, a passion for pointing the way, a burning desire to direct--you would make a good Tour Guide for SwapaDVD! A Tour Guide gets assigned to each new member when he or she joins, and serves as a personal resource for help (by Personal Messaging) when the member has a question about the site. What being a Tour Guide gets you: Access to the private Tour Guide Lounge on the site, to mix and mingle with other Tour Guides; a spiffy-looking icon to dress up your profile and forum posts; the respect of millions...well, thousands...well, you'll be respected by US, at least. What you need to do to volunteer as a Tour Guide for SwapaDVD: You need to have a SwapaDVD account (obviously), you have to sign the non-disclosure agreement (NDA) over at SwapaDVD, have a SwapaDVD nickname, and be familiar with how the site works. You also have to pass the Tour Guide Quiz--it's short and pretty easy, and it demonstrates how well you can get around the Help Center, which you will need to do a lot of when answering questions from other members. If you are interested, sign the NDA and make yourself a SwapaDVD nickname if you don't have one, and after you have done those things, send us feedback (over at SwapaDVD) volunteering for the job. You can also contact Beth L. (berlioz3) over there; she is our SwapaDVD Tour Guide Coordinator. Thanks to all who apply!
New Credit-purchasing limit. There is now a limit on each account for purchasing credits: each member can purchase up to 30 credits per calendar month. Credit-purchasing is intended to supplement swapping in case of emergency; it is best for the club if credits are earned here by swapping books. You can still buy Gift Certificates for others (these won't be subject to the limit until they are applied to an account). This limit isn't meant to cramp your style, and it shouldn't--only a tiny number of you purchase more than 30 credits per month, so this change won't affect the others at all.
Mail, we get mail...even some we shouldn't get. If you use the PBS offices return address on your wrapper, and you send out books that are returned, they come back to us. The most common cause of returned books lately seems to be the "13-ounce rule": if you mail a package over 13 ounces using only stamps for postage, it needs to be handed to a PO employee (this is a USPS regulation). A package over 13 ounces bearing postage stamps that is NOT handed to a PO employee is returned. If it comes to us, we have to make a trip to our local PO to mail it. We will notify you if this happens, and each account gets a "free" remailing from us; but if this continues to be a problem with a sender, we will charge a credit for the trouble of each PO trip to re-send your books. Gas is nearly as expensive as gold these days. You can easily avoid this problem by using PBS Printable Postage to mail your books--the 13-ounce rule doesn't apply, since the postage is traceable to the sender Plus, Printable Postage gets you Instant Credit when you mark the book mailed! Can't beat that.
Chapters ain't just for books! You all can see what PBS Local Chapters can do...we have video proof! The Atlanta chapter had a meetup that was covered by TV. Atlanta newsman Clark Howard did a spot on PaperBackSwap, and a meetup in Atlanta was used as the venue for interviews. You can view the video clip here. If you want to be a Local Chapter Leader for PBS, you just need to have a PBS NIckname and some organizational skills...check the Forum topic to see if your area already has a local Chapter. If not and you want to do this, just contact us. There are no formal guidelines for being a Chapter Leader. All of the information is in the Local Chapter Leader Discussion Forum topic.
New Local Chapter Leaders:
Thanks to all who are doing this!
---
MEMBER OF THE MONTH:
Diane G. (icesk8tr)
We just can't say enough good things about Diane, and we are glad that so many of you wrote in to nominate her! She is, of course, the head (= Coordinator) of our Tour Guides, and she has done a wonderful job. She is tireless in her efforts to keep other members' site experience running smoothly. She is always friendly, always cheerful...a true PBS Ambassador! Members have written in to tell us how she worked with them to solve a problem they were having, and many Tour Guides have told us how kind and helpful she is. Diane has swapped many, many books here. We hope Santa was kind to her...and her doggies, too. She is a great Member of the Month to start off the new year!
If you have any nominations for Member of the Month, submit them to us here. Your nomination will not "expire"--anyone you nominate will have a chance at getting Member of the Month if enough nominations accumulate over time. Each month the person who has the most votes accumulated gets to be Member of the Month. So go for it! Tell us who's helped you in the Forums, who's been a great swapper, who in your opinion is a credit to PBS. We are keeping a list of all the nominated members. Who knows--one of them might be YOU!
---
DEAR R&R:
Dear R&R—I requested a book from another member, who apparently read my Requestor Conditions wrong. My conditions say "I only want hardcovers if they have their dustjackets", but this was a paperback book! I have no conditions for paperbacks. She declined the request! How do I get this book from her? --Frantic in Phoenix

Dear Franny,

Bottom line: you can't. If the sender declined your request by clicking "My book does not meet these conditions", then you will not be able to re-request that copy of the book from her. It is very important to word your Requestor Conditions as clearly as possible for this reason: once the book is declined, you will not be able to get this copy. If you have Requestor Conditions on your account, review them to make sure that they reflect exactly what you mean.
In your case, Fran, the sender may have read only as far as "I am only willing to accept hardcovers…" before she clicked to decline. Yes, that's her error, but you can't eliminate human mistakes! Everyone makes them sometimes. The best you can do is prevent them as much as possible, by wording your Requestor Conditions as clearly and unambiguously as possible.

We suggest that all members read the Help Center item "How to Use Requestor Conditions" to learn how this feature works from both the sender and the requestor's point of view.

Sorry, Franny, you will have to wait until another copy of the book is posted into the system. If this book was on a Wish List, it was passed to the next Wishing member when the sender clicked "My Book Does Not Meet Conditions". If it was not on a Wish List, it will have to be requested by another member before you can put it onto your Wish List.

Dear R&R—My Requestor Conditions say "I don't want books that smell funny. If you have any questions, PM me." I got an email from PBS saying that the book couldn't be sent, but the email included a message from the sender saying "It doesn't smell funny to me, but I was born without a sense of smell. I had my sister smell it, and she says it smells okay to her. Do you still want it?" YES, I do! How do I tell her that? --Disappointed in Denver

Dear Denny,

You can't. She clicked "My book does not meet conditions" on the request, and that copy of the book can't be requested by you now.
There are a couple of things about your Requestor Conditions to consider: (1) they are very subjective. What smells "funny" to one person may smell fine to another. If you have a problem with odors, it may be tough for you to get books here that meet your conditions, and you may miss out on some books you might have been okay with. And (2) Requestor Conditions should NOT ask members to PM you to ask for more details. The Conditions should be clearly interpretable by themselves, without added PM communication. The reason for this is that the sender does not have a way to PM you before accepting or declining the request; she or he may think declining is the first step toward further negotiation/discussion about this book. And once declined, that copy of the book can't be re-requested by you! So if you MUST have something like this in your Requestor Conditions, it should be worded as "If you have any questions, please ACCEPT my request and send me a Personal Message. If you decline this request, I won't be allowed to request the book from you!"
Dear R&R--I am allergic to cats, so my Requestor Conditions ask for "No books from a household containing cats, please, due to severe allergies." I requested a book as a present for my sister, who is NOT allergic to cats. But the sender declined it. How can I tell her that it would be okay to send? --Sniffly in San Jose
Dear Jose,
Did you know that you can toggle your Requestor Conditions on and off when you request a book? Yes, you can do this in your account settings: choose "No" at the top of your Requestor Conditions and then click Update. Then request the book, and go back to your Account Settings and choose "Yes" again, and click Update again.
If a book that you don't need to apply Requestor Conditions for is on your Wish List, don't set it to Auto-Request: if you do, it will be requested by your account and your Requestor Conditions will be applied to the request. Instead, set it to Auto-Request: No, and when the book is offered to you, you can turn OFF your Requestor Conditions before accepting the offer. Then turn them back on again, and they will be applied to your future requests.
We are sorry that you will not be able to get this copy of this book from this sender. We hope that it is posted again soon, and you are able to get it by turning off your Requestor Conditions just before accepting the offer, as above.
Dear R&R--I am so upset about the coming Wish List changes at PBS that I can't sleep at night. What should I do? --Insomniac in Idaho
Dear Ida,
Don't fret. We know that change can be tough. Will it help if we sing a little lullaby? (to the tune of Brahms' Lullaby)
Lullaby, and goodnight...don't let the Wish List upset you...You will be quite sur-prised...By how well it'll work, we bet you!
You will not... lose out on books... you have been waiting for...In fact, we expect...that you'll get even more.
The club... needs to evolve...to keep alive for many more seasons...We wouldn't make this change if there...weren't a heck of a lot of good reasons...
We don't have...a date yet...for im-ple-men-ta-tion... You will see...when it comes...that your fears were largely mis-in-for-mation.

Shhh...she's sleeping....
Dear R&R--Why don't you shut up about the coming Wish List changes? Either do it, or don't do it, but stop talking about it! --Annoyed in Arizona
Dear Ari,
We only mention it because it came up in the Discussion Forums, and there has been a lot of incorrect info bandied about. We don't want to ignore our members' concerns, even if they are premature. We would have informed the membership well in advance of the change, but some members demanded we discuss it now. So we did. We'll be happy to shut up about it. This is how it sounds when we shut up. :)
---
You are receiving this email because you have an account at PBS, and have opted to receive the monthly newsletter. To unsubscribe from this email, click here to adjust your Newsletter settings in your account; to unsubscribe from PBS (= close your account), click here and send us a message asking us to cancel your account.