Dear Members,
May brings us Cinco de Mayo, Children's Book week, and the 29th anniversary of the first Sudoku puzzle (published as Number Place in Dell Puzzle Magazine). And Mother's Day, of course. One of the best holidays of the year--what's more natural than honoring Mom? Sit up straight. Do you have something special planned? Don't mumble. We hope so!
But if you are a mother...or have a mother...you know that Mother's Day is more than one day, or a card or a brunch or a present. It's a time to express what kids of all ages feel all year, every day, for mothers who are still with us, or those departed. This Sunday in May reminds us all to say those few words that mean so much: Thanks, Mom, for everything.
Things to do for May:
Note the postage increase coming May 12th. Both Media Mail rates and First Class Parcel rates will be changing. See the new postal rates here. Remember to stock up on Forever stamps for your letter mail! They'll cost you 41 cents each today, and will each be worth 42 cents on May 12th.
Use PBS Printable Postage, and cross trips to the PO off your errand list. The weather is too nice to stand in line at the Post Office! You'll save money if you're not spending the gasoline to drive to the PO. Printing postage means your packages can be mailed from anywhere (blue mailboxes, home, dropboxes at work), unlike using stamps. Stamped packages over 13 ounces have to be handed to a postal employee. Use PBS Printable Postage and free yourself! Also the Instant Credit you will get when you mark the book mailed with PBS Printable Postage is very nice. Read more about PBS Postage here.
Check out the PBS Kiosk for cool new stuff. More details below.
Use the Vacation Hold if you are planning a vacation: holds can be set in advance, and will keep you from missing Wish List offers and book requests while you are away. The link to the Vacation Hold page is under My Account in the top menu, and there are also links at the top of the Account Settings page and your Bookshelf.
Start a blog. Why not? It's time to join the blogosphere. You can use the neat-o PBS Widgets to display one of your book lists on your blog or personal webpage. Tell folks what books you're wishing for or what books you've read or what books are on your To Be Read list or on your Bookshelf. You have thoughts to share--blog all about it! Read more about the PBS Widgets below.
Kiss your mama.
Have a great month, everyone, and a great Mother's Day! Because we said so.
Best,
Richard and
The PaperBackSwap Team
---

NEWS:
Postal rate changes: On May 12th, USPS will raise the price of Media Mail. Packages up to a pound will cost $2.23 to mail (a dime increase) and packages weighing one to two pounds will cost $2.58 (11 cents' increase). But you won't sweat the dimes and pennies because you'll be using PBS Printable Postage, and saving the gas money you would be using to drive to the PO for stamps. See the new rates here. (PBS Help Doc with just MM and FC rates here.) And If you use stamps, you'll want to stock up on Forever Stamps now--they cost 41 cents until May 12th, and on May 12th they'll be worth 42 cents. The PBS system will be adjusted for the postal rate change on May 12th, so if you have packages to mail after May 12th, remember that the postage will be different on that date. One good thing--the cost of electronic Delivery Confirmation will not change (it will still be 18 cents).
New stuff in the PBS Store: Now that we're really into springtime, it's finally stopped raining, and the weather is fine. If you're like us, you'll want to be outside more. And if you're like us, you'll want to take your books along with you! Keep them safe with our newest addition to the PBS Kiosk, the Cloth Bookcovers. The only size we're stocking right now is the size for mass-market (small) paperbacks, but we do plan to get more sizes soon. They're attractive, easy on the hands, and protect your book while you're toting it around. They make great gifts! Check them out in the Kiosk, along with the new pens and the new vinyl stickers that let you proclaim your membership in the best bookswapping club online!
Cloth Bookcover patterns available:
(Morning Glories, Stargazer, Book Lover, Bon Voyage, Roses, Stained-glass Angels, Wine World)
Listen to your Mother. Well, your Coupon Mom, anyway. Coupon Mom is Stephanie Nelson. She knows how to save money on items you buy every day! Her book, Greatest Secrets of the Coupon Mom, is available in our Kiosk at a special price for PBS members. You'll make the money you spend for the book back in no time. Get the book in the Kiosk--you can't get it for a better price anywhere else.
Widgets, we have Widgets. Want a snazzy way to display one of your PBS Book Lists on your blog or personal web page? We have just the thing for you--an easy-to-use widget that you can copy-paste into your webpage code. See the list of Widgets by clicking the Developers link at the bottom of any page on the site. Just copy-paste the entire code in the box under the Book List you want to display, and you're in business. Your list will update automatically on your webpage or blog. You can read more about using the Widgets here. If you are a software developer, we also have APIs for you to download and play with.
Here's an example of a Wish List widget and how it will appear (and we do have upgrades planned to make these even niftier!):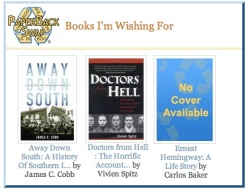 PBS Local Chapter News: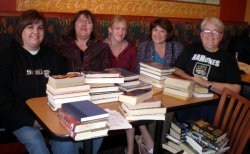 The first meetup of the Mid-Ohio Valley Chapter, at Panera Bread in Parkersburg, WV.
Pictured, left to right: Tammy (jonsmom1997) Linda (angeleyes), Katie , Becky (Hootrvil) and Alice (ajm-wva)
Tammy told us "Books, friends and food! What more could we ask for? Thank you so much and I am so glad that this site is around. Because of PBS my life has been enriched in more ways then one." Awww, that is so nice to hear!
New Local Chapter Leaders:
If you want to be a Local Chapter Leader for PBS, you just need to have a PBS NIckname and some organizational skills...check the Local Chapter Leaders Forum List of Official Chapters to see if your area already has a local Chapter. If not, and you want to do this, just contact us. There are no formal guidelines for being a Chapter Leader. All of the information is in the Local Chapter Leader Discussion Forum topic.
---
MEMBER OF THE MONTH

ThreeCats (Lester M.)
Anyone who frequents the Forums will not be at all surprised by this! Lester is a most beloved PBS member. Nominations have been coming in for Lester for a long time, and this month he is the member who has accumulated the most "votes". Here are just some of the comments we got with the nominations:
"He's a kind man with wonderful words of comfort for so many people; plus, I like his dry wit!"
"What an amazing man! His posts on the forums are always full of wisdom and grace and he is such a gentleman! Everyone loves Lester - he is a true asset to PBS!"
"He's been an excellent influence in the forums and a pleasure to hear from."
"His voice of wisdom is an amazing asset to the PBS community. At 80 years, still going strong, he is a person to admire."
"He always has a kind word or sage advice for those on the forums. He makes it a joy to be a member of PBS. I'd love to adopt him as a grandfather!"

"...he's compassionate, funny, intelligent and helpful. I enjoy his posts and his personality! Although it would be funny to see "MoM" next to his name..he deserves [to be Member of the Month]."
"He hangs in there with us crazy women in CMT and he is quick to reply with a kind thought, or helpful response."
So there you go, Lester! You are PBS's Member of the Month for May...AND you get your MoM icon just in time for Mother's Day!
If you have any nominations for Member of the Month, submit them to us here. Your nomination will not "expire"--anyone you nominate will have a chance at getting Member of the Month if enough nominations accumulate over time. Each month the person who has the most votes accumulated when the Newsletter goes to press gets to be Member of the Month and gets a newsletter mention and a nifty MoM icon to wear on profile and forum posts with pride. So go for it! Tell us who's helped you in the Forums, who's been a great swapper, who in your opinion is a credit to PBS. We are keeping a list of all the nominated members. Who knows--one of them might be YOU!
---
DEAR LIBRARIAN
Dear Librarian-- I got a book request for a book that is not on my bookshelf! The request is staring me in the face on my account page, but when I go to my bookshelf the book isn't listed there. How did this happen? Is there a book-posting poltergeist at PBS? --Chills Up My Spine in Chicago
Dear ChiChi,
Don't worry! The book was requested from you because it WAS on your bookshelf--until it was requested. A book that is involved in a Wish List hold or an active request is removed from the bookshelf and displayed on your account page. How did the book get onto your bookshelf? It was posted there! Maybe you posted this book long ago, and have forgotten that you have it, or have given it away since then. Maybe you entered the ISBN incorrectly, and the wrong title got posted. If you have posted a lot of books, it can be easy to forget one.
You can see when you posted this book on the request itself, when it is pending on your My Account page. Sometimes it helps to "track it down" by looking at your Bookshelf and sorting the list there by Date (this = date posted). You can see what books were posted at the same time as this one, if they are still on your bookshelf. That may help you locate the book with those others in your house. (Members who use Book Journal will also see the Space to which they assigned this book when they posted it, right on the pending request.) That's not to say there isn't a book-posting poltergeist--but look for him or her in your house, not in the PBS system. :)
If you can't find this book, you should click "I cannot mail". If you do that and find the book later, just repost it.
Dear Librarian--Do NOT tell me there isn't a PBS Poltergeist. My account keeps going on vacation, no matter WHAT I do! Every time I look at my Bookshelf, there it is: the notice that I am on vacation. I'm calling an exorcist, pronto! --NOT on vacation in New Hampshire
Dear Hamp,
The "Vacation Hold" you are seeing at the top of your Bookshelf is not a notice that your account is on vacation. It is just a link to the page where you can schedule a vacation hold. If your account is on vacation (or a vacation hold is scheduled), you will see a message telling you this in a pink box on your My Account page (at the top). If you do see that notice and you didn't mean to put your account on hold, just click the button in the message to Unhold your account. Putting your account on vacation needs you to go to the vacation hold page, choose dates, and then click Apply Hold. If you don't do these things, you won't be on hold. You might want to send your exorcist over to ChiChi's house in Chicago. :)
Dear Librarian--I got an email telling me a book I sent was received, but I didn't get a credit. What happened? Bummed in Baton Rouge
Dear Batty,
Check your Credit Registry, linked from the top of your My Account page. The credit should show there. If you got an email telling you the book was received, and the credit isn't shown as being deposited on the date/time of that email, check the email again. If you used PBS-DC or Printable Postage, you may have already gotten your credit, and the email was just telling you that the book was received. If that was the case, the email will say this, and you will find the credit listed farther down your Registry. The Registry is a great way to keep track of your credit activity.
Dear Librarian--A book that I sent came back to me for insufficient postage! I put on the amount of postage that the wrapper said to use! Why was the postage amount incorrect on the wrapper? --Puzzled in Peekskill
Dear Peek,
We're sorry that this happened! Sounds like the "estimated weight" of the book in our database was incorrect, and you didn't adjust it on the Wrapper Settings page before you printed. Our "required postage" amount is calculated based on what information our database has for the weight of the book. We get our database from an outside source, and it has inaccuracies sometimes.

You can ensure that the correct postage prints out on the wrapper by adjusting the estimated weight (if necessary) on the Wrapper Settings page before you print, and you can submit a permanent change to the weight of any book using the Edit Book Data link at the bottom of any page on the site, to prevent problems for future senders of that book.

You can read more in the Help doc The *recommended postage* on my wrapper was wrong! in the Help Center. You should also take a gander at the FAQs About Printable Postage and Sending Bulk (multiple-book) shipments, each of which has information about customizing the Wrapper Settings page to get the correct postage and postal class for your shipment.
Check the weight on the Wrapper Settings page before you print, and you'll never go "postage-due" again!
COMING SOON:
Coolest-ever changes to the homepage! Watch that space. This is a lot of programming, but we think it will be well worth it!
---