Dear Members,
We're all feeling a little tense these days what with the economy, eh? Time for...
...a PaperBackSwap Members' Survival Guide!
Multiple-book swaps save postage - a LOT of postage.

Requestors should be sure to click Order More from Member to check the bookshelf of the sender you are ordering from to see if there are other books you'd like. If everyone does this, everyone saves! Senders who use printable postage shouldn't print the wrapper to send a book right away - wait until you are ready to wrap, to be sure the requestor isn't in the process of browsing your bookshelf for more books. And don't forget Box-O-Books! It's a small investment (8 dollars for a year's subscription) and it pays for itself in postage savings after just your first few swaps.

There's gold in them thar backpacks!

The schoolbooks you paid so dearly for that will bring you peanuts at the Used Book Store can each earn a credit to get another book! So get your kids' upcoming reading lists and plan ahead. Remember that textbooks (unlike other books posted for swapping at PBS) may have highlighting/writing/underlining in them - BUT you do have to get consent from the requestor about the book condition before sending it, as described in the Book Condition Guidelines. Encourage your kids to take good care of their books so there's a lot of life (and reads) left in them!

Triple your swapping power!
Did you know that you can transfer credits between your accounts at PBS, SwapaDVD and SwapaCD ? Remember those DVDs your child wanted to watch every day until...she didn't? That emo CD your nephew knew you would love...but you didn't? Join SwapaDVD.com and SwapaCD.com and post them for swapping! Earn DVD and CD credits and bring 'em back to your account on PBS (1:1 transfer from SwapaCD, 2:3 transfer from SwapaDVD) on PBS. Read more about how to do this.
That's Entertainment!

We bet one of the biggest bills you pay each month is...for TV. Consider getting rid of TV service altogether. Yes, stop gasping, we're serious. What you can do without TV: Read, talk, play games, take an after-dinner walk; Listen to online radio while you knit a sweater; Learn to cook, learn to tango, learn to speak Chinese (most podcasts are FREE). For your video fix, remember that: your local library has DVDs to borrow for FREE; SwapaDVD allows you to swap the unwatched DVDs you own for new ones, and then swap those for others; many TV shows are legally available online (you have to wait a few hours or a day for them to be uploaded, but many networks have websites and stream their TV series there FREE); you can be "fashionably late" to watch premium-channel series--they'll come out on DVD so you can get them from your library or SwapaDVD for FREE.
Reduce your carbon footprint - as precious these days as the carbon in a diamond!

There are so many ways to do this: Walk to the post office if it's close enough (and you don't have too many books to carry); Combine and plan your errands so that you drive from one to the other (in a loop if possible, ending back at home); Save gasoline by mailing from home using PBS Printable Postage; If you don't use printed postage, designate one day per week as your go-to-PO day and make sure you accept every request with a mailby date that falls on or after that day of the week; run the heat-producing dishwasher/clothes dryer in the evening during summer and during the day during winter.
Times are tough. Hang in there, everyone--we know things will bounce back. In good times or bad, swapping saves!
Richard and
The PaperBackSwap Team
---

NEWS:
Gift notes: We have added this feature to the process of requesting a book to be sent to an alternate address. When you fill in the name and address on the Book Request page, there is a space to put a simple note. A note or greeting is allowed by USPS Media Mail guidelines - it can't be a letter though. Senders, be sure to use the second page of the wrapper so the note is received by the person who gets the book.
In Memoriam. We know how many of you loved Lester (ThreeCats). He added so much to the community here with his wisdom and kindness. Lester passed on, and broke all of our hearts a little. We send our deepest condolences to his family, and we thank them for sharing such a wonderful person with us. You can read some of Lester's writings, and don't miss his book reviews! Lester, PBS will never forget you.
PBS Store News - Coming soon to the Kiosk: a new pattern for the Cloth Book Covers.

Unicorns
TIPS AND TRICKS:
It's that time again. The time of year when the weather can get wet - rainy or snowy - along the route your books will take to their new homes. Help them get there safe and dry by using an inner layer of plastic in the package. A clean plastic grocery bag, the wrapping from a roll of paper towels - it's all good. Tape it well around the book (don't tape directly TO the book!) and put the external wrapping around that. You can also use some clear packing tape over the name/address on the label so it doesn't smear if it gets rained on. Nothing's sadder than getting a wet book - except knowing how easily it could have been avoided!
Read before you click! If you get a request with Requestor Conditions on it, remember to read it carefully before clicking to decline. We get some anguished messages from members whose requests were declined because the sender misinterpreted them. Declining means you will not be able to send that book to that requestor - she will not be able to re-request it from you. So please be sure that you really do not want to send the book to her before you click "My Book Does Not Meet Conditions". You can read more in How to Use Requestor Conditions in the Help Center.

PBS Local Chapter News:
We got this message from Nellie, from the AZ Gamers group.
"Sunday, 9/21, the PBS AZ Gamers gals had another get-together. This time, we had special out-of-town guests: Cozi (CozSnShine) and Amy (georgiagymdog)..As well as the usual suspects (Heather, Staci, Samantha, Lori and Nellie) and the PBS kids (Tati and Carson), we also welcomed a recent AZ PBS transplant-Stacey F (groovychick). We had lots of fun swapping books, getting to know each other all over again, and snacking!"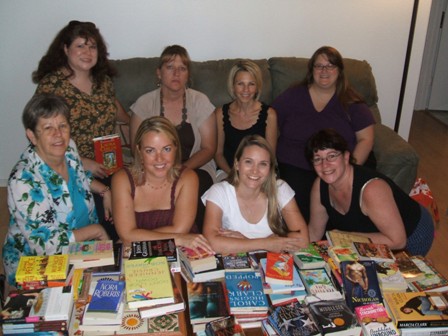 Above: Back Row- Heather AZmom875, Staci tucsonazdryheat, Stacey groovychick, Samantha samanthaM; Front Row- Cozi CozSnShine, Amy georgiagymdog, Lori azmom23, Kathy W Nellie
Below: "Personal DC" - In the Best Book Ever swap, Heather personally delivers Cozi's book, while Nellie hands off to Heather.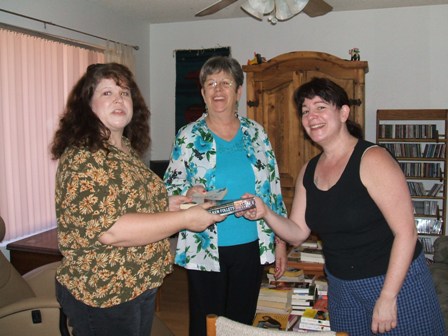 New Local Chapter Leaders:
If you want to be a Local Chapter Leader for PBS, you just need to have a PBS NIckname, a viewable public profile, and some organizational skills...check the Local Chapter Leaders Forum List of Official Chapters to see if your area already has a local Chapter. If not, and you want to do this, just contact us. There are no formal guidelines for being a Chapter Leader. All of the information is in the Local Chapter Leader Discussion Forum topic.
Books You May Have Missed:
Many of you know Lori G, auntielala-thebookpimp, from the Forums. Her book recommendations get rave reviews. So many members have been helped by reading Lori's recommendations that we asked her to send us some.

Two "Canes" Lori Recommends:
Cane River by Lalita Tademy
Kane & Abel by Jeffrey Archer
A bit o' Women's Lit Lori Recommends:
The Magician's Assistant by Anne Patchett
True & Outstanding Adventures of the Hunt Sisters by Elisabeth Robinson
---
MEMBER OF THE MONTH

Kari M. (deltatiger)
Kari has been piling up nominations for a long while, and lately the votes have been pouring in:

"I love reading whatever Kari posts - when I see the avatar of the cat with its wise-looking profile, I know the post will be thoughtful, insightful and kind. Kari is a gem."
"She's eloquent, caring, civil -- even when things get heated...She'll come along with a zinger when everyone needs a laugh, or will offer support when someone is testing out a theory. She's a conscientious addition to our board."
"Through heated political debates that are happening this time of year, she keeps a cool head, and presents lots of information from a variety of sources and angles. She deepens everyones knowledge about each of the issues and candidates, and is a valuable asset to the forums."
Kari, everyone seems to agree that you are balm for the forum soul! You are our Member of the Month for August. Congratulations!


If you have any nominations for Member of the Month, submit them to us here. Your nomination will not "expire"--anyone you nominate will have a chance at getting Member of the Month if enough nominations accumulate over time. Each month the person who has the most votes accumulated when the Newsletter goes to press gets to be Member of the Month and gets a newsletter mention and a nifty MoM icon to wear on profile and forum posts with pride. So go for it! Tell us who's helped you in the Forums, who's been a great swapper, who in your opinion is a credit to PBS. We are keeping a list of all the nominated members. Who knows--one of them might be YOU!
---
DEAR LIBRARIAN
Dear Librarian--How do I find a particular member's bookshelf so I can look at her books?--Searching in Sweetwater

Dear Sweets,

There are a number of ways, depending on how you "know" the member. If you know the member's nickname (if she has a nickname) you can simply enter that in the Member Directory to find her profile. Her book list is linked from her profile. Searching for her name in the Member Directory may not take you to the right profile - so many names are common here. The nickname is unique, so it is a good way to search for a member here.
If you know the member only from a forum post, you can simply click on the Books button on any post she has made.
If you have exchanged Personal Messages, you can click her highlighted name in any PM you have shared and it will take you to her profile (if she has made one) or directly to her bookshelf (if she has not made a profile here).
If she is on your Friends page, you can click the link to her books from your Friends page available in My Account.

Dear Librarian--I ordered a book and the first sender didn't respond. Now I am waiting for the second sender. Can't we do something about these unresponsive members? --Waiting in Wisconsin
Dear Connie,
Yes! We've tightened the "unresponsive member" mechanism a little bit and added a twist - now if senders miss a few requests, their accounts are placed "under review". This prevents more requests from being submitted to them - and holds off any Wish List offers - until they return and remove the review from their account. We know that members don't mean to be inconsiderate - they get busy, or their computers crash, or they have to go out of town unexpectedly and don't think to place the Vacation Hold on their accounts.
This new "under review" status means that requestors aren't inconvenienced AND the unresponsive sender isn't penalized by missing requests and wish list offers while she is away from her account. She can remove the review herself, so it isn't such a great inconvenience to her either, and that meant we could make it so that a smaller number of missed requests will trigger the Review. Too many episodes of being under review can culminate in a suspension (which the member cannot remove herself - we have to do this), but most of these missed requests are totally accidental, and we don't want to suspend members too lightly. This way, everyone is helped, and everyone is less inconvenienced. We think this will really help keep swaps moving around the club!
Dear Librarian--What is the difference between the Book Browser and the Advanced Search? I get the same results when I use either one to search--Seeing Double in Denver
Dear Denny,
Not much, actually. The search engine is basically the same. There are a couple of additional search parameters in the Book Browser (for example you can search by book ratings, which you can't do in the Advanced Search), and the layout is more convenient in the Browser (you don't have to go "back" to the previous page to refine or change your search terms like you do with the Advanced Search).

It's a bit of redundancy. We do know that many people use and like the Advanced Search and we didn't want to snatch it away from them, although the Book Browser is a little easier to use. You can find both under Search at the top of the site.

COMING SOON:
---

PaperBackSwap
3651 Peachtree Parkway Suite E-390
Suwanee, GA 30024