Dear Members,
It's February...cold outside, wind howling...time to hibernate with a good book. Why not a little romance, for this Valentine's month?
Now, I know that a bunch of you out there just made a face. "I don't read romance," you are saying. But hey! you might be surprised.
I speak from experience: A few months ago, I noticed my significant other reading a book. She had a faraway look in her eyes and a Kleenex at the ready. She was sniffly but happy, and she closed the book with a sigh. "What was so good about it?" I asked her. "You wouldn't understand," she said.
Well, damn! I like a challenge. I decided to try some of her books. Some were (gulp) chick-lit, some were (double-gulp) Romance. I stuck to my guns though, and went ahead and read them.
And... I actually enjoyed them! Yes, I am man enough to admit it. They were funny, they were sad...I got caught up in the stories and the characters. Definitely different. Engaging to a point. And I think I may have learned a thing or two about why this genre is so popular.
No matter what your gender, if you are someone who steers away from sentiment, you should nonetheless try one of my Romance for Everyone! picks (below), and see what the fuss is about.
Now excuse me while I go do some very manly push-ups.
Have a wonderful month, everyone!

Richard and
the PaperBackSwap Team
---
NEWS:
Yes, that's MILLIONS! We kept hearing from members about how much money they had saved on books since joining PBS. So we got to thinking: how much? When we added it all up (estimating $4.00 - $4.50 for a used paperback, CD or DVD if you bought them instead of swapping for them), the three clubs together (PBS, SwapaCD and SwapaDVD) have saved members over 10 million dollars! You can watch the savings grow in real time on the Pulse of PBS page, accessible from the menu under Community at the top of the site.
New Advanced Search. Now you can exclude terms, search for exact phrases, and more. The new Advanced Search will help you find the books you are looking for! It is accessible under Search at the top of any page on the site.
Personal Messages in Your Email. Yes, we heard the pleas of those who didn't want to log in to read a two-word PM. Now the text of the PMs will be in the email notification sent to you. You still have to log in to reply, but this will be a timesaver, we think!
Maps upgrade. Now if you have your city/state hidden on your profile, your city/state will be hidden on your Maps too. And anyone who has set his or her location or profile to "private" will also have an "anonymous dot" on all maps.
Exclude Genres. Want to see (for example) only children's books on your Homepage sliding book displays? Want to see no children's books there? You can choose to exclude genres (as many as you like) from your Homepage sliding book displays - this is available in your Account Settings now.
PBS Store News.
The Cloth Book Covers were invented originally for romance readers, to give them privacy while they read! So it is fitting that we have new patterns in the store this month:
Sunflower Wildflower
Digital Scales are back! These are great to use with Printable Postage. New model, same price.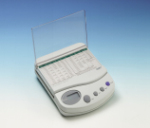 ---
Romance for Everyone!
Check out these books, currently available to request right now! These come highly recommended by Team Mucho Macho PBS.
| | |
| --- | --- |
| | Chick Lit... Something Borrowed. Rachel has always been the consummate good girl---until her thirtieth birthday, when her best friend, Darcy, throws her a party. That night, after too many drinks, Rachel ends up in bed with Darcy's fiancé. Rachel is horrified to discover that she has genuine feelings for the one guy she should run from...Something Borrowed will have you laughing, crying, and calling your best friend. |
| | General Fiction... The Notebook. A man picks up a very special notebook and begins reading to his beloved wife, his voice recalling the story of their poignant and bittersweet journey to happiness ... so begins The Notebook, a touching novel that is a dual tale of love lost and found, and of a couple's gentle efforts to retrieve the most cherished moments of their lives. |
| | Mystery ... Early Autumn. For those of you who like your romance hard-boiled...Spenser is the quintessential Tender Tough Guy. In this book: first the father hires thugs to kidnap his son. Then the mother hires Spenser to get the boy back. But Spenser decides to do some kidnapping of his own. With a contract out on his life, he heads for the Maine woods, determined to give a puny 15 year old a crash course in survival and to beat his dangerous opponents at their own brutal game. |
| | Romantic Suspense... The Summerhouse. Three best friends, all with the same birthday, are about to turn forty...Leslie, Madison, and Ellie plan to spend the birthday at a summerhouse in Maine. Each finds a puzzling card from a "Madame Zoya," offering them the chance of a lifetime: to relive any three months from the past. Will the road not taken prove a better path? |
| | Paranormal Romance...You Slay Me. Aisling Grey is a courier enjoying a free, work-related trip to Paris when she learns she's a Guardian. That's a keeper of the Gates of Hell, for those who don't know. Her customer is murdered, and the gold dragon statue she is supposed to deliver is stolen by one Drake Vireo, who is quite attractive--when he's in human form, that is... The first book in the Aisling Grey series. |
---
PBS Local Chapter News:
The Dallas PBS Local Chapter had their first book discussion--they met and discussed Same Kind of Different as Me. Keri W. sent us in this happy picture of happy readers. Nice sweatshirt, Keri!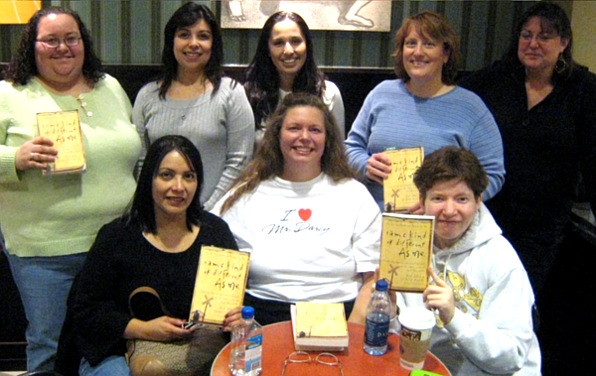 Front row, left to right: Yolie (not yet a PBS member), Shellie (aylamonster), Keri (JaneAustenFan)
Back Row, left to right: Tiffanianne (Sumbudyswife), Monica (24girl), Yvette (not yet a PBS member), Leslie (hugbandit7), Sharon (Catspaw)
New Local Chapter Leaders!
If you want to be a Local Chapter Leader for PBS, you just need to have a PBS NIckname, a viewable public profile, and some organizational skills...check the Local Chapter Leaders Forum List of Official Chapters to see if your area already has a local Chapter. If not, and you want to do this, just contact us. There are no formal guidelines for being a Chapter Leader. All of the information is in the Local Chapter Leader Discussion Forum topic.
---
MEMBER OF THE MONTH


Hunter S. (Hunter1)
Hunter is a PBS Tour Guide, the hostess of the Diva Swap, and check out her avatar- very appropriate for Valentine's Day, we think! Some of the comments we got about Hunter:
"She is always diplomatic and caring. She fosters a sense of caring and sharing amongst all of us."
"I enjoy talking to her every month on the Diva Board in the game section....Plus who doesn't like somebody who bakes fantastic desserts and then share the recipes!"
"As a tour guide and live help worker, she has been wonderful. She has had a lot of patience with my novice questions. ."

Hunter, you have touched a lot of people here at PBS. You are our Member of the Month for February. Congratulations!

If you have any nominations for Member of the Month, submit them to us here. Your nomination will not "expire"--anyone you nominate will have a chance at getting Member of the Month if enough nominations accumulate over time. Each month the person who has the most votes accumulated when the Newsletter goes to press gets to be Member of the Month and gets a newsletter mention and a nifty MoM icon to wear on profile and forum posts with pride. So go for it! Tell us who's helped you in the Forums, who's been a great swapper, who in your opinion is a credit to PBS. We are keeping a list of all the nominated members. Who knows--one of them might be YOU!
---
DEAR LIBRARIAN
Dear Librarian- I am not getting my Wish List notifications. I just get the email that I didn't respond and the wish list book isn't available anymore! Why is this happening?? -- Confused in Carson City

Dear Connie,
This means that your email provider has been told not to send some categories of PBS emails to you. You were not necessarily the one who told your email provider this! Someone else could have done this, by marking PBS email as spam in their account.
If someone marks a PBS email as spam, it affects the delivery of PBS emails to all other members who use the same email provider. This is because marking a PBS email as spam tells the email provider "I have no relationship with PBS, I never gave them permission to contact me and they provide no method for me to stop receiving their emails." So the email provider (AOL, hotmail, yahoo, etc) thinks PBS is a spammer, and they will blacklist PBS emails for all AOL/hotmail/yahoo/etc. users.
What can you do about this? First, you should be sure to add the PBS auto-email addresses (librarian@paperbackswap.com and noreply@paperbackswap.com) to your email account's address book. This will really help!
You can also be sure never to mark any PBS emails as spam yourself; some members do this just to get the emails out of view, instead of deleting them. But you can control the emails you receive from PBS from your Account Settings:
Use the email settings in your Account Settings to opt out of categories of email that you don't want to receive.
If you don't want the Newsletter, unsubscribe to it in your account settings.
If you 'watched' a topic and you don't want the 'watched-topic' emails, unwatch the topic to stop them from coming in!
If you subscribed to the Daily Digest or Daily Wish List and don't want them anymore, unsubscribe in your account settings.
We are also pro-active about this. We have set up email feedback loops with the major email providers, to avoid getting blacklisted when members mark PBS mail as spam. So we are alerted when a member marks one of our emails as spam. If a member does this once he or she will get an email from us; if a member does this repeatedly we are required by the email provider to suspend/close the member's account so that he or she will not get any more emails from us! And if a member marks our "Don't Mark PBS Emails as Spam" emails as spam, this will also cause the account to be suspended/closed.
In this way, we are trying to keep the lines of communication open, so our members get the system auto-emails that are necessry to manage their accounts.

Dear Librarian- I heard about a new law going into effect this month, which requires anyone selling items for children to test them for lead content! Does this affect books swapped here (or DVDs at SwapaDVD, or CDs at SwapaCD)? How can we all test our books for lead? --Frantic in Foxborough
Dear Fran,
This law will not affect us, happily. The CPSC sent out a press release on 1/8/2009. The relevant excerpts follow:

"The new law requires that domestic manufacturers and importers certify that children's products made after February 10 meet all the new safety standards and the lead ban. Sellers of used children's products, such as thrift stores and consignment stores, are not required to certify that those products meet the new lead limits, phthalates standard or new toy standards...The new safety law does not require resellers to test children's products in inventory for compliance with the lead limit before they are sold." (emphasis added)

You can visit the CPSC website at http://www.cpsc.gov for more information, or call the following numbers for more information:

CPSC Recall Hotline: (800) 638-2772
CPSC Media Contact: (301) 504-7908
So our swapping clubs should not have a problem because of the new law, we're glad to say.
Dear Librarian - My children like to look for books on PBS with me. When I log in, the Member Homepage comes up and sometimes there are book images on it that I am not comfortable having my children see! Is there a way NOT to show all the images in the Books Posted Today sliding display? --Bothered in Belleview
Dear Belle,
Yes! You can set your homepage to exclude any genres you like in the sliding displays. This option is available in your Account Settings, in My Account. For example, you can exclude all but children's books, and this will keep your Homepage "kid-safe" for browsing.
COMING SOON:
A couple of the Discussion Forums will be go back to "members only" this week...
---