Dear Members,
You may have seen on the news that Atlanta was hit by a series of torrential downpours that lasted for over a week. Although I was lucky not to be affected severely by it - I did spend more time indoors, and actually got to do some reading - the flooding was terrible and took some lives. At times like these I think of our entire PBS family. I hope that when any of you come face to face with Mother Nature's wrath of any type, that you remain safe and well.
The flooding has stopped here now, and the creeks and rivers have returned to their banks. The leaves are beginning to fall, and it's hard to believe but it's October again, and almost time for Trick-or-Treating. Even if you don't believe in ghosts, a good ghost (or witch, or vampire) story can't be beat! See below for recommendations for books to get you into the Hallowe'en spirit.
We wish a safe and happy month to everyone,
Richard
and the PaperBackSwap Team
---
NEWS:
Wish List Changes: We've made several tweaks to make this feature work better for you! New sorting options are available, and now you can put individual items on hold without putting your Bookshelf on hold, and without losing your place in line for the book (you will continue to move up in line to get the book even while you have that item on hold). You can read more about the changes in the Help Center.
Bookmarks on Demand. We asked the membership for input about updating the customizable bookmarks that you can download from the Spread the Word page to help you spread the word to fellow readers, and we're thrilled with the results! We think you will like them too. Thanks to all who submitted suggestions to us. Note that you'll need Adobe Acrobat Reader (free download here) to print the bookmarks. Don't forget that each new account you refer will earn you another book credit! Read about eligibility requirements for referrals.
PBS STORE NEWS:
The Cookbook is here! The Cookbook is here! Yes, the PBS Cookbook is shipping! If you moved since you ordered the Cookbook make sure your account address is updated on your account.
And now we can reveal the surprise extra in the Cookbook: In addition to all the great member recipes, there is a special collection of recipes submitted to us by some of PBS' favorite authors, including Angela Hunt, Barbara Delinsky, Bertrice Small, Beverly Lewis, Carla Neggers, Charles David, Christopher Moore, Dave Barry, David Anthony, Diana Gabaldon, Elmer Kelton, Joy Nash, Judith Tarr, Julie Garwood, Karen Dinino, Ken Follett, Laura Fitzgerald, Linda Rosencrance, Linda Woods, Lisa See, Lisa Shearin, Margaret Atwood, Margaret Weis, Mindy Klasky, Philippa Gregory and Rob Palmer! We are grateful to these authors who agreed to contribute recipes. Get your copy in the Kiosk before they're sold out!
Also check out the newly added package openers: These handy-dandy items (one shown below) are just the thing you need to get that well-wrapped PBS package open without damaging the book inside.
FREE Delivery Confirmation. Don't forget that if you have never used PBS-DC before, you have 3 free trials of the feature until October 24, 2009! The 19-cent USPS e-DC fee still applies (you pay that with extra postage applied to the package) but the 27-cent PBS fee is waived for three separate shipments if you want to try this out. PBS Delivery Confirmation comes with Quick Credit -which means that you don't have to wait for the package to be received to get credit. To try this out, choose "Print with Delivery Confirmation alone" (the middle option on the Wrapper Settings page) and your wrapper will print out with a DC barcode. You can read more about PBS-DC here, in the Help Center. Please note that Printable Postage is not included in this offer --it's just for PBS-DC.
---
Thrills 'n' Chills

Here are some great goosebumpy reads, currently available to request...
| | | |
| --- | --- | --- |
| | | Nightmares and Dreamscapes. Short stories by the master...Stephen King is your go-to author for wickedly frightening tales! |
| | | Sunday at Tiffany's. Jane is a lonely young girl who takes comfort in her imaginary friend, Michael. On Jane's ninth birthday he leaves, promising her that she'll forget him soon. He was there to help her until she was old enough to manage on her own, and now there are other children who need his help. Twenty years later, she is grown and still lonely despite her handsome boyfriend, when she catches a glimpse of a familiar face in a bar--Michael? |
| | | My Sweet Audrina Audrina Adare wanted so to be as good as her sister. She knew her father could not love her as he loved her sister. Her sister was so special, so perfect -- and dead. Upstairs in the locked room was her sister's sacred rocking chair, which held the secret of all her sister's gifts. Now Audrina will rock and rock and claim those gifts, and come face to face with the dangerous, terrifying secret that everyone knows. Everyone except Audrina. |
| | | In the Night Room Willy Patrick thinks she is losing her mind; she knows somehow that her daughter is in danger, and she has an overwhelming need to rescue her. But this is impossible, for her daughter is dead. Timothy Underhill is receiving eerie, fragmented e-mails that he finally realizes are from people he knew in his youth–people now dead. When Willy and Timothy meet, the frightening parallels tell them that they must join forces to confront the evils surrounding them. |
| | | The Dream-Hunter ...In the ethereal world of dreams, there are champions who fight to protect the dreamer and there are demons who prey on them. Arik is such a predator, condemned by the gods to live eternity without emotions. Arik can feel only when he's in the dreams of others. For thousands of years, he's drifted through the human unconscious, searching for sensation. Now he's finally found a dreamer whose vivid mind can fill his emptiness... |
---
PBS Local Chapter News: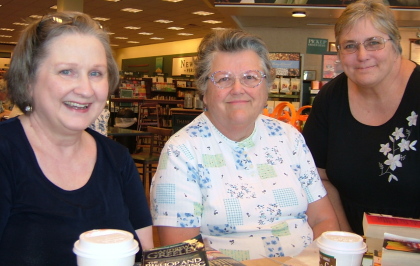 above: Mary Grace (reading-voraciously) and Carol (tehachap) and Clarise (clarisew)
below: Caralynn (sixmarbles) and Desiree (desigiggles22)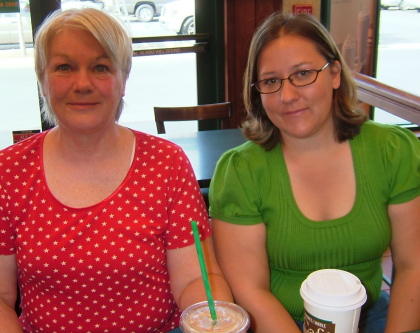 The Bakersfield Chapter met Saturday, Sept 26 in the Starbucks coffee shop at the local Barnes and Noble. As Mg N. - reading-voraciously reported: "We chatted and learned. Desiree K. coached Caralynn R. in using the website. Carol W. explained why she lives where she does in retirement. I checked out our compatibility in our books ~ not one member has been higher than about 34% before I checked out my local new best friends. Every one of them is 41% or higher. (And they are so very nice ~ thank you, PBS!) We will be meeting again in November before the hectic holidays."
New Local Chapter Leaders:
If you want to be a Local Chapter Leader for PBS, you just need to have a PBS NIckname, a viewable public profile, and some organizational skills...check the Local Chapter Leaders Forum List of Official Chapters to see if your area already has a local Chapter. If not, and you want to do this, just contact us. There are no formal guidelines for being a Chapter Leader. All of the information is in the Local Chapter Leader Discussion Forum topic. If you are an official Chapter Leader and want us to include your upcoming meetup in the Newsletter, send in a message to us with the date, at least a week before the end of the preceding month.
---
MEMBER OF THE MONTH


Patty P. (Patouie)
Patouie is here, there and everywhere on PBS - guiding other members as a Tour Guide, guiding other Tour Guides as a Tour Guide Leader, approving data corrections, approving cover image uploads, answering questions in the Forums.... We don't think there is a part of PBS that Patouie has not made better!
Some of the comments we got about Patty include:
"My first day really using the site, she answered a few of my questions via "Live Help". Since then I have submitted Book Data information which she corrected and responded to, and I also submitted several cover images which I know she was involved in approving. She is always very nice and informative in her correspondences and I get the impression she spends a lot of time on the site to the benefit of other members."

"I love Patty - she's been so patient with my questions! I am so glad she is my Tour Guide!"

"She is so nice to everyone and I think she really embodies the sharing, caring spirit of PBS"

Patty, you have a dedicated fan club! You are our Member of the Month for October. Congratulations!

If you have any nominations for Member of the Month, submit them to us here. Your nomination will not "expire"--anyone you nominate will have a chance at getting Member of the Month if enough nominations accumulate over time. Each month the person who has the most votes accumulated when the Newsletter goes to press gets to be Member of the Month and gets a newsletter mention and a nifty MoM icon to wear on profile and forum posts with pride. So go for it! Tell us who's helped you in the Forums, who's been a great swapper, who in your opinion is a credit to PBS. We are keeping a list of all the nominated members. Who knows--one of them might be YOU!
---
DEAR LIBRARIAN
Dear Librarian- I am so worried I will get the flu from a PBS package. What are the risks? --Cautious in Cleveland

Dear Eve,
It is known that the flu virus will survive on paper surfaces and currency for 8-12 hours at room temperature. So there is a theoretical risk of getting infectious mail (or change at Starbucks!) if someone sneezed or coughed onto your package within several hours of the time it comes to your mailbox. No one knows what the *real* risk is, of course.

In these situations, common sense applies: maintain good handwashing practices as always, and if you are concerned about your mail you can always bring it in, put it into an airtight bin for 12 hours and disinfect your hands (alcohol hand sanitizers kill the flu virus effectively), and then open the bin 12 hours later, at which point you can be sure any flu virus that might have been sneezed onto your mail en route is dead.
Dear Librarian-- It seems like you guys are always changing things. I JUST found out that I can get credits for referring new members! There's so much going on that I am not sure how to keep up with it all. Any suggestions? --Quizzical in Queens
Dear Izzy,
You're right, we are always tweaking things on the site. Although a lot of the stuff we do is behind the scenes to keep the site loading fast and everything moving smoothly, we are also constantly upgrading existing features to work better. When we make significant changes, we will announce them in the Newsletter, but you can also look in the What's New! section on the site to keep up with changes as they happen. You can get to What's New! from the link at the very top right corner of the screen, and also from the Browse Help Docs page in the Help Center. We try to put updates in What's New so that new features don't escape notice; if you check there once a week or so (or if you see something you think might be new), it can keep you "up to speed".
Dear Librarian-- Can you put the "Convert" button back on the Reminder List? I used that to move stuff from my Reminder List to my Wish List and I don't know how to do that now! --Boggled in Boston
Dear Tony,
We know that some people used the Convert function on the Reminder and Wish Lists, but on the whole it caused confusion - members didn't realize that an item couldn't be on both lists at once, and so they would add a book that was already on their Wish List to their Reminder Lists, and that would take the item off their Wish Lists although they didn't intend this. Now an item can be on both lists, and the Reminder List can be a list of ALL the books you want, so you can see it in one place.
It is still easy to Wish List a Reminder List book, by clicking +Wish on the listing on the Reminder List. You can read about the Wish List changes in the What's New area linked from the "What's New" at the very top of the site (and on the Browse Help Docs page in the Help Center).
COMING SOON:
Updated flyers to help Spread the Word
Book giveaways in the PBS blog