Dear Members,
As I go about the days getting ready for Christmas, I find that I am not quite done with Thanksgiving! I am still counting my blessings. First, I am thankful for my family and friends. I am also thankful for the community here at PBS; it really is a wonderful place for all of us to come and visit, share and build relationships around a common bond in reading. I am grateful for all of our volunteers, who improve the club experience for everyone else, every day.
It has been humbling to witness the club's response to our Books for Kids drive. The letter from Carmel Elementary describing how much the kids want books was heartbreaking: "I see our students come to the library searching for just the right book every single day (some several times a day)..."

Our members did not let us down - we reached our goal of 30,000 books for needy kids! The schools are thrilled. One kindergarten teacher told us, "Every day the children and I would turn on the computer and watch the number of credits rise...Your love of books and reading is going to help the children in my school enjoy some great books this holiday season." To all those who donated, congratulations for a job well done!
I am thankful for all of our members. Whether you've been with us a day or the whole six (!) years, you make PBS a tremendous place where we can all share in the joys of reading, life, and community. The club stretches from east coast to west coast, from the Dakotas to Puerto Rico, and out to far-flung corners of America like Guam and the US Virgin Islands. Military members serving overseas often can't find books in English where they are stationed - so the ones that arrive from PBS members are precious. We are strangers made into a family by books. It's a magical thing.
So whether you are celebrating Chanukah, Hijra, Solstice, Kwanzaa or Christmas this month, we wish you all the very best this holiday season!
Richard and
The PaperBackSwap Team
---
NEWS
NEWSLETTER CONTEST - Winner of #2, and Challenge #3
If you recall, the challenge for Contest #2 was to put 5 books from the current Top 50 list of Wished-for books in descending order of the number of copies of each posted and swapped in the month of September, 2010. The correct order was The Help > Dead in the Family > House Rules > The Omnivore's Dilemma > The Girl Who Kicked the Hornet's Nest. And the lucky winner, chosen at random from the correct answers, is...Jennie B. (janeite)! She gets 10 Book Credits. Happy reading, Jennie!
This month's Challenge - Answer these questions about Christmas in literature:
(1) Who found a stolen jewel hidden in Christmas dinner?
(2) Who got a dress with stylish sleeves for a special Christmas present?
(3) What bestselling humorist wrote about Dutch Christmas traditions in his fifth book of humor essays?
(4) What classic Irish novella set at Christmastime ends with the main character standing and watching the snow falling?
Each member may submit one guess. Guesses can be sent in a Personal Message to Gamester. (Please note: guesses sent in by any other means - email, feedback, PM to any account but Gamester- will not count and will be discarded.) The winner will be chosen randomly from all of the correct answers submitted by the time the next Newsletter goes to press, and the winner will be announced in the next Newsletter.
---
NEWS
Books for Schools Update: Our campaign this year was ambitious…30,000 books for 30 schools, and thanks to you we got there! We will soon be turning those credits into real books for the students - they are anxiously awaiting their boxes filled with new stories and adventures. The schools are thrilled to be receiving these right before the winter holiday so that they can send home the gift of reading ! Read the warm thank you notes from the schools so grateful for your help.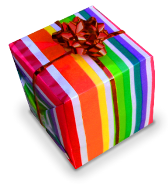 Gift Buying Guide. The Guide will help you find the perfect presents in the Market for everyone on your list - at bargain prices. And remember, Market Madness is still going on - every Friday until December 31st, we are doing a random drawing for 5 free book credits. Each book you purchase from the PBS Market enters you in the drawing - so the more books you buy, the better your chances of winning! Donna, one of our lucky winners from last week, said "Oh WOW! I read about the contest but never ever expected to win...I LOVE this thing! It is like having a bookstore I can go to in the middle of the night, in my PJ's, and you tell me before I even go that a book I want is there." Remember that ordering multiple books in a shipment saves on shipping!
All abooooard! Members are still able to sign up for the Cruise to the Bahamas for PBS Members, February 4 - 9, 2012. The cruise leaves from Jacksonville, Florida. PBS members and family/friends are welcome! Register for the cruise on the webpage the travel agency has set up. For information from a Cruise Committee Tour Guide, send an email to pbscruise@hotmail.com or post in the Discussion Forum topic. Note: Please don't send in Feedback, as PaperBackSwap is not coordinating this event.
One Size Fits All! PBS Gift Certificates can be personalized with your own messages (on cover and inside the card) and image, and you can print them out and fold them into a card to gift in person or by snail mail, or email them as e-cards to the lucky recipients. Available in 5 or 10 Book Credit denominations, from the Gift Certificates link under "Kiosk" at the top of the site. We know how much people appreciate these - they tell us all the time!
In Memoriam: As many of you know, we recently lost two pillars of the PBS community - Sherry N (Royaltech) and Tracey M (sexypineapple). Both of them contributed a great deal to the club, volunteering their time and giving generously of themselves to other members. They exemplified the spirit of the PaperBackSwap community, and they will be terribly missed! Our thanks to everyone who donated to get new books for their respective elementary schools, where each of them first developed a lifelong love of reading, and please keep their families in your thoughts and prayers during this difficult time.
---
The PBS Market has the holiday on its mind! From stocking stuffers to gift sets to bestsellers at rock-bottom prices...
The Hunger Games Trilogy boxset by Suzanne Collins . The extraordinary, groundbreaking New York Times bestsellers are available in a beautiful hardcover boxset edition. Stunning, gripping, and powerful. The trilogy is now complete! A great gift for teen/young adult.

Retail Price: $53.97
Buy New (Hardcover): $27.09+1 credit (save 49%) or $30.49 (save 43%)

GIrl's Guide to Witchcraft by Mindy Klasky . Which is more unlikely? Meeting a single, straight, reasonably attractive, willing-to-commit man? Or discovering a secret cache of magic books? For good girl Jane Madison, neither has a prayer of coming true--until the day she finds a hidden room, and finds a spell that makes her irresistible to men… A great gift for anyone who loves paranormal romance.

Retail Price: $13.95
Buy New (Paperback): $2.09+1 credit (save 85%) or $5.49 (save 60%)

Diners, Drive-ins and Dives: An All-American Road Trip . . . with Recipes! by Guy Fieri, Ann Volkwein Know someone who's hooked on the Food Network Show? He or she will love this book, which includes recipes from the featured eateries in the program. Almost any cook or "foodie" will appreciate this book!

Retail Price: $19.99
Buy New (Paperback): $10.09+1 credit (save 49%) or $13.49 (save 32%)

Sookie Stackhouse (Boxed Set) by Charlaine Harris. The 8-book boxed set of Sookie Stackhouse/True Blood Series paperbacks. Cocktail waitress Sookie Stackhouse is no typical Southern belle - she can read minds. And she's got a thing for vampires. Which, in a town like Bon Temps, Louisiana, means she'll have to watch her back...and neck! Set includes Dead Until Dark (Bk 1); -- Living Dead in Dallas (Bk 2); -- Club Dead (Bk 3); -- more » Dead to the World (Bk 4); -- Dead as a Doornail (Bk 5; -- Definitely Dead (Bk 6); -- All Together Dead (Bk 7); -- From Dead to Worse (Bk 8).

Retail Price: $63.92
Buy New (Paperback): $32.09+1 credit

(save 49%)

or $35.49

(save 44%)

Would You Rather : Over 200 Absolutely Absurd Dilemmas to Ponder by Justin Heimberg, David Gomberg

Would you rather give blood or read Hamlet? Fight Mike Tyson or talk like him? For fans of juvenile humor, Would You Rather...? is the ne plus ultra of ridiculous dilemmas. Whether read alone or with a group of friends, this book will have you laughing out loud as you debate the eternal questions of life, like: "Would you rather live in a world where Afros were mandatory for members of Congress or where it was legal, in fact encouraged, to crucify mimes?" A perfect stocking stuffer, or icebreaker at a holiday party.

Retail Price: $9.95
Buy New (Paperback): $1.49+1 credit (save 85%) or $4.49 (save 54%)
---
These seasonal books are all available for swapping right now:



Silent Night

by . When Catherine Dornan's husband Tom is diagnosed with leukemia, she and their two young sons travel with him to New York during the holiday season for a lifesaving operation. On Christmas Eve,

Catherine takes the boys to see Rockefeller Center's famous Christmas tree, where seven-year-old Brian notices a woman taking his mother's wallet. A St. Christopher medal tucked inside the wallet saved his grandfather's life in World War II, and Brian believes with all his heart that it will protect his father now. Impulsively, Brian follows the thief into the subway, and the most dangerous adventure of his young life begins...

.

See other suspense books currently available for swapping.




Christmas Letters by Kathleen Paul, Darlene Mindrup, Rebecca Germany, Susan Downs. Four couples discover love when their letters cross the battlefronts of World War II. Joan and Drake surrender to The Forces of Love. Joyce captures The Missing Peace of romance in a Normandy hospital. Mitsu finds that Christmas Always Comes to those who hope. And Betsy and Kevin experience an Engagement of the Heart. See other Christian Fiction selections currently available for swapping.




The Cat Who Came for Christmas by Cleveland Amory. It was a white Christmas Eve, when Cleveland Amory, self-confessed curmudgeon and confirmed dog-owner, found himself standing in a deserted alley trying to rescue a dirty, injured, starving, decidedly unfriendly cat. What followed is the enchanting story of Amory, who undergoes the transition from a life of independence to a life of being cat-owned. With glimpses of Amory's cat's memorable meetings with notables such as George C. Scott and Cary Grant, and fascinating tidbits about the history of cats, this is an irresistible book for cat-lovers and non-cat-lovers alike. See other books about Animal Care and Pets currently available for swapping.




Too Many Holidays by This year, Sharie's mother wants their family to celebrate Kwanzaa. And she has to work on a project with Caitlin, who insists on studying her family's Greek Christmas. Hannah, Sharie's best friend, invites her over for Hanukkah. All Sharie wants is to celebrate Christmas, just like she's always done. But her holidays are being ruined -- and fast! Will Sharie find a way for everyone -- including herself -- to have a merry season?

Browse other books for age 9-12 currently available for swapping.



Christmas in My Heart by . Open up these precious treasuries of classic stories to rediscover what makes Christmas so special. These stories

(from master storytellers such as Pearl S. Buck, Madeleine L'Engle, Taylor Caldwell, and O. Henry)

share the spark of Christmas in all of us--the caring, the sharing, and the love.

Read them once, to loved ones or in peaceful solitude, and they will forever become a part of your family's Christmas traditions.
---
North Texas Chapter Christmas Cookie Exchange Dec 12, 2010 - They will be reading The Christmas Cookie Club and they are planning a Christmas cookie exchange at Moni's Italian Restaurant. Shellie F. (aylamonster) notes "Everyone is welcome. Feel free to bring some books to trade and save yourself shipping costs! Some of the group check each other's WL before the meetings. We usually meet Sundays from 3-5pm. One month in Tarrant County and then the next month in Dallas County." Contact aylamonster or check the Forum topic for more details.
New Local Chapter Leaders:
Amanda S - kervy - Sherman Oaks/San Fernando Valley
April P. - sakkasie - Silicon Valley, CA
Jami S. - strwbryfairie - Eastern North Central Iowa - Charles City/Mason City area
If you want to be a Local Chapter Leader for PBS, you just need to have a PBS NIckname, a viewable public profile, and some organizational skills...check the Local Chapter Leaders Forum List of Official Chapters to see if your area already has a local Chapter. If not, and you want to do this, just contact us. There are no formal guidelines for being a Chapter Leader. All of the information is in the Local Chapter Leader Discussion Forum topic. If you are an official Chapter Leader and want us to include your upcoming meetup in the Newsletter, send in a message to us with the date, at least a week before the end of the preceding month.
---
MEMBER OF THE MONTH


Robin K. (jubead)
Robin is one of our Tour Guide Leaders, and is also a Data and Image Approver. We have gotten lots of nominations for Robin from both her fellow volunteers and "random" members whom she has helped in her role as Tour Guide. We ourselves appreciated her patient help while we were sorting out some recent issues with the image uploading. She's really something special.
Just some examples of the comments we got:
"Her dedication to PBS is wonderful!"
"She's always ready and willing to assist members, along with fellow TG's when they need help. She's friendly and professional and a great asset to PBS."
"I had an issue with another swapper and contacted Robin K. (jubead) for assistance. I wanted to let you know that Robin was very thorough and very prompt in helping me with my issue - the service went above and beyond the normal call of duty! Great job! "
"My first swaps went so easily because Robin helped me with every step. Now I feel like a pro swapper, thanks to her. She was really there for me when I needed a helping hand!"
"She's very sweet and friendly, and made me feel very welcome in the club. She's a great 'poster girl' for PBS."
Robin, all your hard work is really appreciated! It's no surprise that "jubead" our Member of the Month for December. Congratulations!
If you have any nominations for Member of the Month, submit them to us here.
Your nomination will not "expire"--anyone you nominate will have a chance at getting Member of the Month if enough nominations accumulate over time. Each month the person who has the most votes accumulated when the Newsletter goes to press gets to be Member of the Month and gets a newsletter mention and a nifty MoM icon to wear on profile and forum posts with pride. So go for it! Tell us who's helped you in the Forums, who's been a great swapper, who in your opinion is a credit to PBS. We are keeping a list of all the nominated members. Who knows--one of them might be YOU!
---
DEAR LIBRARIAN
Dear Librarian - I read about how using the link here to order from Amazon will help the club. I already have an Amazon account - do I need to open a different account at Amazon in order to give you credit for my Amazon purchases? - Shopping in Charlotte
Dear Charly,
Thanks so much for wanting to support the club in this way! All you have to do is click the Amazon link (any one you see) on our site to go to Amazon, and then from there just make your purchases using your Amazon account as you normally would. This works for whatever you buy at Amazon (it doesn't just work for books) - whenever you start your Amazon shopping from the link on our site, it helps the club! The part that gives us credit is your clicking the link on our site as a way to get to Amazon, before purchasing. It's a great and free way to support PBS.
You can find the

link at the top of any page on the site, or click the "Buy from Amazon" button on any book listing.
Dear Librarian - I see that the rules here for postable books say "no damage from water or any other liquid." How can I tell if a book I have is water-damaged? Are there some pictures of examples I could look at? --Unsure in Uncasville
Dear Unc,
Generally, water or other liquid will make paper swell or ripple, and dried water/liquid damage will make pages stiff. It's hard to describe in words, though! Water damage is one of those things that "you know it when you see it". We have been meaning for a while to get photos of water and other damage to books, to provide a helpful gallery to members in the Help Center.
If any members have images they would like to share to illustrate different book conditions, we would be happy to receive them. We would be interested in photos clearly showing water damage, foxing, mold, mildew, etc. on books. You can submit the photos to us one of two ways:
(1) upload them to a photo-hosting site and send the URL(s) to us in a feedback message - your feedback message should include a description of the condition (ie, "foxing on end pages" or "water damage") so we know what the image is supposed to be illustrating.
(2) attach them in jpg format to an email sent to librarian@paperbackswap.com - your email text should include a description of the condition (ie, "foxing on end pages" or "water damage") so we know what the image is supposed to be illustrating.
We may not be able to acknowledge each submission with a reply, but we will credit the photograph's submitter if we use the image in the Help Center gallery. Thanks in advance to those who submit images!
---
The Last Word:
Holiday shopping?

Don't forget to start your Amazon shopping from the link at the top of the PBS site - when you do this, a small percentage of your purchase amount comes to us. Please note that if you are an e-book reader, it used to be that e-book purchases at Amazon did not count to support the PBS site, but now they do! So whenever you plan to purchase on Amazon, start from the Amazon link at the top of the PBS site. It's an easy, free way to support the club!