Dear Members,
Well, passing the 5-million-books milestone was certainly exciting! It's hard to believe we have so many available books in the club now. Congratulations to the winners of the 5 Million Books Contest - the exact time when we reached the goal was 2/27/2011 at 5:47 PM ET. Check out the list of contest winners and their loot!
In the spirit of renewal that comes with Spring, we have added some great new features for the PBS Blog. If you have not visited the Blog, you must check it out! Here are some of the things that you will find there:
If you want to submit a review for the blog - or if you're an author and want to be interviewed - or you have any suggestions for current or future features for the blog - let us know at blog@paperbackswap.com! You won't want to miss out on all the contests and giveaways; subscribe to the Blog today! You can subscribe to the feed from the blog page. (You can also make a bookmark for the Blog in your browser so you don't forget to check back.)
The arrival of Spring also means it's time for spring cleaning (cue weary groans). Get a jump on all that by starting in your PBS account - look over your Bookshelf to remove any books you no longer have for swapping, and check over your Wish List to be sure that all books listed there are ones you want when they become available to you. Extend your spring-cleaning efforts to your real bookshelves, and post those books you've been holding onto. Someone else wants to read them - by sending them out you'll be able to get fresh reads for yourself!
Have a great March,
Richard and
The PaperBackSwap Team
---
Selected books newly available in the PBS Market!
The Girl's Guide to Loving Yourself by Diane Mastromarino . This book offers that extra boost of self-esteem the teen needs to walk into a crowded room feeling confident, and to stand in front of a bedroom mirror feeling satisfied. It is the perfect mixture of wisdom, guidance, inspiration, and laughter you need to fall head over heels in love with the one person who matters most... you. . See more Young Adult books currently available in the Market.

Retail Price: $9.99 Buy New

(Paperback):

$1.59+1 credit

(save 84%)

or

$4.99

(save 50%)

Old Magic by Patricia A. McKillip Brenden Vetch has a gift that connects him to the agricultural world, nurturing gardens to flourish and instinctively knowing the healing properties each plant and herb has to offer...but he has another power -- a power that even Brenden isn't fully aware of... Browse Paranormal Romance books currently available in the Market.

Retail Price: $14.00 Buy New

(Paperback): $2.09+1 credit

(save 85%)

or $5.49

(save 60%)

Sundays at Moosewood Restaurant by Moosewood Collective . Moosewood Restaurant in Ithaca, New York, is synonymous with creative cuisine with a healthful, vegetarian emphasis. Each Sunday at the restaurant, diners experience a new ethnic or regional cuisine, sometimes exotic, sometimes familiar....Sundays at Moosewood Restaurant offers a taste for every palate. See more books on Cooking, Food and Wine currently available in the Market.

Retail Price: $24.95 Buy New

(Paperback): $12.59+1 credit

(save 49%)

or $15.99

(save 35%)

Somebody Else's Daughter by Elizabeth Brundage. In the idyllic Berkshires, at the prestigious Pioneer School, there are dar... more »k secrets that threaten to come to light. Willa Golding, a student, has been brought up by her adoptive parents in elegant prosperity, but they have fled a mysterious and shameful past. Her biological father, a failing writer and former drug addict, gains a teaching position at the school... Somebody Else's Daughter is both a suspenseful thriller and a probing study of richly conflicted characters in emotional turmoil. See other Thrillers currently available in the Market.

Retail Price: $15.00 Buy New

(Paperback): $2.09+1 credit

(save 86%)

or $5.49

(save 63%)

World War Z: An Oral History of the Zombie War by Max Brooks. The author of the determinedly straight-faced parody The Zombie Survival Guide (2003) returns to the subject with this "future history": The tale follows an outbreak of zombie madness via testimony of smugglers, intelligence officials, military personnel and many others who struggle to defeat the zombie menace... Browse other General Fiction books currently available in the Market.

Retail Price: $14.95 Buy New

(Paperback): $7.59+1 credit

(save 49%)

or $10.99

(save 26%)
---
Try these highly-rated books, currently available for swapping!



Salem Falls

by . A handsome stranger comes to the sleepy New England town of Salem Falls in hopes of burying his past. Now, washing dishes for Addie Peabody at the Do-O... more »

r-Diner, he slips quietly into his new routine, and Addie finds this unassuming man fitting easily inside her heart. But amid the rustic calm of Salem Falls, a quartet of teenage girls harbor dark secrets -- and they maliciously target Jack with a shattering allegation...

See other suspense books currently available for swapping.




Monster by Frank Peretti. Miles away from the hectic city, Reed and Rebecca hike into the beautiful Northwestern woods. They're surrounded by gorgeous mountains, waterfalls, and hundreds of acres of unspoiled wilderness. But something--or someone--begins closing in on them. Something no human has ever seen. And it's killing everyone in its path without remorse... See other Christian Fiction selections currently available for swapping.

Scent of Darkness by Christina Dodd. Ann Smith loves her handsome, dynamic boss, Jasha Wilder, but her daring plan to seduce him goes awry when she encounters a powerful wolf who--before her horrified eyes--changes into the man she adores. She soon discovers she can't escape her destiny, for she is the woman fated to break the curse that binds his soul. The first book in the Darkness Chosen series. See other Paranormal Romance books currently available for swapping.




Loser by . Once again, Newbery Medal-winning author Jerry Spinelli uses great wit and humor to create the unique story of Davd Zinkoff, the "loser" of the book's title, as he travels from first through sixth grades. Loser is a touching book about the human spirit, the importance of failure, and how any name can someday be replaced with "hero."

Browse other books for age 9-12 currently available for swapping.



A Reliable Wife by Rural Wisconsin, 1909. In the bitter cold, Ralph Truitt, a successful businessman, stands alone on a train platform waiting for the woman who answered his newspaper advertisement for "a reliable wife." But when Catherine Land steps off the train from Chicago, she's not the "simple, honest woman" that Ralph is expecting... Browse other General Fiction books currently available for swapping.
---
NEWS:
Author, Author! Check out the new and improved Author Bibliography pages, accessible by clicking the author's name on any book listing. See an example. There's a lot of information about the author, quotations from him or her, and a new way to sort his or her books - chronologically, alphabetically, or by availability. Drop in on a few of your favorite authors - you may learn something about them that you never knew before!
There's an App for that. The ranks of mobile phone apps for PBS are growing.. we have two for the Android (PaperBackSwap Wishing, developed by jaynval - FREE in the Android Market and BookSwapDroid, developed by Jason Harmon - two versions in the Android Market, one $3.47 and the other FREE), and one for the iPhone (Mobile Book Swap, developed by sweethookup - $1.99 in the iPhone App Store). If you are developing a mobile app for PBS or SwapaCD or SwapaDVD, please let us know.
---
PBS Local Chapter News
The St. Louis, Missouri Chapter will be having a Swap and Meet on Saturday, March 12th, 2011 at 9:30 AM, at St. Louis Bread Co. at 10740 Sunset Hills Plaza in Sunset Hills, MO. Check out the event page on Facebook!
The Laveen, AZ Chapter will be meeting Saturday March 19, 2011 at 10am, at Safeway at the SE corner of 51st Ave and Baseline in Laveen. They'll be discussing The Original Sin by P. D. James. Keep up with the Laveen Chapter on Facebook!
The North Texas Chapter will be having a meeting on Sunday March 27th, 2011 at 3 PM, at the Josey Ranch Library in Carrollton. They'll be discussing The Spellman Files. Contact Shellie (aylamonster) for more information.
We'd love to share your Chapter news - if you have some, please submit it to us!
New Local Chapter Leaders:
Marie M - avemarie - South Eastern/Wilmington area of North Carolina
If you want to be a Local Chapter Leader for PBS, you just need to have a PBS NIckname, a viewable public profile, and some organizational skills...check the Local Chapter Leaders Forum List of Official Chapters to see if your area already has a local Chapter. If not, and you want to do this, just contact us. There are no formal guidelines for being a Chapter Leader. All of the information is in the Local Chapter Leader Discussion Forum topic. If you are an official Chapter Leader and want us to include your upcoming meetup in the Newsletter, send in a message to us with the date, at least a week before the end of the preceding month.
---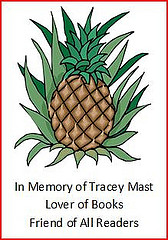 In memory of Tracey Mast. We received a lovely letter from Daniel Tower, the Interim Superintendent of Schools in Indiana, thanking PBS for the books we sent to Hums Elementary School in Tracey's memory. As Mr. Tower said, "What a beautiful way to honor Tracey." She is much missed, but certainly not forgotten. Thanks to all of you who donated credits so we could send books to these deserving kids! You can read the thank-you letters from the children who have received books through the Books for Schools campaigns in the donations portion of the site.

---
MEMBER OF THE MONTH

Denise L. (fangrrl)
Denise L. is our members' latest choice for this honor. She's a frequent contributor to the Discussion Forums, and she's a wonderful swapper. She's sent hundreds of books to other members, without even one problem swap!
Some of the comments about Denise that members have sent in to us:
"Her posts are always helpful, thoughtful and polite."
"She has incredible advice and you can always count on her for a kind word."
"She frequently helps her fellow members on the forums, and does so peacefully and respectfully, and while displaying kindness and empathy along with knowledge."
Denise, you have a lot of fans! We thank you for being a kind, helpful presence in the Forums, and for your excellent swapping! You are our Member of the Month for March. Congratulations!
If you have any nominations for Member of the Month, submit them to us here.
Your nomination will not "expire"--anyone you nominate will have a chance at getting Member of the Month if enough nominations accumulate over time. Each month the person who has the most votes accumulated when the Newsletter goes to press gets to be Member of the Month and gets a newsletter mention and a nifty MoM icon to wear on profile and forum posts with pride. So go for it! Tell us who's helped you in the Forums, who's been a great swapper, who in your opinion is a credit to PBS. We are keeping a list of all the nominated members. Who knows--one of them might be YOU!
---
DEAR LIBRARIAN
Dear Librarian - I just had a baby! She came a little bit early (she is fine) but you can understand that bookswapping was not exactly the first thing on my mind! When I checked my email, I was surprised to see that my account had been suspended for ignoring Wish List offers! I am a good member, and have always been very responsible with my account. Why would you suspend me so quickly? I had a good reason for not replying to those Wish List offers! -- Shocked in Chicago
Dear Chic,
First things first: congratulations on the birth of your daughter!
You are right, of course, that there are times when bookswapping simply cannot be a priority - we do understand this, and actually that is why the system suspends accounts which don't respond to a few Wish List offers (or book requests) in a row. We've set this up to protect our members' accounts. The suspension is simply a Vacation Hold applied by the system, to accounts that are not being tended to, for whatever reason. We don't want you to miss too many Wish List offers and lose your place in line for too many books, or miss too many book requests and have too many books removed from your Bookshelf as a consequence. If you are away from your account, we certainly understand! The Vacation Hold will stop the missed requests and offers from accumulating in your account while you aren't able to tend to it - and when you get back, you can log in and remove the suspension from your account with one click.
Having a baby isn't the only reason to be away from your account - but it is one of the best ones! We hope you and the new little reader are both doing well. :)
---
The Last Word: