---
Try one of these scaaaaary tales to get your Hallowe'en on - all are available to order right now!



Warning Signs by .

A homicide detective is the prime suspect in the murder of a District Attorney...

as the minutes tick down in a brilliantly conceived vendetta that targets the guilty and the innocent alike, Warning Signs races to a harrowing climax in which the lives of hundreds hang in the balance

.

See other suspense books currently available for swapping.




Sleepers by Lorenzo Carcaterra This is the true story of four young boys. Intelligent, fun-loving, wise beyond their years, they are inseparable. Until one disastrous summer afternoon... At the heart of Sleepers is a sensational murder trial that truly defines the meaning of loyalty and love between friends. See other Biographies and Memoirs currently available for swapping.

Everything's Eventual by Stephen King. Who is the master of horror? Stephen King, of course! Whether writing about encounters with the dead, the near dead, or about the mundane dreads of life, Stephen King is at the top of his form in the fourteen dark tales assembled here. Browse all Stephen King books currently available for swapping.

Scary Stories to Tell in the Dark by

.

The classic collection of spine-tinglers.

Phantom footsteps! Ghostly wails! Creatures that go bump in the night! Turn the lights down low. Now get ready for the fright of your life. Here are chilling, thrilling stories that will make you shiver and shake!

Browse other books for age 9-12 currently available for swapping.



Guilty as Sin by

.

A cold-blooded kidnapper has been playing a twisted game with a terrified Minnesota town; a respected member of the community stands accused of a chilling act of evil. When a second boy disappears, a frightened public demands to know: Have the police caught the wrong man?

See other highly-rated mystery books currently available for swapping.
---
Hot off the presses! Try one of these newly published books, available in the PBS Market.
Halloween Fun: 101 Ideas to Get in the Spirit by Better Homes and Gardens. Create an eerie atmosphere for an unforgettable Halloween party. Concoct treats your ghouls and goblins will love. Transform your little cutie into a spooky spider. Your inspiration is right here - grab a cauldron full of fun! Browse other Hallowe'en crafting books currently available in the Market.

Retail Price: $15.95 In the PBS Market

(Paperback):

$3.59+1 credit

(save 77%)

or $6.99

(save 56%)

Hush by Donna Jo Napoli A silent girl. — An awesome power. — Melkorka is an Irish princess, kidnapped and taken aboard a marauding slave ship; she must carve out a place for herself in a new world -- all without speaking a word. See more Young Adult books currently available in the Market.

Retail Price: $16.99 In the PBS Market

(Hardcover):

$8.59+1 credit

(save 49%)

or

$11.99

(save 29%)

(Paperback)

$3.59+1 credit or $6.99

Children of Paranoia by Trevor Shane. Killing people is the only life Joseph has ever known, and he's one of the best at it. But when a job goes wrong and he's sent away to complete a punishingly dangerous assignment, Joseph meets a girl named Maria, and for the first time in his life his singleminded, bloody purpose fades away. See other Thrillers currently available in the Market.

Retail Price: $25.99 In the PBS Market (Hardcover): $13.09+1 credit

(save 49%)

or $16.49

(save 36%)

Angel in the Rubble by Genelle Guzman-McMillan. The story of the last survivor pulled from the 9/11 Ground Zero debris after 27 hours, and her journey from desperation to a miraculous salvation. See more memoirs currently available in the Market.

Retail Price: $24.00 In the PBS Market

(Hardcover)

: $12.09+1 credit

(save 49%)

or $15.49

(save 35%)

Pinch Me by Adena Halpern. Lily elopes with the man of her dreams, despite the family curse prohibiting marrying for love. Unable to believe her good fortune, Lily asks her husband to pinch her, to make sure it isn't just a dream. The moment he does, she finds herself transported back; her husband is married to someone else and has no memory of her. In this modern fairy tale, can Lily find a way to break the curse and turn her nightmare back into a dream come true? Browse other General Fiction books currently available in the Market.

Retail Price: $14.99 In the PBS Market

(

Paperback)

: $7.59+1 credit

(save 49%)

or $10.99

(save 26%)

Zombie Cupcakes: From the Grave to the Table with 16 Cupcake Corpses by Zilly Rosen Zombie Flesh, Zombie Brain, Gravestones, Maggots, Night of the Living Cupcake, 28 Cupcakes Later, and more! The recipes feature complete cooking and icing techniques, along with full-color photos and illustrations of some of the more difficult techniques, making the book perfect for beginners and more accomplished pastry chefs alike. See more books on Cooking, Food and Wine currently available in the Market

Retail Price: $14.99 In the PBS Market (Paperback): $7.59+1 credit

(save 49%)

or $10.99

(save 26%)
---
NEWS: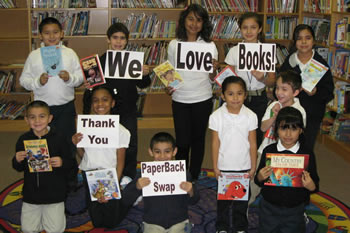 Our next Books for Schools Campaign is right around the corner! This will be our third consecutive year, and we are excited to kick things off November 16th. We have chosen deserving elementary schools all around the country from the very many nominations sent in by our members (thank you!), and during the campaign PBS Members can donate credits toward each school's book goal. Once that goal is met, we turn those credits into new books! The schools use these new, early reader books to fill classroom libraries, as incentives for reading programs, or as gifts to students who have rarely had books to call their own. Read about last year's program here. You can nominate a school here. If you nominate a school, please make sure you have spoken to the principal and he or she is aware of our program. Last year we gave away 30,000 new books...can we do it again this time?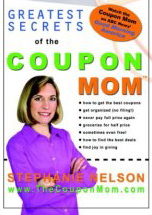 SALE in the Kiosk... Save with the CouponMom! You can change the way you shop and the way you save with the wildly popular book Greatest Secrets of the Coupon Mom - available now for just $4.00 (postage-paid) in our Kiosk! The book is $2.00, the shipping is $2.00 - it'll pay for itself with your first shopping trip. You can read more about the book here.
Winners of the Summer Blog Contest! It was a hard decision but we have a tie: SassenachD's photo of her and Nellie wearing PBS Tshirts at Nellie's bachelorette party in Phoenix, Arizona, and ceebeegeebee's photo with his family (and PBS T shirt) at a NJ Balloon Fest. Both entries have won 10 Book Credits and $5 in PBS Money! You can get the Tshirt in the Kiosk and see the pics in the blog, and remember to keep an eye on the blog for more contests - if you subscribe to the RSS feed, you won't miss them - or the Book Grab Giveaways starting soon (see below). Thanks to all who sent photos in!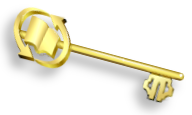 Gold Key Membership is getting rave reviews! We're glad that so many of you have found the Gold Key features to be useful - we appreciate all of your feedback about it. Teachers and book clubs are using the Multi-Copy Requesting feature, members are enjoying being able to search their Friends' Bookshelves and Wish Lists, and of course the extra 100 spaces on the Wish List are coming in very handy. If you haven't checked out Gold Key yet, read about it in the Kiosk - it's only $12.99 for the entire year.


Book Grab Giveaways are starting soon on the PBS blog. We're really excited about these! A couple of times a month we'll surprise you with chances to win a brand new copy of those hot books for which you've been waiting. We'll be choosing from the list of Top 50 Wished for Books in the club. It's so easy to enter…just reply to the blog post, but here's the catch…you only have 24 hours to enter the Giveaway for each featured book! We'll randomly draw a lucky winner from all entries. Stay tuned to the PBS Blog …you never know when the Book Grab Giveaways will happen or which book you can win!


Come Cruise With Us on the first PaperbackSwap Cruise, February 4-9, 2012! This Carnival Cruise is available to all PBS members and their guests: It will be sailing out of Jacksonville, FL to the Bahamas. Come meet your PBS friends and members of the PBS Team for 5 days of fun! Details are available in the Discussion Forum topic, or by contacting our Travel Specialist directly at 1-800-727-7601 ext. 229. For information from a Cruise Committee Tour Guide, send an email to pbscruise@hotmail.com or post in the Discussion Forum topic. Note: Please don't send in Feedback, as PaperBackSwap is not coordinating this event. And don't forget your PBS Cruise T Shirt, available in the Kiosk. Snag one now, before they are all gone!
---
If you want to be a Local Chapter Leader for PBS, you just need to have a PBS Nickname, a viewable public profile, and some organizational skills...check the Local Chapter Leaders Forum List of Official Chapters to see if your area already has a local Chapter. If not, and you want to do this, just contact us. There are no formal guidelines for being a Chapter Leader. All of the information is in the Local Chapter Leader Discussion Forum topic. If you are an official Chapter Leader and want us to include your upcoming meetup in the Newsletter, send in a message to us with the date, at least a week before the end of the preceding month.
---
MEMBER OF THE MONTH

D. G. (riahekans)
D. G. is an ardent Games player and a dedicated Tour Guide. We see her here, there and everywhere in the forums giving friendly, helpful answers to other members' questions about the site. We've been getting nominations for D. G. for a long time. What her fans said:
"She is a great swap hostess and runs fabulous reading challenges that really motivate players to read - and post! - books that have been on their TBR shelves for a long time. She is super organized, always responsive to questions, and her swaps are always fun to play.."
"I am a new Tour Guide and her posts in the Tour Guide Lounge really help me understand how to answer member questions."
"She's helped me as a tour guide and has great ideas in the games forum."
D. G., you're the bees' knees! You are Member of the Month for October. Congratulations!
If you have any nominations for Member of the Month, submit them to us here.
Your nomination will not "expire"--anyone you nominate will have a chance at getting Member of the Month if enough nominations accumulate over time. Each month the person who has the most votes accumulated when the Newsletter goes to press gets to be Member of the Month and gets a newsletter mention and a nifty MoM icon to wear on profile and forum posts with pride. So go for it! Tell us who's helped you in the Forums, who's been a great swapper, who in your opinion is a credit to PBS. We are keeping a list of all the nominated members. Who knows--one of them might be YOU!
---
DEAR LIBRARIAN
Dear Librarian - I requested a book and the other member told me in a Personal Message that she's out of town and can't mail it now. I understand, but why is the request still on my account page? How do I make sure that I can get the book from her when she gets back home, or is there someone else who has the book that I can order it from? --Puzzled in Provincetown
Dear Vince,
We're sorry that she didn't use the Vacation/Hold to "hide" her books while she's out of town. Since she forgot about that, your request was submitted to her. She should have clicked "I cannot mail" on the request. If she did that, the system would automatically pass your request to another member who has the book! You would not have to do anything, and you would not get any emails about this (we don't want to clutter up our members' email inboxes unnecessarily). It's possible that that already happened. You can check, by looking at the request on your My Account page. If you click the PM button on the request you will see the first name (and last initial) of the sender. If it's the same as the member who told you she can't send the book, then she does need to cancel it. This is easy to do - she just needs to click "I cannot mail" (if she never accepted the request) or "Cancel Order" (if she accepted) or contact us (using the feedback button on the Contact Us page on the site) to cancel if she marked it "mailed" already.
If the name that comes up when you click the PM button is a different name than the member who told you she can't mail, that means the system has already handled the request - she already canceled and the request was passed to a new sender.
If a member cancels and there aren't any other copies of the book in the system at the time, the book will go onto your Wish List - if it was already on your Wish List before it was offered to you, you'll go back in the same position and will get the next offer of the book.
When the other member comes back into town, she can simply repost the book to her account, and it will automatically be offered to you again if you aren't already getting it from someone else. So you don't have to worry about trying to get back in touch with her to get the book when she's back and able to send it. When she reposts it, the system will handle everything. We hope you're able to get the book soon, Vince! Don't forget to use the Vacation/Hold when you go out of town or can't send out books for a while - it keeps swapping moving smoothly for everyone!
---
The Last Word: