---
Did you miss these popular books? They're all are available to order right now!
---
Hot off the presses! Try one of these newly published books, available in the PBS Market.
Altered Shoes by Marty Stevens-Heebner. With Altered Shoes, you can add sparkle to your stilettos, revive your favorite flats and personalize your pumps. Use the same techniques to turn new "off the rack" bargains into out-of-this-world creations! Browse other crafting books currently available in the Market.

Retail Price: $22.99 In the PBS Market

(Paperback):

$2.09+1 credit

(save 90%)

or $5.49

(save 76%)

Blood Feud by Alyxandra Harvey It's been centuries since Isabeau St. Croix barely survived the French Revolution. Now she's made her way back to the living and she must face the ultimate test by confronting the evil British lord who left her for dead the day she turned into a vampire... See more Young Adult books currently available in the Market.

Retail Price: $16.99 In the PBS Market (Hardcover): $8.59+1 credit

(save 49%)

or $11.99

(save 29%)

Stone's Fall by Iain Pears A panoramic novel with a riveting mystery at its heart, Stone's Fall is a quest to discover how and why financier John Stone dies, falling out of a window at his London home. It's an intricately plotted and richly satisfying puzzle - an erudite work of history and fiction that marks the triumphant return of one of the world's great storytellers. See other Thrillers currently available in the Market.

Retail Price: $16.00 In the PBS Market

(

Paperback): $8.09+1 credit

(save 49%)

or $11.49

(save 28%)

Angry Fat Girls: 5 Women 500 Pounds and a Year of Losing It...Again by Frances Kuffel. Frances Kuffel wondered: how could this happen again? She'd transformed her life by losing 188 pounds-but, like the vast majority of dieters, she transformed it again by gaining over half those pounds back. She meets four women online in the same situation - they call themselves the Angry Fat Girlz - in this book, Frances shares their story and their struggle to find their best selves along the way. See more memoirs currently available in the Market.

Retail Price: $15.00 In the PBS Market

(Paperback): $7.59+1 credit

(save 49%)

or $10.99

(save 26%)

The Pretend Wife by Bridget Asher. A bighearted, funny, fiercely perceptive tale about a happily married woman and the little white lie that changed everything... Browse other Contemporary Fiction books currently available in the Market.

Retail Price: $24.00 In the PBS Market (Hardcover): $2.59+1 credit

(save 89%)

or $5.99

(save 75%)

Debbie Macomber's Christmas Cookbook by Debbie Macomber We call her the "Official Storyteller of Christmas" -- now Debbie Macomber shares more than one hundred of her favorite Christmas recipes. You'll also find easy-to-follow instructions for crafts, decorations and gift wrapping -- everything you need to create a beautiful and festive holiday! See more books on Cooking, Food and Wine currently available in the Market

Retail Price: $29.95 In the PBS Market (Hardcover): $15.09+1 credit

(save 49%)

or $18.49

(save 38%)
---
NEWS:
PaperBackSwap wants to send you to the movies! We know you've enjoyed reading and swapping Michael Morpurgo's best-seller War Horse. Now you have a chance to be among the first to see the new film about the extraordinary journey of a horse as he moves through the First World War, changing and inspiring the lives of all those he meets A limited number of complimentary advance screening passes are available to PBS members in select cities. Each pass admits two people. Check the PBS Blog for the list of 25 cities, and to enter the drawing for tickets. Thanks to DreamWorks for making this possible!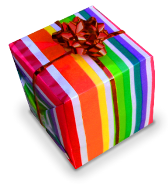 It's beginning to look a lot like....you know. We know it's early, but you need the tremendous savings in the PBS Market, and we need the lead time for shipping to get you your orders by Christmas or Chanukah. Our Gift Buying Guide has something for everyone - so knock some items off your holiday To Do list, and then you can go back to dreaming about turkey and stuffing...
Don't miss the Book Grab Giveaways on the PBS Blog! They're your chance to get a brand-new book from the list of Top 50 Wished for Books in the club, free - and you never know when they're going to happen. Most recently, we've given away a copy of The Hunger Games and The Help. It's so easy to enter - just reply to the blog post - BUT you have to do it within 24 hours. We'll randomly draw a lucky winner from all entries. Book Grabs can happen anytime - if you subscribe to the RSS feed, you won't miss the next one!
Come Sail With Us on the first PaperbackSwap Cruise, February 4-9, 2012! There is still time to register for the Carnival Cruise setting sail from Jacksonville, FL on February 4, 2012 to the Bahamas. There are still cabins available. Details are available in the Discussion Forum topic, or by contacting our Travel Specialist directly at 1-800-727-7601 ext. 229. For information from a Cruise Committee Tour Guide, send an email to pbscruise@hotmail.com or post in the Discussion Forum topic. Note: Please don't send in Feedback, as PaperBackSwap is not coordinating this event. And don't forget your PBS Cruise T Shirt, available in the Kiosk. Snag one now, before they are all gone!



---
If you want to be a Local Chapter Leader for PBS, you just need to have a PBS Nickname, a viewable public profile, and some organizational skills...check the Local Chapter Leaders Forum List of Official Chapters to see if your area already has a local Chapter. If not, and you want to do this, just contact us. There are no formal guidelines for being a Chapter Leader. All of the information is in the Local Chapter Leader Discussion Forum topic. If you are an official Chapter Leader and want us to include your upcoming meetup in the Newsletter, send in a message to us with the date, at least a week before the end of the preceding month.
---
MEMBER OF THE MONTH

Christa H. (flchris)
Christa F. is really active in the Historical Fiction Discussion Forum; we've gotten nominations for her before, but a landslide came in recently! She's contributed to the PBS Blog, keeps track of the read-alongs and challenges in the HF Forum, and organized a very successful Historical Fiction Challenge that was, in one participant's description, "a feat of incredible time, energy, organization, and creativity." We don't have room for all the praise we got, but here are some excerpts:
"She provides welcoming encouragement to new members and old."
"She is one of the reasons I have found a new interest in historical fiction!"
"She is friendly and helpful and always fun in the forum. I know she's active in other forums (besides HF) and I'm sure she is just as sweet and sparkling there!"
"Her posts in the forums are always polite, well worded, positive, and helpful."
"She's just one of those PBS members who makes me happy that I belong to PBS!"
Christa, you've had quite an impact! We hope more people check out your Challenges - they sound amazing. Thanks for all you do in the club. You are Member of the Month for November. Congratulations!
If you have any nominations for Member of the Month, submit them to us here.
Your nomination will not "expire"--anyone you nominate will have a chance at getting Member of the Month if enough nominations accumulate over time. Each month the person who has the most votes accumulated when the Newsletter goes to press gets to be Member of the Month and gets a newsletter mention and a nifty MoM icon to wear on profile and forum posts with pride. So go for it! Tell us who's helped you in the Forums, who's been a great swapper, who in your opinion is a credit to PBS. We are keeping a list of all the nominated members. Who knows--one of them might be YOU!
---
DEAR LIBRARIAN
Dear Librarian - I wanted to tell you how great the Book Covers are for those of us with arthritis in our hands! My mother's an avid reader but it's so hard for her to hold a book. I got her one of the Book Covers - the soft cover means she hardly has to work at all - she is so happy to be able to read again! -- Whee! in Wyoming
Dear Ming,
Thanks for writing in - we're so glad to hear this! The Book Covers are great for keeping your books clean, too, and for keeping your reading choices private if you happen to be reading in public. We have them in three paperback sizes and a size for hardcovers, and several patterns. We really hope that others who are affected by arthritis will check them out!
Dear Librarian - I mailed a book weeks ago and the other member got it but isn't marking it received! I sent it with Delivery Confirmation that I bought at the PO and the USPS site says the book was delivered. How do I get my credit?! --Broke in Branson

Dear Bro,
We're sorry that you are having this trouble - in order for swapping to go smoothly, the club does need members to mark books received conscientiously. Sometimes, though, the member is away from home when the book arrives. Sometimes the book really hasn't arrived, even if there was a "delivered" scan by USPS. USPS does a great job but sometimes packages do get misdelivered, and a "delivered" scan can indeed indicate that the package was delivered - but to the wrong address.
The first step here is for you to contact the other member, using the PM button on the request to send a Personal Message, and ask if she got the book. Maybe she just forgot to mark it received and a polite reminder from you will jog her memory. (The system does send automatic reminder emails too while a book is en route.) If she is away from home, she can mark the book received when she returns. If it has been declared "lost" by then, she can mark it received from her Transaction Archive. You will have to wait for your credit until then, though - Delivery Confirmation (DC) purchased outside of PBS does not earn Quick or Guaranteed Credit. If you want to use DC, PBS-DC is a great option - you get Quick/Guaranteed Credit and it's less expensive than buying it at the PO.
If the member is at home and didn't get the book, you should both pursue this, since it was scanned "delivered" - her local PO might be holding the package for some reason, or perhaps it was misdelivered along the postal route. Asking at the local PO and inquiring of the letter carrier is something she should do as soon as possible, while memories are fresh. With any luck, the book will be found soon!
If the other member doesn't respond to your message within 4 days and the book is declared "lost in the mail" by the system, you can use the feedback button on the Contact Us page to ask us to help.
---
The Last Word: