---
Acclaimed books for and about mothers, available to order right now!



The Mother-in-Law Diaries by .

Lulu Penfield has had several mothers-in-law

, each one

a memorable participant in Lulu's colorful marital misadventures.

Now Lulu herself has become a mother-in-law; as Lulu tries to bond with her own son's wife she makes some surprising discoveries. "Alternately hilarious and gut-wrenching" (The Austin Chronicle), the Mother-in-Law Diaries rings true for anyone who has ever said "I do" -- and who didn't realize that she was marrying not one person, but two. See other thrillers currently available for swapping.




The Color of Water: a Black Man's Tribute to His White Mother by James McBride. As a boy in Brooklyn's Red Hook projects, James McBride knew his mother was different. But when he asked about it, she'd simply say, "I'm light-skinned." Later he wondered if he was different, too, and asked his mother if he was black or white. "You're a human being," she said. The Color of Water is a classic, a testament to love, and a truly American story. See other Biographies and Memoirs currently available for swapping.

The Real Mother by Judith Michael. Sara has been struggling to build a new life for herself, and her ten-year-old brother Doug and teenage sisters Carrie and Abby, after she was forced to give up her dreams and come home to Chicago to take care of them. Dealing with both the past and the present, Sara finds for herself what truly makes a family. Browse all romantic suspense books currently available for swapping.

Eat Well, Lose Weight While Breastfeeding by

.

Sometimes the weight you gained during pregnan

cy doesn't just melt away, despite all the excess calories needed to produce milk. And, naturally, your very first concern is eating well for baby. This book will guide you to a healthy diet that will help you lose weight naturally and safely while you nourish a happy, healthy new child.

Browse other cookbooks currently available for swapping.



The Good Mother by

Recently divorced, Anna feels she has everything she's ever wanted: her four-year-old daughter, a passionate man who makes her feel beautiful and loved. Then come the shocking charges that threaten her new love, and

that force her to prove she is a good mother.

See other books from this well-loved author that are currently available for swapping.
---
A mother lode of wished-for, newly published books awaits you in the PBS Market, including these:
The Mother-of-the-Bride Book. Congratulations! Your little girl is getting married! Once the initial excitement of the announcement wears off, it becomes clear that Mother of the Bride is not just a title. It's a role, with responsibilities and do's and don'ts... Browse other crafting books currently available in the Market.

Retail Price: $20.95 In the PBS Market (Hardcover): $2.69+1 credit

(save 87%)

or $6.59

(save 68%)

Dirty Secret: A Daughter Comes Clean About Her Mother's Compulsive Hoarding by Jessie Sholl. To be the child of a compulsive hoarder is to live in a permanent state of unease. Because if my mother is one of those crazy junk-house people, then what does that make me? Jessie Sholl explores the many personal and psychological ramifications of hoarding while telling an unforgettable mother-daughter tale. See more books about mothers currently available in the Market.

Retail Price: $15.00
In the PBS Market (Paperback): $7.89+1 credit

(save 47%)

or $11.79

(save 21%)

The Wrong Mother by Sophie Hannah. Sally Thorning is watching the news with her husband when she hears an unexpected name - of the man with whom she had a brief affair a year ago. It's his wife and child in the news...but the man shown on the screen is not the same one Sally knew. Who was the man she'd spent a week with? Does it mean something that Sally resembles the man's wife, now dead? She has to investigate... See other Thrillers currently available in the Market

Retail Price: $15.00 In the Market (Paperback): $7.89+1 credit

(save 47%)

or $11.79

(save 21%)

Battle Hymn of the Tiger Mother by Amy Chua. An awe-inspiring, often hilarious, and unerringly honest story of one mother's exercise in extreme parenting. See more memoirs currently available in the Market.

Hardcover Retail Price: $25.95

/

In the PBS Market (Hardcover): $13.49+1 credit

(save 48%)

or $17.39

(save 32%)

Paperback Retail Price: $16.00

/

In the PBS Market

(Paperback): $8.39+1 credit

(save 47%)

or $12.29

(save 23%)

AudioCD Retail Price: $29.95

/

In the PBS Market (Audio CD): $15.59+1 credit

(save 47%)

or $19.49

(save 34%)

Mothers and Daughters (Audio Book) by Rae Meadows, Maggi-Meg Reed (Narrator). A rich and luminous novel about three generations of women in one family: the love they share, the dreams they refuse to surrender, and the secrets they hold Browse other audio books currently available in the Market.

Retail Price: $29.99 In the PBS Market (Audio CD): $15.59+1 credit

(save 48%)

or $19.49

(save 35%)

The $5 Dinner Mom Cookbook: 200 Recipes for Quick Delicious and Nourishing Meals That Are Easy on the Budget and a Snap to Prepare by Erin Chase. Fool-proof methods for creating dinners for a family of four that cost no more than $5 - Erin Chase's first cookbook! See more books on Cooking, Food and Wine currently available in the Market

Retail Price: $14.99 In the PBS Market (Paperback): $7.89+1 credit

(save 47%)

or $11.79

(save 21%)
---
NEWS:
The PaperBackSwap Cruise was a rousing success! Great friends at PBS got to meet in real life - some of the Team crept out from behind their computers and socialized - much fun was had by all. We have proof! See below:
Team and Tour Guides, L to R – Team member Josh (Joshua), Virginia (holtzy), Mary (kilchurn)*, Cozi (CozSnShine), Team member Richard Pickering – (Founder-PBS), Linda B. (herbalhorse), June E (junie), Cheryl G. (Poncer)* , Margaret (Yellowdogs1), Robin (Sianeka), Patty P. (Patouie) and Team member Zack (zack).
* = Cruise Co-Coordinator
Photo: Guy S.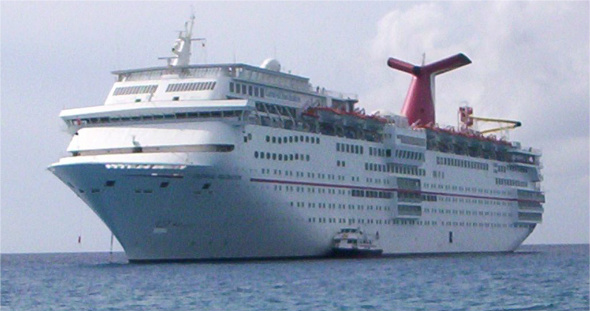 The Carnival Cruise ship that sailed from Jacksonville, FL in February 2012 for a 5-day cruise.
Photo: Linda K (Angeleyes)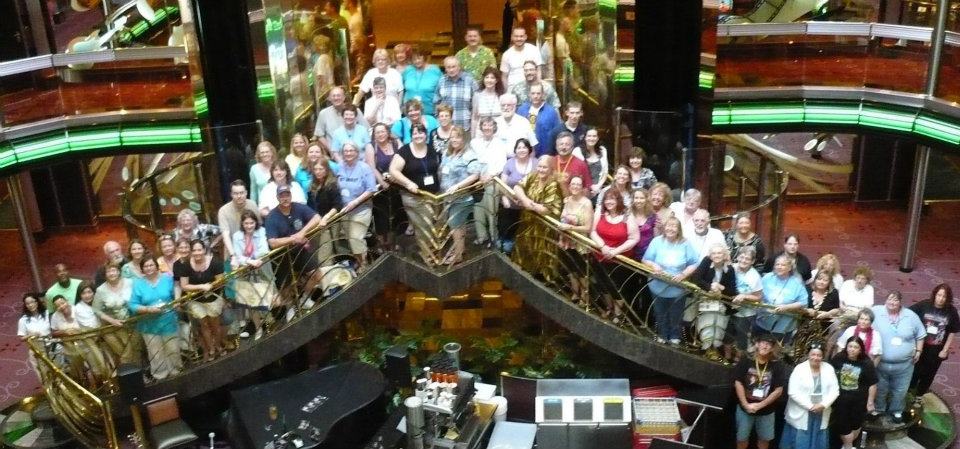 Flash Mob Alert! All hands on deck...bookswappers have taken over the cruise ship atrium.
It was a truly huge undertaking and it went off brilliantly, owing to the dedicated efforts of the Cruise Committee. A million thanks to Mary (kilchurn) and Cheryl (Poncer) for coordinating this trip. And a huge Thank You to Margaret (Yellowdogs1), Cozi (CozSnShine), Robin (Sianeka) Marie (pottergal) and June (junie) for your help. Thanks to Michelle (mishnpow) also, for designing the logo. Thanks to all the members, friends and family who cruised, and thanks to September and Charlene, who were terrific travel agents. Special thanks go to the Tour Guides and Team members who stayed home and manned the fort - you were missed! The great news is that the PBS Cruise Committee is hard at work on a new PBS Gathering - details will be coming soon!
---
PBS Local Chapter News

Members of the DVM (DC, Virginia, MD) Chapter at their January 2012 meetup. L to R: Lynn (simgirl), Jasmine S. (citygrrl), Shronda W. (shrondam), Julien C. (jaimelesmaths) and Susan P (Sneyers11)* *=Chapter Leader
Upcoming Chapter Meetups:
The MN/WI - St.Croix Valley Chapter will be meeting 5/12/2012 at 11:30 AM at The Coffee Cottage, 88 Mahtomedi Ave, Mahtomedi MN (651) 407-0942. They have a book swap "with a twist" - bring a wrapped-up postable book (preferably a Wish Listed book but not required to be) with the genre written on the wrapping. If you plan to go, contact Shirley P. (booknookchick).
The DVM Chapter (DC, Virginia, MD) will be meeting 5/19/2012 at La Tasca - for details contact Susan P (sneyers11).
The North Texas Chapter will be meeting 5/20/2012 at 2:30 PM at Panera in N Arlington. Check out their facebook page! Contact Shellie (aylamonster) for more information.
The Laveen Arizona Chapter will be discussing The Curious Incident of the Dog in the Night-time on 5/20/2012 at 3 PM, and Suttree in June. See the Chapter topic for links to discussion questions. Check out their facebook page! Contact lisaparks for location and more information.
The Charlotte, NC Metro Area Chapter will be meeting June 4th - they meet monthly, usually the first Monday of every month. Contact Kimberly (KimberlyN) for details, and to get on their e-vite list.
We'd love to share your Chapter news - if you have some, please submit it to us!
If you want to be a Local Chapter Leader for PBS, you just need to have a PBS Nickname, a viewable public profile, and enthusiasm! Check the Local Chapter Leaders Forum List of Official Chapters to see if your area already has a local Chapter. If not, and you want to do this, just contact us. There are no formal guidelines for being a Chapter Leader. All of the information is in the Local Chapter Leader Discussion Forum topic. If you are an official Chapter Leader and want us to include your upcoming meetup in the Newsletter, send in a message to us with the date, at least a week before the end of the preceding month.
---
MEMBER OF THE MONTH


Winston (crabby-doctor)
This is Winston's seventh year with PaperBackSwap, and in that time he has shared over eight thousand books (in official swaps alone), 296 book reviews, and a really huge amount of goodwill. He's a swapper extraordinaire and we think it's only because he is so self-deprecating that it has taken this long for him to achieve MoM. He does so much good here without drawing any attention to himself - not even to the extent of adding a profile picture! Some of the nominations we got said:
"Winston (crabby-doctor) has offered to order books for any member who is short on credits, simply because he has a few stocked up ... This brand of kindness and family-feeling is just one of the reasons I've been a happy PBS-er for more than two years!"
"He's friendly and helpful in a variety of areas on the forums, has gone out of his way to research and share knowledge about Media Mail mailing issues, and frequently shares his credits with the less-fortunate as a RAOK."

"It's funny about his nickname, because nothing could be further from the truth...he's a wonderful PBS member!"
Winston, your cover is blown! Should we change your Nickname to charming-doctor? You are Member of the Month for May. Congratulations!
If you have any nominations for Member of the Month, submit them to us here.
Your nomination will not "expire"--anyone you nominate will have a chance at getting Member of the Month if enough nominations accumulate over time. Each month the person who has the most votes accumulated when the Newsletter goes to press gets to be Member of the Month and gets a newsletter mention and a nifty MoM icon to wear on profile and forum posts with pride. So go for it! Tell us who's helped you in the Forums, who's been a great swapper, who in your opinion is a credit to PBS. We are keeping a list of all the nominated members. Who knows--one of them might be YOU!
---
DEAR LIBRARIAN
Dear Librarian - I had a real-life mystery! A book I hadn't requested arrived in my mailbox; the state of origin matched the one on the active request "en route to me" on my account page for a different book. I used the PM button to contact the sender and tell her that she had mixed up two book requests. She answered that she had mailed me the book I had requested, and had never heard of the book I received either! The packaging had her name and address in the return address area. We couldn't figure out how one book turned into the other (and I think both of us were starting to suspect that the other person was crazy), when the book I requested showed up, with a note that explained everything! Apparently two packages came open en route and USPS repackaged them incorrectly - my book was put back into a package of books that was going to a library, and I got one of the library's books. Because the sender (not so crazy after all!) had tucked the "INFORMATION FOR THE RECEIVER" sheet between the pages of the book the library was easily able to tell where this book belonged - they sent it along to me, and in a note included the details on how to send their book to them. Isn't that awesome!? - Psyched in Sweetbriar
Dear Sweety,
How cool is that! Love those libraries, love how hard USPS works to try to get the mail to us, and love that sender for slipping page 2 of the PBS Wrapper into the book, where the librarian could find it! We're glad the books ended up where they needed to be. We love happy endings.
---
The Last Word:
As always,

don't forget to start your Amazon shopping from the link at the top of the PBS site - when you do this, a small percentage of your purchase amount comes to us. So whenever (and whatever) you plan to purchase on Amazon, start from the Amazon link at the top of the PBS site. It's an easy, free way to support the club!

Check out the Blog series on My Favorite PBS Feature. First up: Angeleyes writes about Printable Postage. See your name in print! Be a blog contributor! Contact blog@paperbackswap.com to find out more.

Don't forget to "like" us on Facebook!