Dear Members,
It's almost summer...the days are still getting longer, the grass is getting greener, and pretty soon the kids will be out of school. PaperBackSwap is hopping! It seems like everyone is looking for books to take on their vacations or to enjoy during long lazy afternoons. Things in the club have settled into a good rhythm, after the system change in February.
We knew that instituting membership fees would present challenges - after all, everyone likes free! We wish we could have kept membership free forever, but such a data-intensive site requires a lot in the way of servers, maintenance, security and support. We didn't want to exclude anyone, so we worked to create a range of options to allow each member to continue participating, no matter what his/her budget or swapping pace.
We did expect to hear about disappointment at the prospect of paying to use the site. We were surprised by the anger from some members, and we'll admit that we felt hurt by it. We'd put so much effort in for so long, and we'd been very proud of having created such a wonderful place to share books, so we were taken aback at first when we got some messages accusing us of greed and selfishness. But happily, along with the negative came a lot of positive. On the very first day of the announcement, we got messages like
"I just signed up for the early membership fee. I just want to thank you for the many years of swapping. Your customer service has been fabulous and the service is so handy. Keep up the good work."

"Thank you for keeping this site going for as long as you have without a mandatory membership fee. I appreciate everything you do."

"You guys are doing great and I will continue to tell my friends while I enjoy the "A La Carte" option."

"OH! I am so, so happy with the new changes at PBS!!! It is worth every cent of the membership fee"

"I just wanted to tell you that you're handling this change really well by offering so many options. Love PBS! :)"
Each one of those messages, and the others like them that followed, helped to bring things back into balance and reminded us of why we have worked so hard at this for so long.
Coming up: vacations at the beach, weekends at the lake, barbecues in the park, afternoons at the pool. We hope that PaperBackSwap can help you find your summer reading list!
We appreciate every one of you,
Richard and
The PaperBackSwap Team
---
By popular demand, we're showcasing a "hot" Wishlisted book that is not currently available in our Market, but which is available right now in NEW condition at a substantial savings off retail. Use any of the Showcase links below to go to Amazon, and your purchase (of anything) there will help support PaperBackSwap!
14th Deadly Sin by James Patterson
With San Francisco under siege and everyone a suspect, the Women's Murder Club must risk their lives to save the city—and each other. With a beautiful baby daughter and a devoted husband, Detective Lindsay Boxer can safely say that her life has never been better. In fact (for a change), things seem to be going well for all the members of the Women's Murder Club as they gather to celebrate San Francisco Medical Examiner Claire Washburn's birthday. But the party is cut short when Lindsay is called to a gruesome crime scene, where a woman has been murdered in broad daylight. As Lindsay investigates, shocking video footage of another crime surfaces....read more
Buy at Amazon
---
Used Books Currently Available for Swapping
Order these books for credits; repost them when you're done reading and get the credit back!
Sushi for Beginners by Marian Keyes Hard-nosed London fashion editor Lisa Edwards was certain her "fabulous" promotion would mean more A-list parties, society page photos, and jet-setting jaunts to the fall collections. Instead, she's being deported, Prada wardrobe and all, to supremely un-chic Dublin to launch Colleen magazine. ...read more
Browse currently-available Contemporary Fiction

Shattered Secrets by Karen Harper Returning to Cold Creek, Ohio is an act of courage for Tess Lockwood. Abducted and held captive as a young girl, she is unable to remember anything about the crime that destroyed her childhood and tore her family apart.. ...read more
Browse more currently-available books in Romantic Suspense

The Music of the Spheres by Elizabeth Redfern In18th-century London, a strangler walks the teeming streets. His victims are always young prostitutes with red hair. Before they die, they hear whispers that speak of stars-and of a woman named Selene... read more
Browse currently-available books in Historical Fiction

Gabby: a Story of Courage and Hope by Gabrielle Giffords, Mark Kelly. Unabridged Audio CD. From one of the most admired and beloved couples in recent American history, an extraordinarily moving story of public service, risk-taking, romance, and the journey toward recovery...read more.
Browse more currently-available audio books

Perfection: A Memoir of Betrayal and Renewal by Julie Metz Julie Metz's life changes forever on one ordinary January afternoon when her husband, Henry, collapses on the kitchen floor and dies in her arms. Suddenly, this mother of a six-year-old is the young widow in a bucolic small town. As she starts to pick up the pieces and rebuild her life without Henry in it, she learns that Henry had been unfaithful throughout their twelve years of marriage. .... read more
Browse currently-available Memoirs
---
Market Spotlight Books
In the PBS Market, available new at bargain prices!
The Shining Girls by Lauren Beukes The Time Traveler's Wife meets The Girl With the Dragon Tattoo in this story of a time-traveling serial killer who is impossible to trace--until one of his victims survives....read more

Retail Price: $22.95
In the PBS Market (Hardcover): $2.29+1 credit (save 89%) or $6.19 (save 73%)
Browse Historical Mysteries/Thrillers currently available in the Market

Super Natural Home: Improve Your Health, Home and Planet--One Room at a Time by Beth Greer The straightforward, solutions-based approach of Super Natural Home--complete with quizzes to help identify and correct potential toxic hot zones--speaks directly to what environment-conscious consumers really need: ultra-practical advice on what they can do right now to limit exposure...read more

Retail Price: $15.95
In the PBS Market (Paperback): $2.29+1 credit

(save 85%)

or $6.19

(save 61%)

Let's Explore Diabetes with Owls by David Sedaris A new collection of essays from the #1 New York Times bestselling author who has been called "the preeminent humorist of his generation". From the unique perspective of David Sedaris comes a new book of essays taking his readers on a bizarre and stimulating world tour... read more

Retail Price: $27.00
In the PBS Market (Hardcover): $3.89+1 credit (save 85%) or $7.79 (save 71%)
Browse Memoirs currently available in the Market

The Lifeboat by Charlotte Rogan Grace Winter, 22, is both a newlywed and a widow. She is also on trial for her life. — In the summer of 1914, the elegant ocean liner carrying her and her husband Henry across the Atlantic suffers a mysterious explosion....read more

The Secret Rescue; An Untold Story of American Nurses and Medics Behind Nazi Lines by Cate Lineberry When 26 Army nurses and medics-part of the 807th Medical Air Evacuation Transport Squadron-boarded a cargo plane for transport in November 1943, they never anticipated the crash landing in Nazi-occupied Albania that would lead to their months-long struggle for survival... read more

After I'm Gone by Laura Lippman When Felix Brewer meets Bernadette "Bambi" Gottschalk at a Valentine's Dance in 1959, he charms her with wild promises, some of which he actually keeps. Thanks to his lucrative -- if not all legal -- businesses, she and their three little girls live in luxury. But on the Fourth of July, 1976, Bambi's comfortable world implodes when Felix mysteriously vanishes...... read more

After Her by Joyce Maynard It's the summer of 1979, and a dry, hot, northern California school vacation stretches ahead for Rachel and her younger sister Patty. They spend their days studying record jackets, concocting elaborate fantasies about the life of the mysterious neighbor who moves in down the street, and playing dangerous games on the mountain that rises up behind their house. When young women start showing up dead on the mountain. ...read more
---
NEWS
Savings are just a click away...National Brands Coupons offers you hundreds of printable manufacturer's coupons every week, as well as links to coupon codes, discount gifts, and other money-saving opportunities. It's free to print out coupons for products you already buy. Using National Brands Coupons helps to support the club, while saving you money!

You can help the club while you shop! Start your Amazon shopping by clicking the Amazon link at the top of our site (or any of the "buy from Amazon" links on book listings) and we'll get credit for any purchase you make (including non-book purchases). It doesn't cost anything to support the club this way, and we really appreciate it!

School Book Sales.com is helping educators to obtain classroom books at the lowest possible cost. Because of our relationship with vendors (established by new-book purchases for the PaperBackSwap Market) we are able to take advantage of bulk discount book purchases. Membership is free, and checkout options include school purchase orders as well as debit/credit and PayPal. Spread the word to any teachers/homeschoolers you know!
Thanks to authors... We love to share good books with our membership! Are you an author and do you have a book you'd like us to review for our blog? To submit your book for consideration, we'll need a copy or two of the book mailed to the PBS offices. For more details, please contact us and we'll give you the skinny!
---
New Chapters/Chapter Leaders:
News:
The newest Chapter (Kansas City, KS) got off to a strong start with a meetup in February. From the smiles (below), it looks like it went great!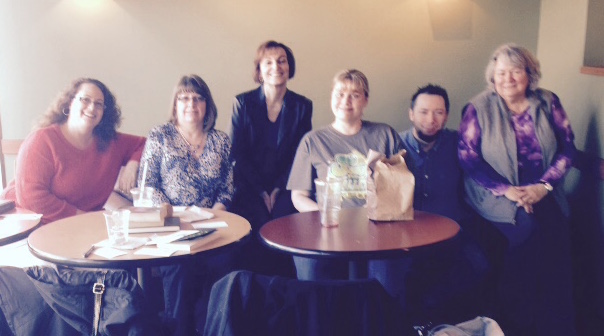 L to R: Michele L, Pam T, Esther H, Peggy B, Bob B, Cheryl W
Upcoming Local Chapter Meetups:
The Triangle/NC Chapter is working on a meetup/book exchange - they're deciding on a venue. Check out the forum topic , to get involved with this lively group!
The
DVM Chapter
(DC, Virginia, MD)
is hopping with meetups and Games! If you want to get in on the action, see the
forum topic
or
contact Laura (caddieseamus)
or
Susan P (sneyers11)
.
The North Texas Chapter will be meeting Sunday, June 7th for a cookie exchange and to discuss Look Behind You by Sibel Hodge. Check out the group's facebook page! Their meeting schedule is in the Chapter topic; contact Shellie (aylamonster) for more information.
The Laveen Arizona Chapter is next meeting in May to discuss All The Light We Cannot See by Anthony Doerr. For more details, please see the Chapter topic -also check out their facebook page! Contact lisaparks for location and more information.
The Charlotte, NC Metro Area Chapter has been meeting for six and a half years! They meet monthly, usually the first Monday of every month. See the list of books they've chosen for 2015. No need to have read the book to participate! Contact Kimberly (KimberlyN) for details, and to get on their e-vite list.
We'd love to share your Chapter news - if you have some, please submit it to us!
If you want to be a Local Chapter Leader for PBS, you just need to have a PBS Nickname, a viewable public profile, and enthusiasm! Check the Local Chapter Leaders Forum List of Official Chapters to see if your area already has a local Chapter. If not, and you want to do this, just contact us. There are no formal guidelines for being a Chapter Leader. All of the information is in the Local Chapter Leader Discussion Forum topic. If you are an official Chapter Leader and want us to include your upcoming meetup in the Newsletter, send in a message to us with the date, at least a week before the end of the preceding month.
---
MEMBERS OF THE MONTHS
It's been so long since we had a Newsletter that we decided to name TWO MoMs for this one!


Michelle S. (rissycloud) -and- Diane K (DianeK)
How appropriate that each of them has been such a beacon of light for members during the club transition!
Diane has been a member for almost ten years! She is a terrific swapper, who has sent a LOT of books with a sterling record. She is also a phenomenal Tour Guide Leader, who really dedicated herself to helping members sort out the changes in the club and patiently answered question after question. She graciously helped members one at a time in Live Help, and she also helped the whole club by letting us know some questions we might want to include in our FAQs. Change is never easy, but Diane put a great deal of effort in, easing confusion and concern. We are grateful to her (and to all the Tour Guides who pitched in during the "rush" in February and before and since) for all the patient, helpful answers - and the kindness that made many of the members she helped write in to tell us how much they appreciated her!
"Diane K is [a] fabulous person who always is so patient and tries to answer my questions."
"I had a lot of questions about the new pay system, and to be honest I was really upset. Diane was nice and explained things really well, and I remembered why I love this club so much!"
"I was confused by the changes but Diane helped me understand. I love the [site] and will continue using it no matter what."
"Diane K is my wonderful go to person at Paperback Swap!"
Michelle is having her eighth PBS-aversary on May 13! She is another super-swapper with an excellent record. Not only that, but we received a lot of reports about how she has gone out of her way to brighten other members' lives with Random Acts of Kindness! Here are just a few of the messages we received:
"She has a huge heart and is [an] awesome person. I know she also gives so much of herself on here in cheer and acts of kindness. "
"[Michelle] selected me for a RAOK - select something from Amazon and she would send it to me. Looking at the RAOK message board, she has been spreading this kind of joy to many others. It would be great to acknowledge the smiles and generosity she is sharing with others."
"[Michelle] has been quite active in making the days of quite a few members, including myself....She does this with no expectation of reciprocation. Her sole reason is to bless another member. It has been most welcome, particularly since she had no idea that I have been going through some very difficult health issues. Receiving those surprise shipments has helped to keep up my spirits."
"She made my day. Heck, even my family doesn't give me nice gifts like that."
"She has brightened up so many members days and inspired a chain reaction of RAOK on the site. She is a true reminder of why PBS is such a special place to so many of us. "
"It's wonderful how she made a bad week so much better."
Diane and Michelle, you really embody the spirit of PaperBackSwap! We're very glad you are in the club. You remind others of why they joined, and you remind US of why we created the club. You are MemberS of the MonthS. Congratulations!
If you have any nominations for Member of the Month, submit them to us here.
Your nomination will not "expire"--anyone you nominate will have a chance at getting Member of the Month if enough nominations accumulate over time. Each month the person who has the most votes accumulated when the Newsletter goes to press gets to be Member of the Month and gets a newsletter mention and a nifty MoM icon to wear on profile and forum posts with pride. So go for it! Tell us who's helped you in the Forums, who's been a great swapper, who in your opinion is a credit to PBS. We are keeping a list of all the nominated members. Who knows--one of them might be YOU!
---
DEAR LIBRARIAN
Dear Librarian - I was on PaperBackSwap browsing books, and I kept getting popup ads on my computer! I couldn't close them fast enough and I had to shut my computer down to make them stop. When did you add these, and how can I turn them OFF? -- Bombarded in Boston
Dear Bossy,
We're so glad you asked about this! We are not the source of pop-up ads. We don't have them on our site. It's possible that your hard drive is infected with malware, or that you have visited sites that are giving you popups, before you opened PaperBackSwap in your browser window. Here's what you should try:
Quit your browser and clear the browser cache.
Update the browser to the latest possible version.
Reopen the browser and open one window only - in that window, go to the PaperBackSwap site at www.PaperBackSwap.com and log in.
Atfer doing that, if you get popups from that open PaperBackSwap window, the popups are being facilitated by malware on your hard drive/in your browser (since they are not coming from our site). In that case, you should run a scan on your computer to detect and get rid of any malware. But If you don't get popups when only one browser window is open (and that browser window has PaperBackSwap in it) then that means the popups you have been seeing have been coming from other browser windows that you have (or have had) open. In that case you should enable popup blocker in your browser (making sure that it is disabled for PaperBackSwap, so you can print wrappers, etc.).
To get rid of malware on your hard drive: Do a Google search for "malwarebytes" and choose the "free" option on the malwarebytes page, and you may find information to help with this.
We know how distressing this must be! Don't forget to do #2 above - keeping your browser updated is one of the best ways to keep yourself safe from malware - browser updates often contain security tweaks to keep you one or two steps ahead of the hackers who are always working to get through the browser safeguards.
Dear Librarian - What the heck is a Free Swap? Do I still use Credits? How is a Free Swap different from a Swap Fee? -- Confused in Connecticut
Dear Connie,
Thanks for asking! A "Free Swap" means a FEE-free swap (meaning Book Credits are still used, but not PBS Money, when requesting a book). If you are a Standard Member (20$ a year subscription), you don't have to pay any Swap Fees at all when you request books- but for those members who don't request books very often, or who prefer to pay as they go, having A la Carte Membership may be preferable. A la Carte members pay a Swap Fee of 49 cents in PBS Money (in addition to the Book Credits as usual) for each book request. For members who do request books more than occasionally (and/or who participate socially in the club by posting in Discussion Forums), there is the Limited Membership (12$/year) - it grants 30 fee-free swaps per year (after the 30th request in a year, each request costs a 49-cent Swap Fee along with the Book Credit(s) for each request). Swap Fees are paid with PBS Money. OR they can be paid with "Free Swaps" - each "Free Swap" replaces a 49-cent Swap Fee.
To get Free Swaps you can (1) Enroll in Limited Membership, which comes with 30 of them - that means that you can make 30 book requests during your year's membership using only Book Credits and no PBS Money (no 49-cent Swap Fees). You can also (2) Mail out books to other members using Printable Postage - each mailing earns a Free Swap that you can use (instead of 49 cents of PBS Money for a Swap Fee) along with Book Credits to make a book request.
Members use the site so differently that we wanted a way to allow everyone to continue membership in the way that worked best for them - we know it might seem a little complicated at first, but once you have made your choice of membership plan, it should make sense in no time.
You can read more about Free Swaps in the Help Center, and also consult "Which Membership Should I Choose?" to help decide which membership plan might work best for you.
---
The Last Word:
Are you REALLY not reading the Blog? You don't want to miss out on Free Book Friday book giveaways, author interviews, awesome book reviews and giveaways, and so much more!

As always,

don't forget to start your Amazon shopping from the link at the top of the PBS site - when you do this, a small percentage of your purchase amount comes to us. So whenever (and whatever) you plan to purchase on Amazon, start from the Amazon link at the top of the PBS site. It's an easy, free way to support the club!