Dear Members,
It's been a year since we instituted Annual Memberships, and we're happy to say that things are staying on course! We guessed that one plan would not work for all members, since everyone uses PaperBackSwap differently, so we created different levels of membership. We can say now that it appears to have been worth the effort to do that -- a good number of members are swapping at each level. We're also glad we made an easy way to upgrade from Limited to Standard, too, since over the course of this year, a lot of members have taken advantage of that.
The club's a little smaller now, but since the majority of the members who left were non-participating, that means the swapping is a bit more intense. About a million books were swapped successfully during the last 12 months (that doesn't include Box-O-Books), which is not far off from the 12 months before. New members are joining at a steady pace, and we've been glad to welcome back a significant number of those who left; we hear every day from members coming back!
The Invite Friends program is also working well. Members are inviting new members, and everyone wins --the new members get a discount on Annual Membership and the inviters earn $ for each invited member who enrolls. New members benefit, old members benefit, the club benefits. The rewards are substantial: if you invite only four new members who enroll, that would earn you enough to pay for your own Standard membership for a year. We hope even more members will take advantage of the program -- spread the word!
Every member who enrolls in Annual Membership, or who uses a Swap Fee to request a book, or who uses Printable Postage to mail out books, is contributing to keeping the club up and running. We're very glad that so many members (more every day!) enjoy PaperBackSwap and want to keep it going. Because that's what this is about - keeping the club going so that we can continue to share books. Because we all know that feeling when we get a new book! -- it kind of looks something like this: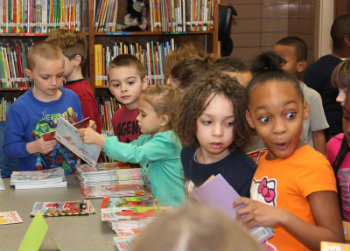 There is nothing quite like it, is there?
Happy reading!
Richard and
The PaperBackSwap Team
---
By popular demand, we're showcasing a Wishlisted book that is not currently available in our Market, but which is available in NEW condition at a substantial savings off retail. Use any of the Showcase links below to go to Amazon -- remember, your purchase (of anything) there will help support PaperBackSwap!
Harry Potter and the Cursed Child by J.K. Rowling, Jack Thorne and John Tiffany
PREPURCHASE to be released July 31, 2016. You never dared hope...but dreams do come true! A NEW Harry Potter book is coming this summer. An Amazon Best Book of 2016. The book begins 19 years after Book 7 ended. It was always difficult being Harry Potter, and it isn't much easier now that he is an overworked employee of the Ministry of Magic, a husband and father of three school-age children. While Harry grapples with a past that refuses to stay where it belongs, his youngest son Albus must struggle with the weight of a family legacy he never wanted. As past and present fuse ominously, both father and son learn the uncomfortable truth: sometimes, darkness comes from unexpected places. ...read more
Pre-order at Amazon for a substantial discount off retail pricing!
---
Used Books Currently Available for Swapping
Order these books for credits; repost them when you're done reading and get the credit back!
One Mountain Away (Goddesses Anonymous, Bk 1) by Emilie Richards Charlotte Hale plans to change her life one careful step at a time — With nothing but brains, ambition and sheer nerve, Charlotte Hale built a career as a tough, savvy real-estate developer. Her reputation is rock solid…but her life is empty...read more
Browse Literary Fiction currently available for swapping

Final Scream by Lisa Jackson White-hot flames ignite the dark sky, a killer waits in the trees, watching the mill burn, listening for the screams, the only proof that justice, long delayed, has finally begun ... read more
Browse Romantic Suspense currently available for swapping

The Fig Eater by Jody Shields "It is hot, unusually hot for the end of August. Someone has murdered a young woman. -- They find no objects, no obvious clues around her. -- They'll search the area again tomorrow during the day, when there is better light." — Vienna, 1910 ...read more
Browse Historical Mysteries currently available for swapping

The Widow of the South by Robert Hicks In 1894 Carrie McGavock is an old woman, an old woman who has only her former slave to keep her company...along with the almost 1,500 soldiers buried in her backyard... read more
Browse Historical Fiction currently available for swapping

Painted Ladies by Robert B. Parker, Joe Montegna (Narrator) This is Robert Parker's last book published before his passing. Spenser enters into a daring game of cat-and-mouse with the thieves of a stolen painting. But this is a game he might not come out of alive........read more.
Browse audio books currently available for swapping

I've Got You Under My Skin by Mary Higgins Clark When Laurie Moran's husband was brutally murdered, only three-year-old Timmy saw the face of his father's killer. Five years later his piercing blue eyes still haunt Timmy's dreams...read more
Browse Suspense currently available for swapping
---
Market Spotlight Books
In the PBS Market, available new at bargain prices!
After Her by Joyce Maynard
It's the summer of 1979, and a dry, hot, northern California school vacation stretches ahead for Rachel and her younger sister Patty. Part thriller, part love story, loosely inspired by the Trailside Killer case that terrorized Marin County in the late seventies, this tale delves deep into the alternately thrilling and terrifying landscape ....read more
Retail Price: $25.99
New in the PBS Market (Hardcover): $2.79+1 credit (save 89%) or $6.69 (save 74%)
Browse more Women's Fiction currently available in the Market

Speaking from Among the Bones by Alan Bradley
Eleven-year-old amateur detective and ardent chemist Flavia de Luce is used to digging up clues, whether they're found among the potions in her laboratory or between the pages of her insufferable sisters' diaries ...read more
Retail Price: $24.00
New in the PBS Market (Hardcover): $2.89+1 credit (save 87%) or $6.79 (save 71%)
Browse Thrillers currently available in the Market

The Victory Season: The End of World War II and the Birth of Baseball's Golden Age by Robert Weintraub
In the spring of 1946, Americans were ready to heal. World War II was finally over, and hundreds of baseball's stars were coming home. Players like Ted Williams, Stan Musial, and Joe Dimaggio returned to the Majors with bats blazing...read more
Retail Price: $27.99
New in the PBS Market (Hardcover): $2.79+1 credit (save 90%) or $6.69 (save 76%)
Browse History currently available in the Market

Hit Me by Lawrence Block
The conclusion of Hit and Run found Keller living in a big old house in post-Katrina New Orleans' Lower Garden District, with a new name (Nicholas Edwards), a new wife (Julia), a new career (rehabbing houses), and a baby on the way. It certainly looked as though he was done killing people for money....read more
Retail Price: $28.99
New in the PBS Market (Hardcover): $2.89+1 credit (save 90%) or $6.79 (save 76%)
Browse Mysteries currently available in the Market

Lookaway, Lookaway by Laline Paull
The Handmaid's Tale meets The Hunger Games in this brilliantly imagined debut set in an ancient culture where only the queen may breed and deformity means death.. ..read more
Retail Price: $25.99
New in the PBS Market (Hardcover): $3.89+1 credit (save 85%) or $7.79 (save 70%)
Browse Literary Fiction currently available in the Market

Tapestry of Fortunes by Elizabeth Berg
Cecilia Ross is a motivational speaker who encourages others to change their lives for the better. Why can't she take her own advice? .....read more
Retail Price: $26.00
New in the PBS Market (Hardcover): $3.39+1 credit (save 86%) or $7.29 (save 71%)
Browse Contemporary Fiction currently available in the Market
---
NEWS

Refer and Earn! Have you invited your friends to join the club? Remember that you can get up to $5 for each friend, with no limit! You can share to Facebook (easily done from the Invite page); you can also send Invite emails directly from the Invite page. Make a YouTube video! Your invitees will get a discount on membership, you'll get $, and the club will get more books to share! It's a win-win-win! Read more about the referral program on the Invite page.


Update your software, protect your computer... Because of a known serious vulnerability in older system software, everyone needs to be using the most current Security Protocol when on the Internet. PaperBackSwap is required to update too, and older, vulnerable browsers will not be able to access the site after June 30, 2016. So if your software is old, update now! It's a quick task that will protect your computer and your personal information. If you are using Internet Explorer, go here to update. If you are using Mac, upgrade your MacOS for free on the Apple site. Read more here.

School Book Sales.com is helping educators to obtain classroom books at the lowest possible cost. Because of our relationship with vendors (established by new-book purchases for the PaperBackSwap Market) we are able to take advantage of bulk discount book purchases. Membership is free, and checkout options include school purchase orders as well as debit/credit and PayPal. Spread the word to any teachers/homeschoolers you know!

Amazon Prime means free streaming, free shipping... One annual membership fee gets you 2-day free shipping and a ton of other perks. Don't have Amazon Prime yet? Use this link to Try Amazon Prime 30-Day Free Trial
. We think you'll love it!
---
We'd love to share your Chapter news - if you have some, please submit it to us!
Upcoming Local Chapter Meetups:
If you want to be a Local Chapter Leader for PBS, you just need to have a PBS Nickname, a viewable public profile, and enthusiasm! Check the Local Chapter Leaders Forum List of Official Chapters to see if your area already has a local Chapter. If not, and you want to do this, just contact us. There are no formal guidelines for being a Chapter Leader. All of the information is in the Local Chapter Leader Discussion Forum topic. If you are an official Chapter Leader and want us to include your upcoming meetup in the Newsletter, send in a message to us with the date, at least a week before the end of the preceding month.
---
MEMBER OF THE MONTH

Sadielynn has been a member at PaperBackSwap since 2008 - she's swapped a LOT of books in that time! We got a number of nominations for her, all of them describing her kindness, and special things that she did to make each swap a special experience:
"Recently I requested a book and found it was coming from sadielynn. I checked her bookshelf and requested a few more books from the same series from her. sadielynn pmed me and asked which other ones I needed for the series; she sent me more books and refused to take credits from me or any help with the postage."
"PBS is a special place. What keeps this community so special are members like sadielynn, who go the extra mile to brighten the days of other members."

"sadielynn is a joy to talk to; she is a true friend...She is a very caring person who always thinks of the other person."
Sadielynn, you have warmed a lot of hearts in the club! You are Member of the Month for February. Congratulations!
If you have any nominations for Member of the Month, submit them to us here.
Your nomination will not "expire"--anyone you nominate will have a chance at getting Member of the Month if enough nominations accumulate over time. Each month the person who has the most votes accumulated when the Newsletter goes to press gets to be Member of the Month and gets a newsletter mention and a nifty MoM icon to wear on profile and forum posts with pride. So go for it! Tell us who's helped you in the Forums, who's been a great swapper, who in your opinion is a credit to PBS. We are keeping a list of all the nominated members. Who knows--one of them might be YOU!
---
DEAR LIBRARIAN
Dear Librarian - Oops! I let my membership expire, and now my Wish List is only 100 items! Is it too late? If I re-enroll now, can I get my Wish List back? -- Procrastinator in Pensacola
Dear Penny,
We have good news for you -- it's NOT too late, and yes! You have up to 2 weeks after your membership expires to get your Wish List (and all other features of membership) back. Just re-enroll (by purchasing membership in the Kiosk) and your Wish List will automagically be restored - including your place in the queue for each book. So procrastinating (a little) won't matter this time!
Here's a link to the Kiosk where you can renew. Happy swapping!
Dear Librarian - I have been having a LOT of trouble with PBS lately. I keep getting errors that say Bad Gateway, and sometimes it takes a longer time than usual to print. Is it my computer? Is the site broken? - Panicking in Peoria
Dear Nicky,
We're very sorry for the errorsI Those probably were NOT all caused by your computer, and the printing slowness was probably not your computer either. We had one server that needed retiring and we've been slowly transferring its contents to a new server. The transfer has to be slow or it could make the site really unstable and slow, but slow transfer of that much data means the transfer takes a good while. We finally got that finished up on the weekend and in the wee hours of Monday we were able to bring the new server online. We think things will be MUCH speedier with much fewer (or no) errors from now on! Thanks for your patience -- maintaining this much data can be a tricky balancing act sometimes!
---
The Last Word:
Are you REALLY not reading the Blog? You don't want to miss out on Free Book Friday book giveaways, author interviews, awesome book reviews and giveaways, and so much more!

As always,

don't forget to start your Amazon shopping from the link at the top of the PBS site - when you do this, a small percentage of your purchase amount comes to us. So whenever (and whatever) you plan to purchase on Amazon, start from the Amazon link at the top of the PBS site. It's an easy, free way to support the club!