Dear Members,
Summer's over! Soon, there will be a snap in the air and the leaves will begin to turn. We suspect that we're not the only grownups who feel a touch of nostalgia at this time every year --not for the summer gone by, but for the awesome autumn event of... School Supplies!
No matter how much time has gone by since our ownschool days, we haven't forgotten that excitement: new notebooks and pens and three-ring binders. Who's old enough to remember compasses and protractors? How about that snazzy new calculator? Sliding little paper rectangles into the plastic divider tabs: History yellow, English blue, Math green. Writing our name (and new grade!) on our composition books. New school supplies always helped to make September feel like the start of something, rather than the end.
Well, there's no reason not to recapture a little of that feeling now! You don't have to go to school to do it-- you can indulge in some new-to-you books, as a private celebration of fall. If there's a series you've been meaning to try, why not order up book #1 from PaperBackSwap -- or even books 1, 2 and 3 to lay in a good supply of cold-weather reading material? While you're waiting for the books to come, you can finish up reading and posting the books at the top of your TBR Pile. Out with the old, in with the new!
Winter might be coming, but right now it's shirtsleeve weather and the days are still long. It's a great time of year! We hope you enjoy it as much as we do.
Happy reading,
Richard and
The PaperBackSwap Team
---
By popular demand, we're showcasing a Wishlisted book that is not currently available in our Market, but which is available in NEW condition at a substantial savings off retail. Use any of the Showcase links below to go to Amazon -- remember, your purchase (of anything) there will help support PaperBackSwap!
The Couple Next Door by Shari Lapena
Anne and Marco Conti seem to have it all—a loving relationship, a wonderful home, and their beautiful baby, Cora. But one night when they are at a dinner party next door, a terrible crime is committed. Suspicion immediately focuses on the parents. But the truth is a much more complicated story.....read more
Order at Amazon
---
Used Books Currently Available for Swapping
Order these books for credits; repost them when you're done reading and get the credit back!
The Girls of August by Anne Rivers Siddons Every August, four women gather together to spend a week at the beach, renting a new house each year.The ritual began when they were in their twenties and became a mainstay of every summer thereafter.....read more
Browse Women's Fiction currently available for swapping

The Paid Companion by Amanda Quick The Earl of St. Merryn needs a woman. His intentions are purely practical -- he simply wants someone sensible and suitably lovely to pose as his betrothed for a few weeks among polite society. ... read more
Browse Romantic Suspense currently available for swapping

The Tenderness of Wolves by Stef Penney The year is 1867. Winter has just tightened its grip on Dove River, a tiny isolated settlement in the Northern Territory, when a man is brutally murdered......read more
Browse Historical Mysteries currently available for swapping

The Constant Princess by Philippa Gregory I am Catalina, Princess of Spain, daughter of the two greatest monarchs the world has ever known... and I will be Queen of England. — Thus, bestselling author Philippa Gregory introduces one of her most unforgettable heroines: Katherine of Aragon.... read more
Browse Historical Fiction currently available for swapping

Missing You by Harlan Coben Audio CD, Abridged. As NYPD Detective Kat Donovan stares at the picture on a dating profile, she feels her whole world explode. Staring back at her is her ex-fiancé Jeff, the man who shattered her heart--and whom she hasn't seen in 18 years.....read more.
Browse audio books currently available for swapping

Fractured by Kate Watterson Blending mystery and romance, Fractured finds Milwaukee Homicide Detective Ellie MacIntosh racing to stop a serial killer. The bizarre case takes gruesome to a new level--and is eerily and frustratingly familiar. She has seen the signature work of the killer before, but cannot connect the victims. ....read more
Browse Suspense currently available for swapping
---
Market Spotlight Books
In the PBS Market, available new at bargain prices!
Monarch Beach by Anita Hughes
When Amanda Blick, a young mother and kindhearted San Francisco heiress, finds her gorgeous French chef husband wrapped around his sous-chef, she knows she must flee her life in order to rebuild it......read more
Retail Price: $14.99
New in the PBS Market (Paperback): $2.29+1 credit (save 84%) or $6.19 (save 58%)
Browse more Women's Fiction currently available in the Market

Forgive Me, Leonard Peacock by Matthew Quick
Today is Leonard Peacock's birthday. It is also the day he hides a gun in his backpack. Because today is the day he will kill his former best friend, and then himself ...read more
Retail Price: $18.00
New in the PBS Market (Hardcover): $2.79+1 credit (save 84%) or $6.69 (save 62%)
Browse Young Adult books currently available in the Market

I am an Executioner: Love Stories by Rajesh Parameswaran
Darkly funny, wildly original stories about the power of love, and the love of power--two urgent human desires that inevitably, and often calamitously, intertwine.....read more
Retail Price: $24.95
New in the PBS Market (Hardcover): $2.29+1 credit (save 90%) or $6.19 (save 75%)
Browse Contemporary Fiction currently available in the Market

Pirate Cinema by Cory Doctorow
In the dystopian near-future Britain where Trent is growing up, makng movies from clips on the Internet is illegal; the punishment for being caught three times is that your entire household's access to the internet is cut off for a year, with no appeal.. ...read more
Retail Price: $19.99
New in the PBS Market (Hardcover): $2.29+1 credit (save 88%) or $6.19 (save 69%)
Browse Science Fiction currently available in the Market

The Big New York Sandwich Book by Sara Reistad-Long, Jean Tang
A gorgeous collection of more than 99 delicious sandwich recipes from a "who's who" of talented chefs, such as Dan Barber, Daniel Boulud, Jean-Georges Vongherichten, Mario Batali,. ....read more
Retail Price: $23.00
New in the PBS Market (Paperback): $3.29+1 credit (save 85%) or $7.19 (save 68%)
Browse Cookbooks currently available in the Market
---
NEWS
Savings are just a click away...National Brands Coupons offers you hundreds of printable manufacturer's coupons every week, as well as links to coupon codes, discount gifts, and other money-saving opportunities. It's free to print out coupons for products you already buy. Using National Brands Coupons helps to support the club, while saving you money!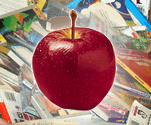 We've been hearing from members who want to donate books to the schools devastated by the terrible flooding in Louisiana. From what we know those schools aren't ready for books just yet, but we are hoping to include some in the Books for Schools campaign at the end of this year. We'll be reaching out to the local boards of education for the affected areas, to get a sense of their timing and also some specific schools that might accept donations. If you know of a school (in any part of the country) that you would like to suggest for Books for Schools, you can (as always)
suggest it here
.

Amazon Prime means free streaming, free shipping... One annual membership fee gets you 2-day free shipping and a ton of other perks. Don't have Amazon Prime yet? Use this link to Try Amazon Prime 30-Day Free Trial
. We think you'll love it!
---
Upcoming Local Chapter Meetups:
We'd love to share your Chapter news - if you have some, please submit it to us!
If you want to be a Local Chapter Leader for PBS, you just need to have a PBS Nickname, a viewable public profile, and enthusiasm! Check the Local Chapter Leaders Forum List of Official Chapters to see if your area already has a local Chapter. If not, and you want to do this, just contact us. There are no formal guidelines for being a Chapter Leader. All of the information is in the Local Chapter Leader Discussion Forum topic. If you are an official Chapter Leader and want us to include your upcoming meetup in the Newsletter, send in a message to us with the date, at least a week before the end of the preceding month.

---
MEMBER OF THE MONTH

Cyn has been a member of PaperBackSwap for over 10 years (her PBS-iversary was in June)! She's sent and received hundreds of books and has an excellent swapping record. She's a longstanding Tour Guide, a Blog contributor, a Data Correction volunter and a Cover Image Approver... and if all that isn't enough, she's a wonderful book reviewer. Her book reviews have made us order some of the books she recommends (and we liked them, too!). Just her profile makes us smile with its funny, energetic flair: she describes herself as a "dorky little fangirl.. ...[with] a sad, pathetic love for Hello Kitty"..
Cyn, you are an excellent swapper who has contributed so much to this community! You are our Member of the Month for September. Congratulations!
Do you know of another PaperBackSwap member who just seems to go above and beyond? One who makes you smile, or helps you figure out something about a swap, or who simply makes you glad she or he is part of the club? You may just have found yourself a MoM (Member of the Month)!
MoMs are special members, ones who put a little extra effort in for the benefit of others, even when they think no one may ever notice. Maybe they send their packages well-wrapped bearing cheerful stickers on the outside, or they post interesting topics in the Discussion Forums that get people thinking and talking, or they work behind the scenes to correct book listings or upload images to book listings. Maybe they're Tour Guides and help other members navigate swapping, or maybe they create extra-fun games in the Games forum, the kind after which everyone feels like they've made new friends.
If you believe that you have encountered a MoM, submit your nomination to us here. Tell us why you think the member is a MoM -- the more details, the better! The Member of the Month gets a newsletter mention and a nifty MoM icon to wear on profile and forum posts with pride. So go for it! Tell us who's helped you in the Forums, who's been a great swapper, who in your opinion is a credit to the club. Who knows--the next MoM might just be YOU!
---
DEAR LIBRARIAN
Dear Librarian - How will I know when my Annual Membership will expire? If I don't renew before the expiration, does that mean I have to rejoin the club? What about my Wish List? -- Frantic in Phoenix
Dear Fran,
Don't worry! The system will alert you with email reminders starting when your membership expiration date is a month away -- you'll get three reminders in all before the expiration. You can see your expiration date at any time by putting your cursor over the clock at the top of any page on the site . That clock will turn red when you are within a month of the expiration date, to give you a visual reminder.
If you want to be sure not to miss your renewal deadline, you can enroll in Annual Membership at any time from the Kiosk, and doing that will extend your membership for a year from your current expiration date.
If your membership lapses, it won't mean that your account gets closed or your membership ends, and you won't have to rejoin (that's actually not allowed). If your Annual Membership enrollment does lapse, your account will stay open and your membership tier will convert to A la Carte; your account will function normally at that level. You can change your membership level at any time, by subscribing to Annual Membership in the Kiosk. If you do that within 2f 2 weeks of your membership expiration date, renewing will restore your whole Wish List automatically (and preserve your previous place in the queues for all of your Wish List books).
You can read about the different membership levels here, and the Help Center has some information designed to help you choose which membership will work best for you.
Dear Librarian - I see that my Limited membership will expire in a month, and I want to upgrade to Standard for next year. Should I purchase the "Upgrade Membership" item in the Kiosk? Will that upgrade me for the next year's subscription? - Wondering in Walla Walla
Dear Wally,
Good question! Actually, you wouldn't want to buy the $8 Upgrade Membership item, because that's designed to upgrade your current Limited Membership to Standard for the remainder of this year's subscription -- so, if you buy it now, you'll get only one month of Standard Membership before the expiration.
What you want to buy is Standard Membership. If you buy it near the end of your Limited Membership enrollment, it will do TWO things: (1) it will upgrade you immediately to Standard Membership (just as the $8 item would do) AND (2) it will extend your Standard Membership for a year beyond the expiration date.
For example, if your Limited Membership expires on October 1st, 2016:
If you buy the $8 upgrade item, you'll be a Standard Member immediately, but that will last only until October 1st, 2016. The $8 Upgrade item is really designed for members who decide to upgrade early on or in the middle of their enrollment year.
If you instead buy the $20 Standard Membership, a year of Standard Membership will be added to the end of your current subscription AND you'll be upgraded to Standard Membership immediately. So you'll have Standard Membership from now until October 1st 2017.
So, if you're getting toward the end of your Limited Membership term, you can purchase Standard Membership to get an immediate upgrade PLUS a whole year of Standard Membership.
We think that's a pretty good deal! Please note: The immediate upgrade won't happen if you're too early in the year of your Limited Membership. You can tell if you are eligible for this by checking the $8 Upgrade item description in the Kiosk. If you are eligible, the text there will explain to you that it would be wiser to purchase Standard Membership to get the immediate upgrade PLUS a year of Standard Membership. If you're still not sure if you are eligible, you can send in a feedback message to the Team from the Contact Us page, and we'll check for you.
---
The Last Word:
Are you REALLY not reading the Blog? You don't want to miss out on Free Book Friday book giveaways, author interviews, awesome book reviews, and so much more!

As always,

don't forget to start your Amazon shopping from the link at the top of the PBS site - when you do this, a small percentage of your purchase amount comes to us. So whenever (and whatever) you plan to purchase on Amazon, start from the Amazon link at the top of the PBS site. It's an easy, free way to support the club!