Subject: Damaged by USPS...kind of- SOLVED

Date Posted:

10/29/2009 11:06 PM ET

Member Since:

7/29/2009

Posts:

57

Back To Top
Hey guys, I just got a book in the mail yesterday that I was PSYCHED to be getting, but when I opened the mailbox and stuck in my hand to pull the mail out, it literally squished.  It was an absolutely disgusting sensation.  I looked at the book in my hand and it looked like it had been thrown into a puddle and stomped on a few times!  The package was torn open and was in a plastic USPS bag. The USPS had put a sticker on it that said "received unsealed" and passed it on.  I brought the disgusting looking mass into my house and took pictures of it so that if the sender wanted to see what it looked like he could, and marked it RWAP- damaged by USPS.  I feel like though the damage occurred in the mail, it would not have happened had he sealed the package appropriately before handing it over to the USPS>  I made sure to include a little note for the sender letting him know what had happened and told him about the sticker that was on the package.  Am I right to try to pursue getting my credit back from him or should I just let this go?  This book is absolutely not postable, and it's not even readable at this point-I have it sitting in between 4 textbooks on my kitchen table to dry, hoping it won't rip to shreds.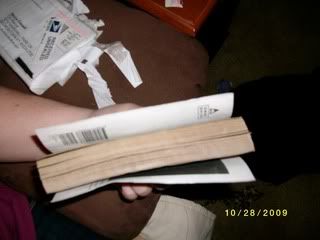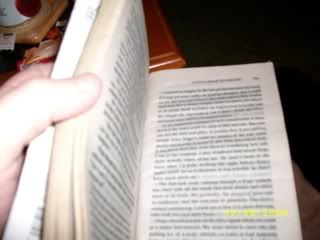 ETA: just realized that 1) the package was taped with scotch tape, and 2) I left all of the mailing information on the 3rd picture (oops!)



Last Edited on: 10/30/09 12:13 PM ET - Total times edited: 2