Aurora Elementary School - Aurora, WV
We hit our Book Credits goal!
100%
We've raised 500 of 500 credits needed. (95 members have donated)
500 Credits ↓
Aurora School is in rural West Virginia and they need books!
I am so pleased to hear that you currently are offering a program that would allow small schools with small budgets an opportunity to receive books at no charge on the primary level, such as the one that I am currently the Title I Reading Specialist at.

Our school, Aurora School, is in a very rural area of West Virginia where job opportunities since the departure of the coal industry many years ago have become very limited. Families often do not have monies that they use to purchase books for their children, and the only source of books comes from the in-house library that we have in our school. This library has no librarian, and has had no librarian for many years now due to lack of funding. Also there has been no funding for the purchase of books to expand the library we do have, again do to the lack of funding.
This school has a free and reduced lunch population of slightly higher than the mid sixty percent of students. There is no active community library for the families to use, so if they do choose to seek out a library for their students or their preschool children to find books on their appropriate reading levels, they must travel to the nearest library located across the state border in Oakland, Maryland.

Last spring I started a seven week program with our preschool children and a parent or childcare provider. I had to seek out funding to purchase board books for the preschoolers to have some books to take to their homes to have read by parents as part of my task to pulling off that program. I know just how vital being read to in the early years of life is to the success of reading when the child begins the formal school setting.

I do hope that you will find our school to be one in which you believe worthy of sharing your wonderful book gifts with.

Sincerely,
Krista Hayes, Aurora School Title I Reading
The purpose of this letter is to give you some background about our school and the students. We are a school of 119 students grades Pre-Kindergarten through 6th grade. The school is part of the Preston County School system that has a total population of 4,200 students in a county that covers 650 square miles. Aurora School is approximately 30 miles from the county seat of Kingwood and has been designated an isolated school by the West Virginia Department of Education. Preston County is a rural county with a total population of just under 30,000 in which approximately 40-50% of the population lives below the poverty line and Aurora School has a free and reduce lunch program that assists 62% of our students. Books from your program will assist our school greatly. We are unable to send photos of the students, but have included one of our principal.
Thank you,
Michelle Liga
Followup Images: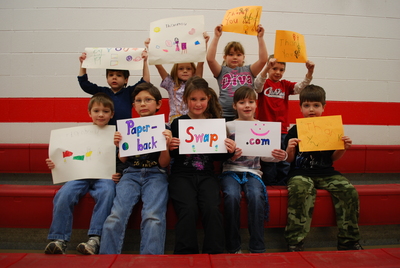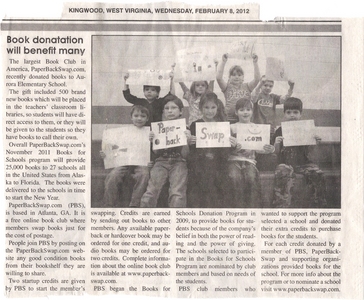 Update from the Aurora Elementary School - Aurora, WV:
Update! February 16, 2012--new photo of students and their new books!
We made the local paper, too!
The books were recently distributed to the classrooms. In cases where there were enough books of the same title, these books were recorded so the Kindergarten children can read along with the story. Many thanks from the Aurora School, perched atop Cheat Mountain in Almost Heaven, West Virginia!

Michelle Liga, Music Teacher and Paperbackswap.com Member
11/16/11
Wow, everyone here at Paperbackswap.com is so generous!
I was excited to see our school posted and I was looking forward to telling my principal the good news. Now because of the speedy results I will be able to tell her that not only are we posted, but our goal has been met! This has to be a record!


Thank you,

Michelle Liga
Member of Paperbackswap and Music Teacher at Aurora School