Ronald E. McNair Elementary - Compton, CA
We hit our Book Credits goal!
100.2%
We've raised 1002 of 1000 credits needed. (245 members have donated)
1000 Credits ↓
Compton, California's Ronald E. McNair Elementary School
The students are ready to take their reading to the next level!
Greetings,

On behalf of McNair Elementary, I would like to thank you for this opportunity to increase the books for our students. As Mrs. Bannyi stated, they develop a joy and love for reading once they have receive exposure to quality literature. Again, thank you for this opportunity.

Jacquelyn Arion
Principal
This school is an inner city school (Title I) with primarily African American and Latino students. Many of these students do not have the opportunity to have books read to them from a young age, or have books available to them in their homes. They often are below grade level in the area of reading.
However, once they discover the joy of reading, the interest and excitement for reading becomes a wonderful experience for them. I am a third grade teacher at this school and coordinate Read Across America events as well as book swaps each year. I find it is getting hard to find the resources to ensure that each of our students can receive their own new or used book. Any donations that you can offer would so greatly be appreciated and be a great reward to enrich the lives of the students at McNair Elementary.
Thanks for your consideration,
Renee Bannyi, 3rd grade teacher
Followup Images: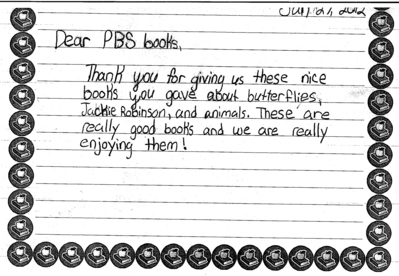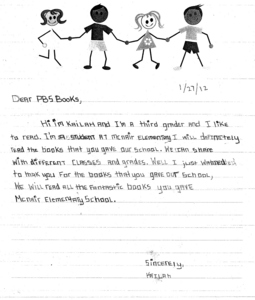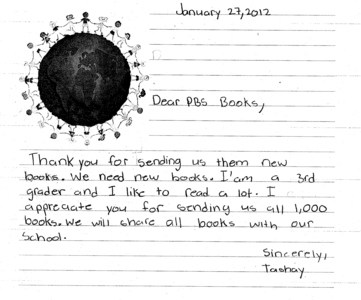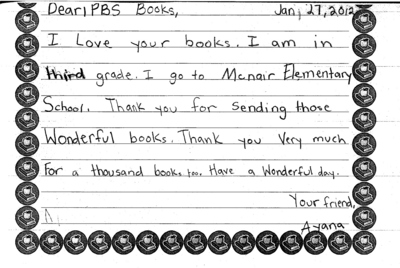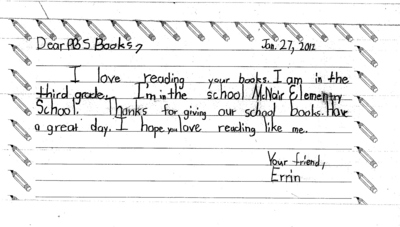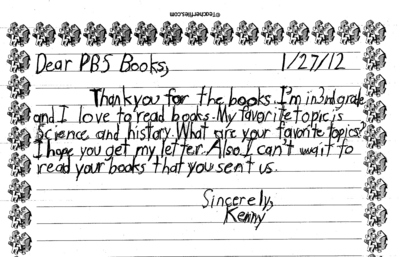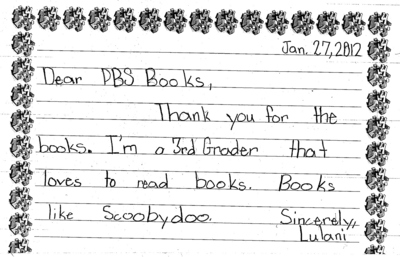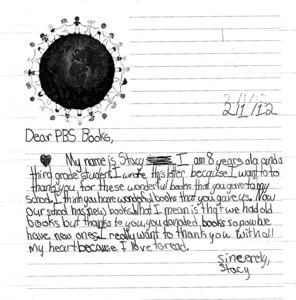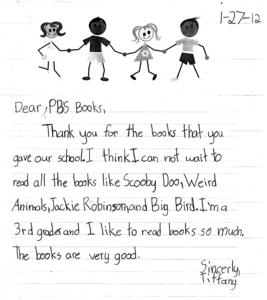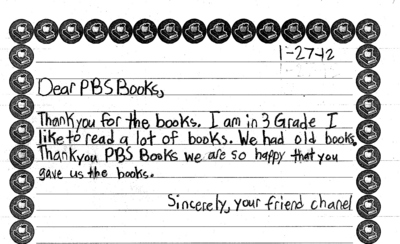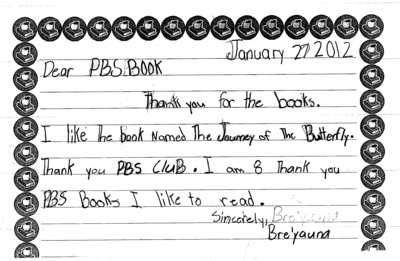 Update from the Ronald E. McNair Elementary - Compton, CA:
Update 2/14/12--Wonderful thank you notes from the students!

I am sending you some thank you notes from my class. I have had the great opportunity to unpack the boxes of books that you sent and share / preview many of them with my class while we prepare to distribute them. It just goes to show that a good book is easily enjoyed by those at any age and grade level!
We are preparing for Read Across America in March and when we celebrate Dr. Seuss's birthday we will be reading all day across our school with many volunteers. I will be coordinating the distribution of the books from PBS on this day as a way to celebrate our good fortune as well. Many, many thanks to all the PBS members who made this possible!

I have had the great opportunity to have contact with other PBS members in my local community who have heard about McNair Elementary through your site. I would also like to thank PBS member Rives McDow from Sea Turtle Publishing for contributing classroom sets of a book titled "A Hole in The Sky" by Barbara Mahler. The fifth grade students are currently reading it and even have their own book club in honor of this book. It is really an exciting experience to witness kids being this enthusiastic about reading!

Thanks again,

Renee Bannyi
12/13/11
To all the PBS members who donated to our school: Your generosity is greatly appreciated!
I am so excited! I can't wait to "pay it forward" to the students at McNair.....and hopefully instill the great gift we all share....the love of reading!

Have a wonderful holiday season!

Many thanks,

Renee Bannyi, NBCT

McNair Elementary, Compton, CA