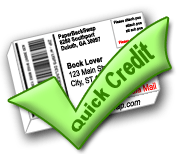 PaperBackSwap Delivery Confirmation (
PBS-DC

) is electronic USPS delivery confirmation that is printed right onto your PBS book

wrapper

! It offers

QuickCredit

,

CreditAssurance

, and is less expensive than DC purchased from the PO. PBS DC is the only way to get QuickCredit and CreditAssurance.

How does it work?
When you print your wrapper with

PBS Delivery Confirmation

(PBS-DC), a DC barcode is generated that prints out on the wrapper.

Postage must still be applied to the wrapper for mailing
If the book is being sent Media

mail

rate, you will also need to add 19 cents to the postage amount on the package, to pay the USPS electronic Delivery Confirmation fee.

When USPS scans the barcode into their system and transmits this information to the PBS computer, you get credit!

This is QuickCredit--you don't have to wait for your package to be received and marked received.
The timing of QuickCredit varies with your mailing method, and the scanning policy of your local PO. QuickCredit can be granted hours after mailing, or it can take a few days. The average member using PBS-DC gets QuickCredit 5 days sooner than he or she would have if PBS-DC was not used Read here about ways to "speed up" your QuickCredit.

If your package sent with PBS-DC is

lost

or misdelivered after USPS has scanned it, you still get QuickCredit automatically

This is CreditAssurance--really useful if you send a multiple-book shipment. You'll get

credits

for all the books in that shipment if a PBS Bulk Wrapper with PBS-DC was used.

You can choose to use PBS-DC, or not, on each package you send.
Can PBS-DC be used with
Box-O-Books

?
Yes! However, since Box-O-Books transactions do not involve credits, QuickCredit and CreditAssurance don't apply.
If you use PBS-DC with Box-O-Books, it will make you a "preferred Boxer"

Preferred Boxers have a gold Boxer icon; this means that they have sent at least 80% of their Boxes with PBS-DC.
Other Boxers will see your gold icon and know that they will be able to track your Box online. They will be more likely to choose you to "Box" with.
PBS Delivery Confirmation is a per-transaction paid feature at PBS

You do NOT need to enroll. There is no yearly subscription fee.
Any member who has

PBS Money

in his or her account and a printer to print out the barcode can use PBS Delivery Confirmation.
PBS Delivery Confirmation (PBS-DC) is a per-transaction paid feature at PBS.

Each time you use PBS-DC, it will cost you 30 cents (paid in PBS Money) plus postage (that you apply to the package).


This is less than the 85 cents that USPS charges for regular DC purchased at the PO (and PO DC does not grant QuickCredit or CreditAssurance!)
---
Related Links:

How to Use PBS Delivery Confirmation
Is it okay to tape over the Delivery Confirmation bar code?
How do I use the PBS-Delivery Confirmation Tracking System?
Are there any requirements to use Delivery Confirmation?
When will I get my Quick Credit?
About CreditAssurance