Delivery Confirmation!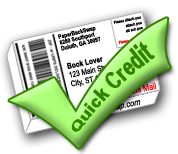 Who wants Quick Credits!?
In conjunction with the USPS, PaperBackSwap now brings you the best way to mail books and get credits faster! Mail your books with Delivery Confirmation, for less than it would cost you to visit the Post Office, and all from the convenience of your own home!
Have you ever worried about whether the book you are mailing will arrive at its destination? Or had a book get lost in the mail? With PBS Delivery Confirmation you can relax as the automated USPS and PaperBackSwap systems track your book's journey. We worked directly with the USPS to develop a unique system that allows for the full tracking of your books through the postal system.
And here is the best part... you get a Quick Credit as soon as the Post Office scans the wrapper of your book into their system and electronically transmits that information to the PBS system!
What's more, you will be able to watch your book's journey using the updated Map feature. Watch as the book makes its journey from your house to its new home. Anytime the USPS scans the Delivery Confirmation barcode along the way you will be able to see it on the map. It's all part of the new, greatly enhanced Maps feature.
That's right! By using PBS Delivery Confirmation you don't have to wait for the other member to confirm that the book was received. As soon as the USPS scans the wrapper into its system, PBS is notified and gives you a Quick Credit for mailing your book. Occasionally it takes a day or two for the USPS to scan your book, so it may not be immediate – but it is much faster than waiting for the book to arrive at its destination and then waiting for the other member to indicate that the book was received.
If you went to the Post Office, you would have to pay 0.00 cents for Delivery Confirmation for each book mailed. Using the PBS system, you pay only 50 cents. PBS has worked very hard for the last several months to create a program that interfaces with the USPS whereby they get 0.00 cents for each transaction and PBS gets 0.00 cents to help cover costs of running PBS. In return for the 0.00 cents service fee, PBS tracks your book, gives you a Quick Credit, and spares you from making a trip to the post office (think gas savings)! The service fee also helps support the club, and you still spend 40 cents less than you would for Delivery Confirmation if you bought it at the Post Office. You will need to put 0.00 cents of additional postage on your package; the 0.00 cents will be deducted from the PBS Money account you have created (see below). We have no doubt that it will be well worth it! We hope you will indicate your agreement by choosing to have all your books sent with PBS Delivery Confirmation.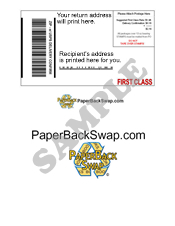 No need to go to the Post Office to have the Delivery Confirmation label scanned in — the scanning will be done when the package reaches the Post Office. If your package is less than 1 pound in weight, you can put the postage on it and drop it in your mailbox or any blue mailbox for your mail carrier to pick up! (Packages weighing more than 1 pound will still need to be taken to the Post Office, because of USPS National Security precautions.)
Just think, for less than the cost of Delivery Confirmation at the Post Office, you now have the convenience of it all from your own home while also supporting your favorite book swapping site! So what are you waiting for? Sign up today for PBS Delivery Confirmation, support the site and rest well knowing that your books will get to where they are going. Most importantly, you will get your book credits faster and with no worries!
Quick Credit
is given once the book is received by the Post Office and scanned into the USPS system. This may take up to 48 hours from the time that you mail the book, as all USPS stations are not equally equipped with scanners for Delivery Confirmation.
Please NOTE: Going forward,
PBS will NOT give credit to the sender for books Lost In The Mail
unless they were mailed using PBS Delivery Confirmation.
How do I get started?
To get started using Delivery Confirmation from PBS you need to add

(PBS Money) to your account. That will allow us to collect service fees so that we can pay for this great service. There are 3 ways that you can set up an account and use this valuable service:
Pay with one of your credit/debit cards through the PBS Kiosk

Enroll through PayPal via the PBS Kiosk

Mail us a check or money order to:

PaperBackSwap
3651 Peachtree Parkway Suite E-390
Suwanee, GA 30024
We hope you enjoy this great new feature from PaperBackSwap.
Sincerely,
The PaperBackSwap Team