Paul Dunbar Elementary - Atlanta, GA
We hit our Book Credits goal!
100%
We've raised 1000 of 1000 credits needed. (190 members have donated)
1000 Credits ↓
Dunbar Elementary students in the heart Atlanta, Georgia will cherish new books of their own....
Although a small school, Dunbar Elementary (named after the famous African American poet) serves as the educational portal for more than 500 children a year. It is located in the Mechanicsville neighborhood of Atlanta, and 99% of our students are eligible for free or reduced price lunch. There is a segment of the population at Dunbar that comes from a nearby homeless shelter. In addition to getting an education, the children in the shelter rely on the safe environment and stability of Dunbar to offset their current transitional environment. Many of the children lack the basics (food, shelter, clothing) in addition to the "extras" that children from less challenged socioeconomic status have.

The programs of Everybody Wins! Atlanta (a recognized and registered 501c3) help to fill in some "extras" in the form of age appropriate and fun books through Power Lunch-a weekly one-on-one mentoring through literacy program and StoryTime--a monthly literacy through the arts storytelling program.

This upcoming school year Dunbar will be the first Everybody Wins! Atlanta school to receive both programs. Along with participating in at least one of the programs, several times a year each child will receive a new age- appropriate book for them to start an at-home library. Many times the books that children receive via Everybody Wins! are the only books they have at home. Paperback Swap's Books for Schools Program could help us by donating new books to be distributed to the children and library of Dunbar Elementary School.

It is our mission at Dunbar Elementary School to educate the whole child thus producing an independent thinker, culturally aware, responsible and productive member of society, who values self and respects others. At Dunbar Elementary school, we understand that part of this development involves instilling in a child the joys of reading. Reading exposes students to worlds that they can only journey to with their imagination and the turn of a page. It creates a stimulating dialogue that encourages and challenges students to think outside the box.

At Dunbar Elementary, we have the Success For All (SFA) reading program. It is a school-wide reading program that provides a balanced approach to reading by incorporating strategies of decoding, fluency, and comprehension. An important component of the reading program is daily homework assignments that require students to read for a minimum of thirty minutes. While there are many incentives to encourage students to read at home, we recognize that given the economic disadvantages of our students, there is often a lack of adequate reading material in the home. Participating in the PaperBackSwap program will help to fill this need and help us to encourage students to become avid readers.

Thank you again for selecting our school to participate in such an amazing program.

Nicole Corley, Program Coordinator
Allyn Howard, Everybody Wins Atlanta
We are soooo excited to be a part of the PaperBackSwap program! In an effort to increase reading success, our school reading program requires students to read to their parent for homework. These books will be a great help! Thank You!

Makini Coleman
Reading Instructional Coach
Followup Images: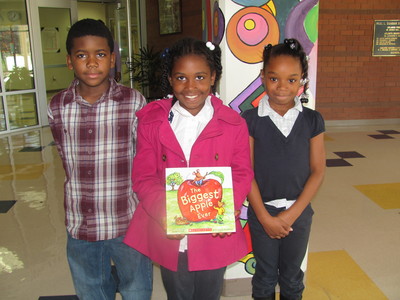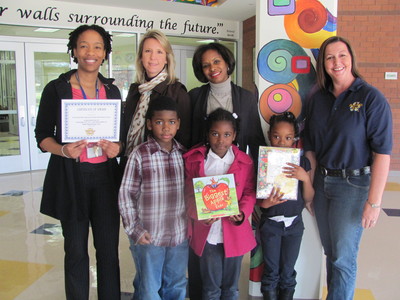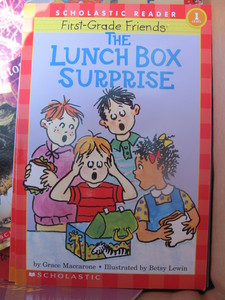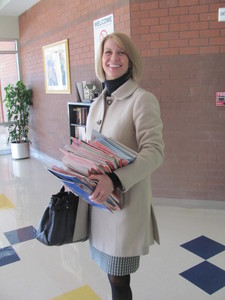 Update from the Paul Dunbar Elementary - Atlanta, GA:
January 2012 Book Delivery Update!
Please see the PaperBackSwap Blog post about the Special Delivery made to Dunbar Elementary School on January 18, 2012.
New photos of delivery day added, too!
11/28/11
This is GREAT!! Thank you so much for your support.

KarenBrown-Collier, Principal Paul L.Dunbar Elementary School
Wow! What amazing and exciting news! This is perfect timing as students will be spending a large amount of time out of school for the upcoming Holiday break.
The Paul L. Dunbar family is so grateful for the kind and generous donations from all PaperBackSwap members. Thank you for helping us encourage, support, and prepare our students to become GLOBAL Learners.

Nicole Corley, Communities In Schools of Atlanta
The season of giving has already begun for the students at Dunbar Elementary School thanks to the support of PaperBack Swap members like you! Our initial excitement of being chosen as a recipient of a book giveaway could only be surpassed by the altruism and immediate action of the PaperBack Swap community! On behalf of the hundreds of children at Dunbar elementary who will personally receive a new book to keep, as well as a very happy school librarian and teachers who now will have more reading options in the library/classroom, I sincerely thank you!

Respectfully,

Allyn Howard, Everybody Wins! Atlanta/Dunbar Elementary School Liaison