Introduced on 5/6/2008. Location changed 4/22/2009.
PBS Widgets--What are they?
PBS Widgets allow you to display a PBS Book List (Bookshelf, TBR Pile, Wish List, Books I've Read List) or a list of books Recently Posted at PBS and Recently Swapped at PBS, right on your own webpage, social-networking site, or blog! They update automatically. Your site does need to allow javascript (most do).
They will look like this: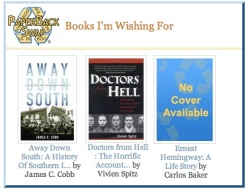 And we will be upgrading them soon, to make them even niftier!
How do I use them?
Just click the APIs/Widgets link at the bottom of any page on the site, and copy the code in the box for the list you want to display. Paste the code where you would like the widget to appear on your site. You can use only one widget on a webpage.
You do need to have a PBS Profile to use one of the personal book-list widgets. You can make a profile in your Account Settings if you haven't already done this. You can use either of the community-list widgets (Recently Posted at PBS and Recently Swapped at PBS) even if you don't have a PBS profile.
But I am not a high-tech person! I am not a Developer!
Why, yes you are, if you have a blog, personal website, or social-networking page. You are the coolest of the cool. If you have a site like this, it's easy to copy-paste the code into the code for your site. Make your site cutting-edge with one of these, and show off your books!
I AM a high-tech person! I am a Developer!
Well, all righty, then. You can download the API and make your own applications. We have two versions (XML and JSON). Go nuts!